by
Robert Boyd
Yesterday was pretty much a perfect day to visit Austin--everything was green and beautiful, the day warm but far from oppressive. My goal was to look at as many of the exhibits listed in
Glasstire
as possible. But my real goal was to see some Austin art venues that I had never visited before. And I managed to hit a bunch. These are my impressions of each space--I'll talk briefly about the art I saw, but these aren't reviews. This is more about place than works. (But I have plenty of photos of art, which hopefully will make up for the lack of serious reviewing.)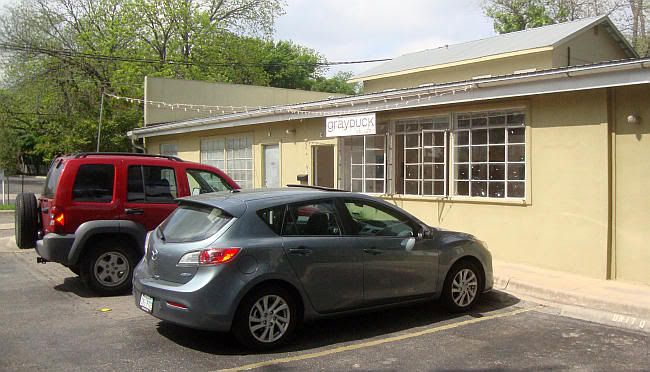 GrayDUCK Gallery
. None of the galleries I visited were out in the suburbs, but at the same time, none of these were very closely clustered.
GrayDUCK is
in South Austin. If you weren't looking for it, you wouldn't find it. But I was impressed with the art they had. The current show,
Momento Mori
, featured paintings of ghosts of soldiers by John Mulvany.
John Mulvany, The Unpredictable Past I, acrylic on panel
The Unpredictable Past I
by
John Mulvany
seems to show the ghosts of WWI soldiers, although the guy in the cloth hat suggests it might be from the Anglo-Irish War.
Suzanne Koett, You Take Me and I'll Be You, archival silver halide photograph
But the artist I liked best at GrayDUCK was
Suzanne Koett
. She was showing a suite of very enigmatic photos like the one above.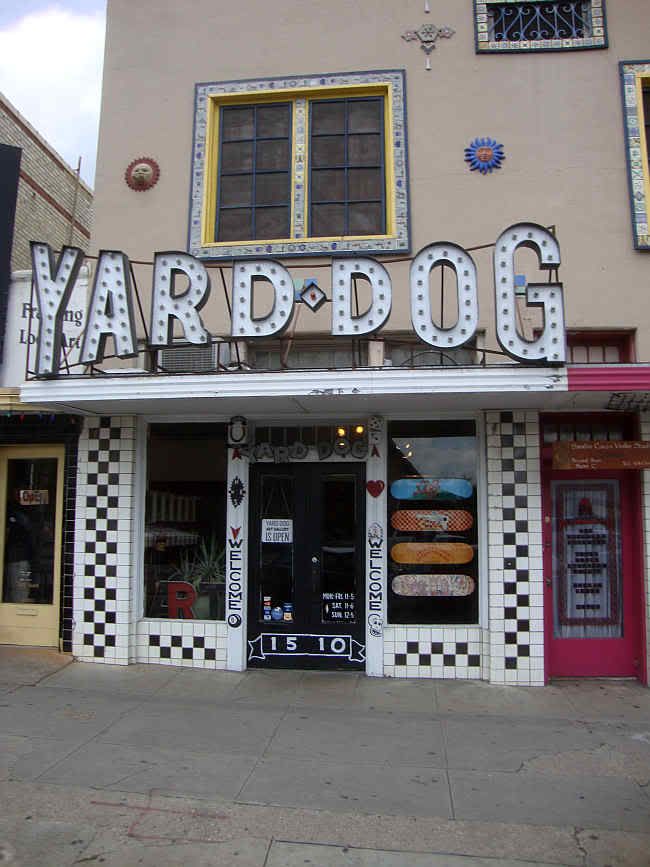 Yard Dog.
Yard Dog Gallery
is on South Congress in amongst a bunch of quasi-hip businesses. Parking on Saturday morning was a nightmare. It's a popular area. Yard Dog is a gallery similar to
La Luz de Jesus
in Los Angeles or the new
Heights Art Gallery
here in Houston. These galleries affect a deliberately funky vibe. Unlike the white cube gallery (another affectation), these galleries tend to be quite cluttered, both with merchandise but also in the way they are designed.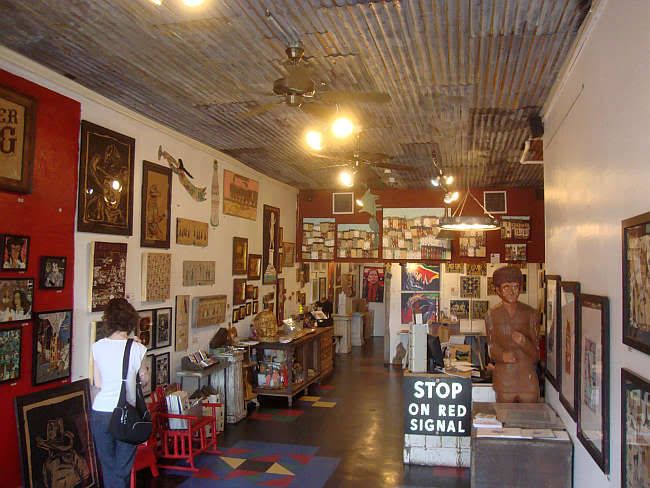 The kind of art you see at these galleries falls broadly into the categories of "Low-Brow" and outsider-ish art. Yard Dog seems to identify itself as aligned with outsider art, but most of the artists there were not what I would call outsider artists. Instead, I'd call them artists who play with American vernacular images. The show in front was, for example, Tony Fitzpatrick. Fitzpatrick is a fantastic printmaker, whose busy images are kind of a nostalgic clutter. He has a great website where
he riffs on each image
.
Tony Fitzpatrick, Bazooka Hulk, etching
For instance, I really liked his ruminations that
accompanied
Bazooka Hulk
. Artists has a natural inclination to let the work speak for itself, or to try to put everything into an artist's statement, which tend to be unsatisfying pieces of writing. But Fitzpatrick has real style.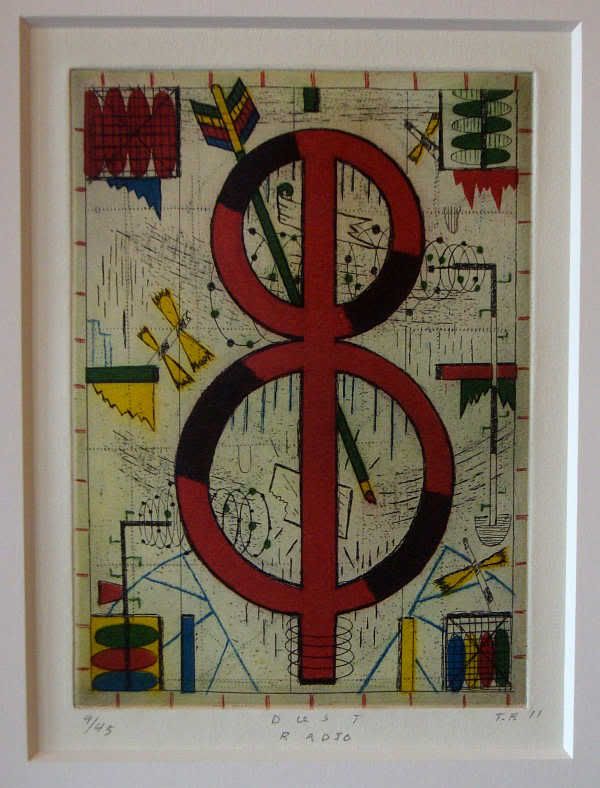 Tony Fitzpatrick, Dust Radio, etching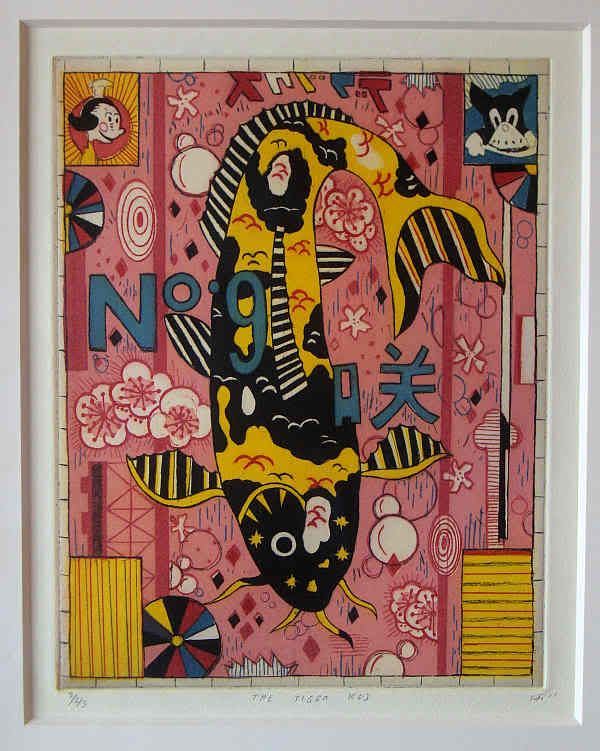 Tony Fitzpatrick, The Tiger Koi, etching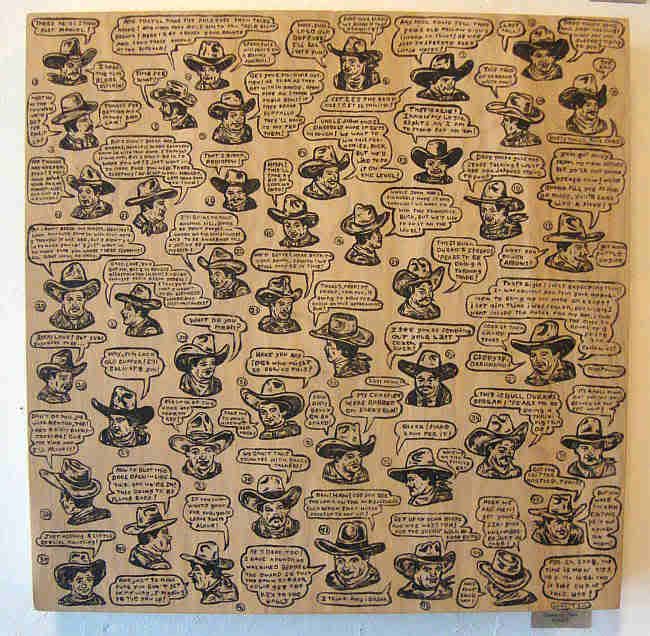 Fort Guerin, Cowboy Talk, acrylic on wood, 19" x 19"
Camp Bosworth, Mexican Wrestler, carved wood, 16" x 14" x 17"
I was surprised and delighted to
see several wood pieces
by
Camp Bosworth
, an artist
who's work I've seen and loved on occasion in Houston
. And even more amazing was that some of Bosworth's work was surprisingly affordable.
Camp Bosworth, Drug Money, carved and painted wood, 8" x 4" x 2"
Bosworth's carvings of
Drug Money
, for instance, were only $100. I thought that was a steal (no pun intended), so I bought one. Bosworth is one of many Texas artists who is taking the drug war in Mexico and Texas as his subject matter.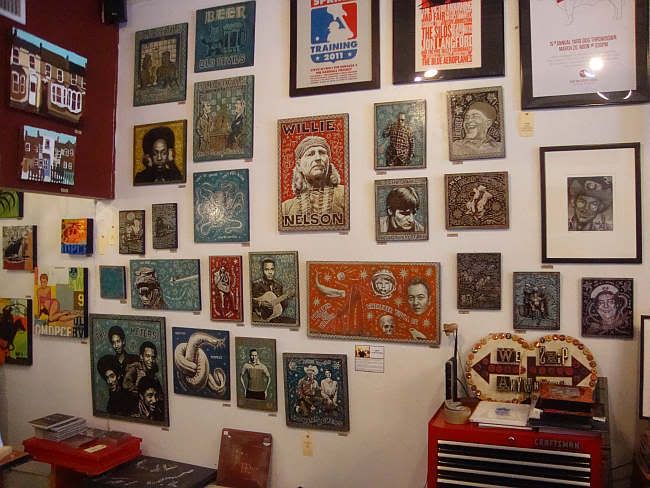 Jon Langford installation
Jon Langford, Don't Feel Alone
Jon Langford
founded
the Mekons
. This is another thing this gallery has a lot of--artwork by musicians. In addition to Langford, they show work by Jad Fair and David Fair (Half-Japanese) and Ian McLagen (the Small Faces and the Faces). (I'm surprised they don't have Daniel Johnston's work.) The thing about artwork by musicians is that people crave it because of the association with the musician (especially a cult musician). Which is good for Yard Dog, but it makes critical evaluation difficult. Langford's portraits of musical heroes are corny, but generally I like his work.
Yard Dog seems to stand outside much of Austin's art scene. But I quite like the work they were showing and greatly admire artists like Fitzpatrick and Bosworth. Yard Dog isn't a white cube; their artists don't necessarily have MFAs; they aren't cutting edge in the ordinary sense of the word. It's important that there are galleries like this. I think Yard Dog is a valuable part of the Austin art environment.
Domy
Domy
. We have a Domy in Houston and
Austin's Domy
is not hugely different in its range of merchandise. The reason I stopped by was to see the
Wayne White
show. But this store is different in one significant way--it has a larger footprint. The books are a little more spread out and there are more facings (a bookstore term for when you display a book face out instead of spine out). Artwise, this means that the display space for art doesn't have to share space with books or magazines. The display space in Domy Houston is not that good because it's so cramped.
Wayne White installation at Domy
You can see how different it is at Domy Austin (if you're familiar with the Houston space). I don't know if Domy Houston could even mount a show like this. Domy Austin's art space is a little like the old space attached to the Brazos Bookstore. It gives art pride of place.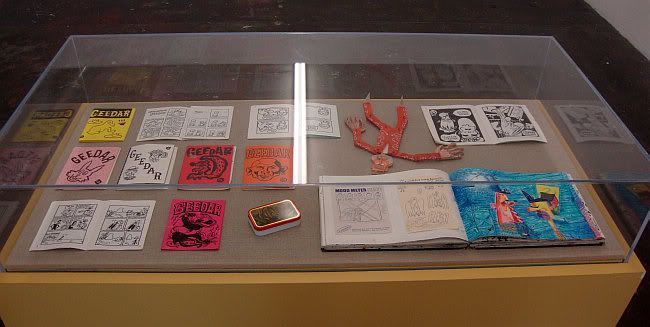 vitrine containing various zines and ephemera from Wayne White
The Wayne White exhibit
, by the way, is small but wonderful.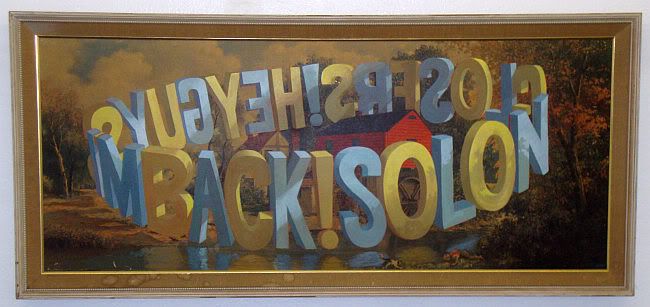 Wayne White, So Long, Losers! Hey Guys I'm Back!, acrylic on found offset lithograph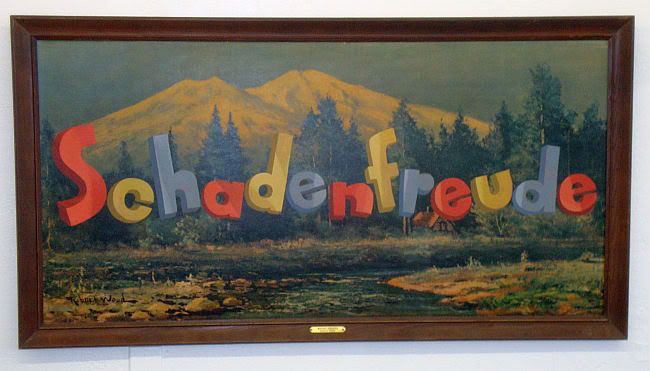 Wayne White, Schadenfreude, acrylic on found offset lithograph
Lora Reynolds Gallery
. Unlike all the other galleries I had visited,
Lora Reynolds
was the most mainstream. It felt like a Chelsea gallery plopped down in Downtown Austin. Crisp, clean and professional. The art on display was impressive. The main show was by Irish political artist
Tom Molloy
.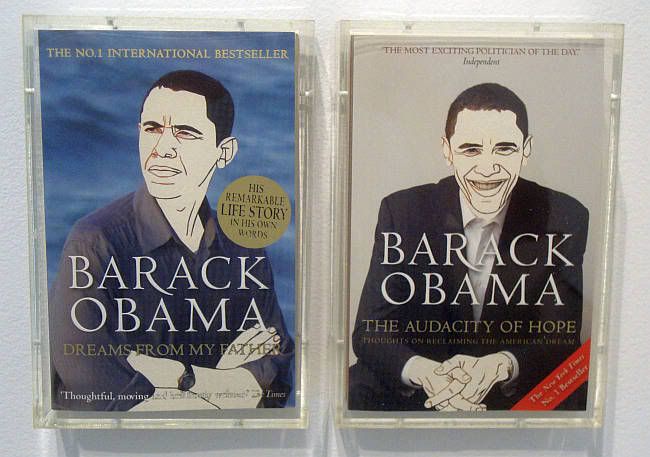 Tom Molloy, Dream, cut paper, two books in plexiglass, 7-3/4" x 5-1/8" each, 2009
Dream
was amusing, but the two works that impressed me most require video to give you their full effect.
Tom Molloy, Protest, approximately 800 cut black and white photos, 290" x 11" x 10", 2011
Tom Molloy, Shake, Set of 59 framed, found photographs , 2011
Then in the back room is an installation of hand-painted replicas of 45 single sleeves called
Record Shop
by
Conrad Bakker
.
Conrad Bakker, Record Shop
Tiny Park Gallery
. While I was in Austin, I briefly met up with
Salvador Castillo
, and he said that in his opinion, a lot of the current energy in the Austin scene was coming out of two apartment galleries,
Red Space Gallery
and
Tiny Park Gallery
. Red Space is only open by appointment, but I was able to see Tiny Park. The two galleries are close to one another, on either side of Lamar in North Austin. Conveniently (for me), they also happen to be right near
Austin Books & Comics
, my favorite comic store in Texas.
Tiny Park was showing videos by
PJ Rava
l, which were quite powerful, and paintings and drawing by
Nick Brown
.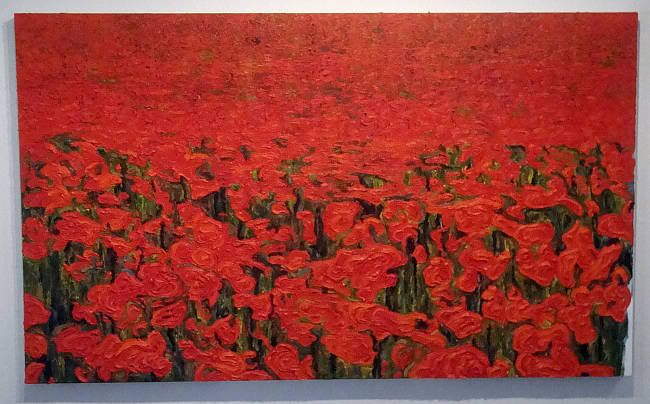 Nick Brown, Poppies, oil on canvas, 36" x 60", 2010
Brown is a super-heavy impasto artist. For some reason, I've been finding myself attracted to
artists
who
work like that. In any case, I liked his paintings immensely.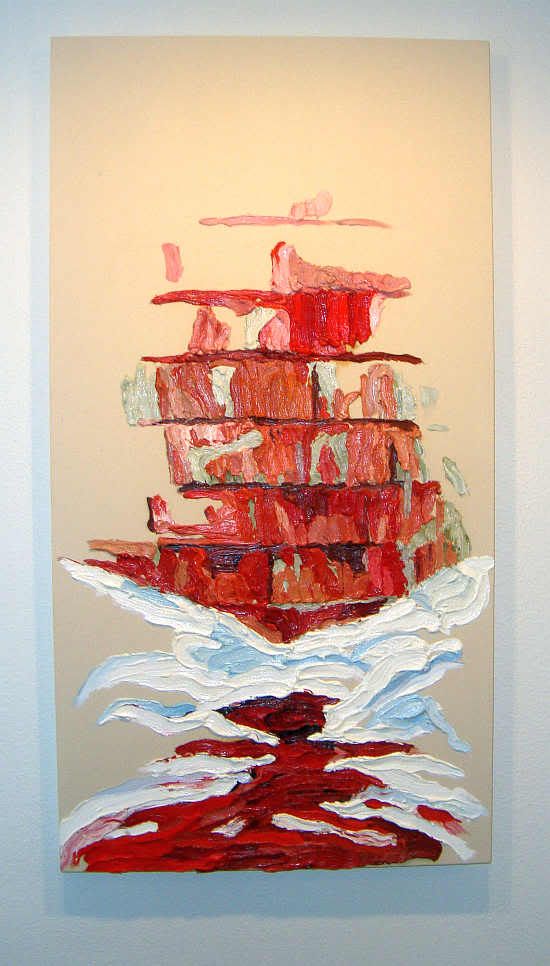 Nick Brown, Innocence, oil on canvas, 57.5" x 27.5", 2011
I was quite impressed with Tiny Park. I like seeing that kind of small-scale, entrepreneurial approach done so well. But I have to say that it seems like kind of an odd neighborhood for it. I don't know Austin that well, but my feeling is that the hip parts of town are South Austin (but maybe it's had its day, I dunno) and East Austin, which has Domy and Okay Mountain the
East Austin Studio Tour
in the fall. But North Austin seems a bit characterless. All you Austinites--if I'm wrong, please pipe up!
Laguna Gloria
.
Laguna Gloria
is the location of the Austin Museum of Art ever since they closed their downtown location. (Of course, they have a downtown location now due to their merger with Arthouse.) I went yesterday to see
Art on the Green
, an exhibit of artist-made putt-putt golf holes. Now this kind of thing is just a step above
cow parades
. But my elementary-school-aged nephews went on Friday and played golf there, and I think it is important to have art that can engage 2nd graders, so it is a little snobbish of me to look down my nose.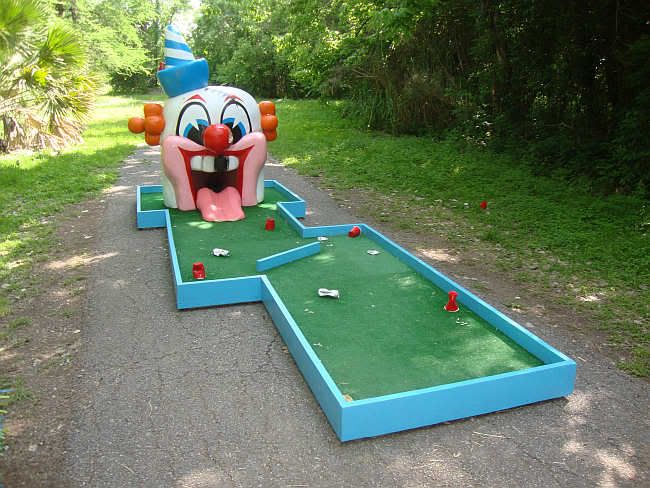 Okay Mountain, School Night
And in the end, they were quite witty.
Okay Mountain
's
School Night
was a putt-putt green designed to appear that it had been vandalized by beer-drinking teens.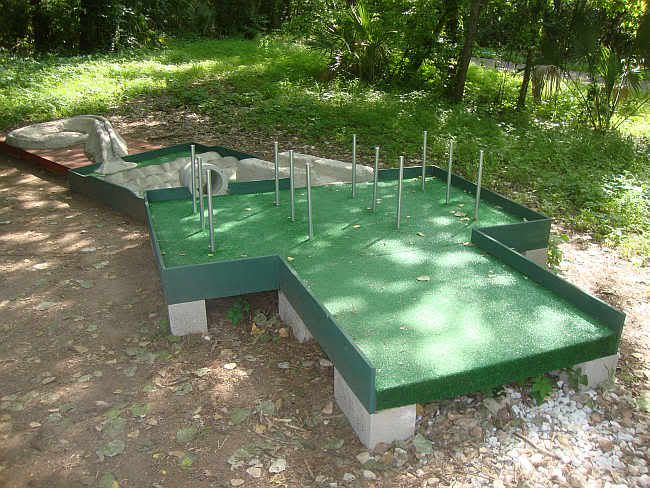 Go Sculpture Go, The Five Wonders of Land Art
The Five Wonders of Land Art
by Go Sculpture Go featured obstacles that referenced
Lightning Field
,
Sun Tunnels
,
Double Negative
,
Storm King Wavefield
, and
Spiral Jetty
.
Go Sculpture Go, The Five Wonders of Land Art
And finally,
Boozefox
created
Nutrioppossumus
, a giant mutant rodent/marsupial mix. Its droppings are brown golf balls.
Boozefox, Nutrioppossumus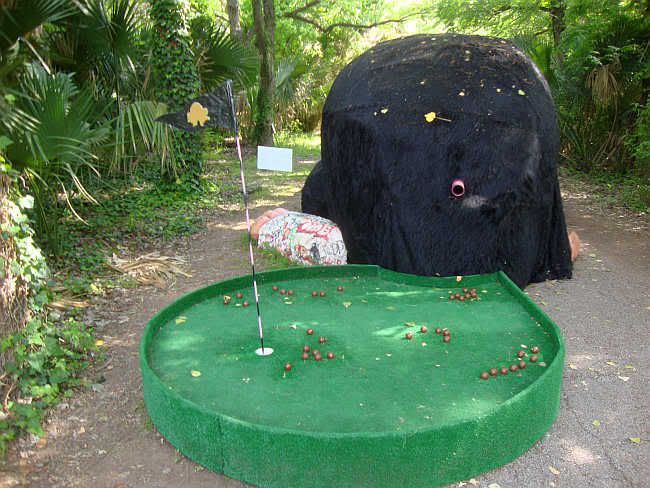 Boozefox, Nutrioppossumus