Second Seating
is a huge installation next to Irma's downtown. It is basically a tribute to the East End of Houston--the industrial part of town along the ship channel where the oldest Hispanic neighborhoods are. I think of the East End as a collection of neighborhoods that are almost utterly unknown to most of the suburbanites of west Houston or north of town. (They may know Downtown, Midtown, Montrose, the Museum District, Greenway Plaza, the Heights... but the rest of the inner loop is terra incognita.)
The exhibit is made up of objects and furniture assembled from detritus from the East End--industrial equipment, metal cans, plastic bottles, oyster shells, etc. The primary objects are tables, chairs, place settings, and chandeliers--in other words, it is as if an elegant restaurant has been assembled entirely out of junk.
For example, this chandelier made of bleach bottles: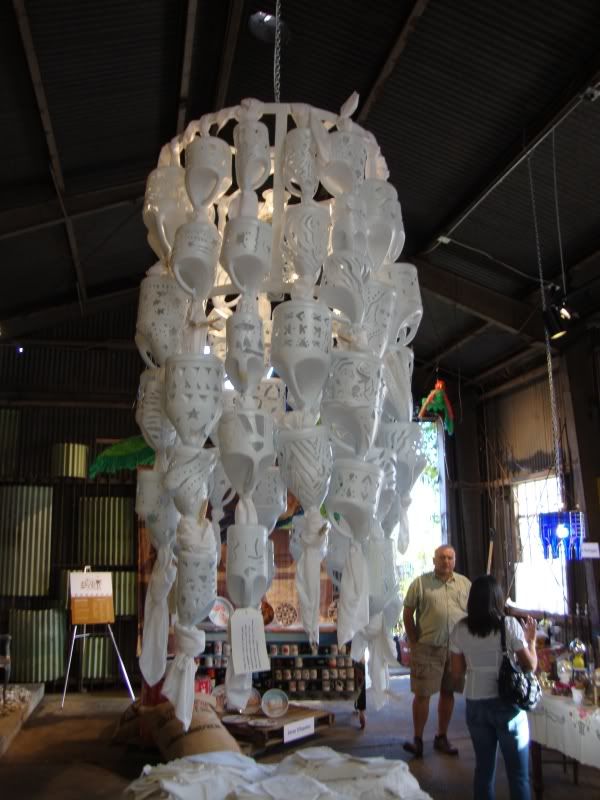 I'm not sure who the artist is on this one, but I like it. I've always liked it when artists made something pretty out of garbage, whether it is Vietnamese toys made out of tin cans or Picasso making a bulls head out of a bicycle seat and handlebars.
The person behind this (curator? ringmaster?) is
Mary Margaret Hansen
(pictured below on the left).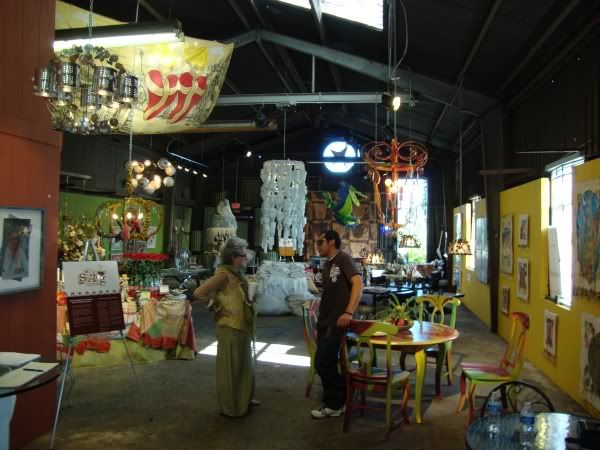 You can see that the installation itself is kind of a riot. No "white cube" for Hansen! She has a number of collaborators, including well-known grafitti artist (and
Aerosol Warfare gallery
owner)
Gonzo247
.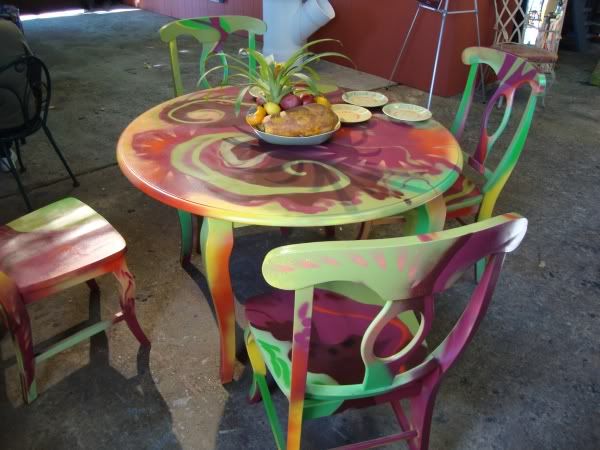 Table and chairs by Gonzo247
Another table setting is this one--I'm not sure who is responsible for it.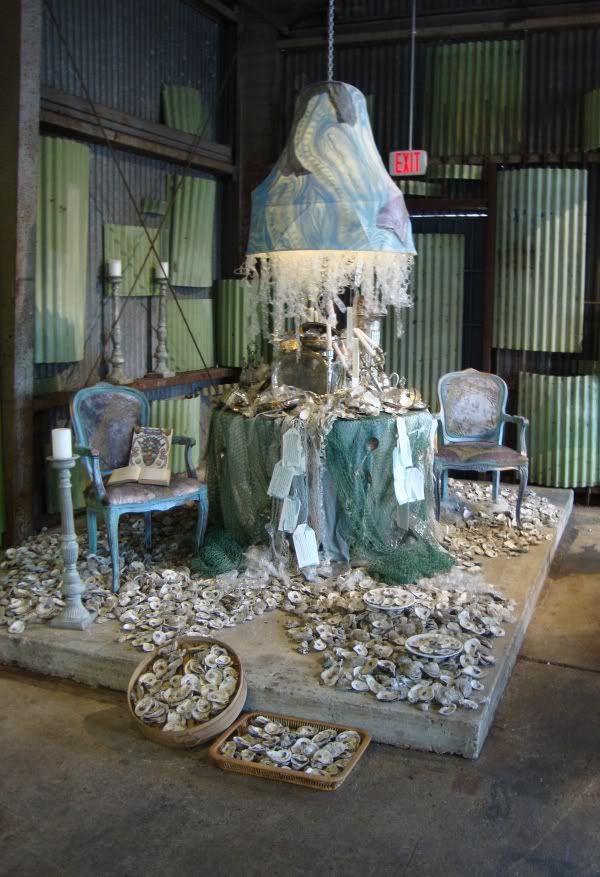 I think it is meant to represent Galveston Bay and maybe it has some environmental theme. But what it made me think of is Miss Havisham's table in David Lean's film version of
Great Expectations
.
I think my favorite part of the show was this:
Here's a wider shot to give you a sense of scale and also a sense of how well it fits in.
I think the artist for this piece is
Jose Solis
, but I'm not certain.
I think on the whole, Second Seating is too jumbled, too scattered. It has a lot of heart though, and definitely is a love letter to the East End. You have one more chance to see it--it will be open during this year's
Artcrawl
(Saturday, November 21).