by Robert Boyd
Chico and Rita finally arrives in the U.S.A.!
You might recall that
I wrote about
Javier Mariscal's
animated film
Chico and Rita
. That was over a year ago, and finally it is starting to appear here in festivals, although it apparently does not yet have U.S. distribution. Here's
an interview
with director
Fernando Trueba
(Mariscal's collaborator) from
The Paris Review
. And best of all, a trailer! (
The Paris Review
)
Chico and Rita trailer
Dueling Art Fairs.
There is
a nice long article on Glasstire
about the
Houston Fine Art Fair
and the
Texas Contemporary
, two art fairs that will come to Houston in September and October respectively. Apparently, the director of the HFAF, Max Fishko, had some kind of falling out with the fair owners, quit, and started the Texas Contemporary as a competing art fair. Art fairs seem like comic book conventions for rich people. I've heard their growth has been largely about galleries needing to find new ways to compete with auction houses, which were stealing market share. The whole thing is above my pay grade. That said, if I were a young, un-galleried artist, I'd get together with some artist friends, pool our money, and rent a room or suite at
the Hilton Americas
during the fair. They could then have their own guerrilla mini-satellite art fair for a fraction of the cost of exhibiting at the "official" art fairs. (
Glasstire
)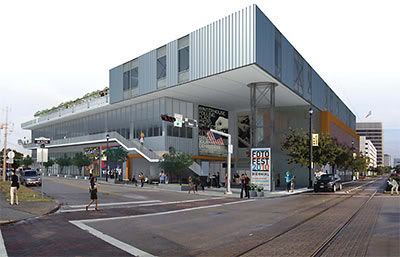 A freakishly realistic computer drawing of the Independent Art Collaborative
More Art in Midtown.
A bunch of visual and performing arts groups--all renters and all too small to build their own space are getting together to build a shared space in Midtown. The boringly named Independent Arts Collaborative includes
Diverse Works
,
FotoFest
, the
Catastrophic Theatre
,
Main Street Theater
and
Suchu Dance
. The deal to finance and build it seems quite complex (and something I want to delve into in a little more detail later), and with so many stakeholders, it seems like a lot could go wrong. Still, it's exciting! It will make the whole area of Midtown from
Lawndale
up to the ICA one big Arts/Entertainment/Homeless Services/Rehab district! By the way, I hope they give the building a proper name. I suggest the
Robert W. Boyd Center for the Arts
. (
CultureMap, The Houston Chronicle, Swamplot
)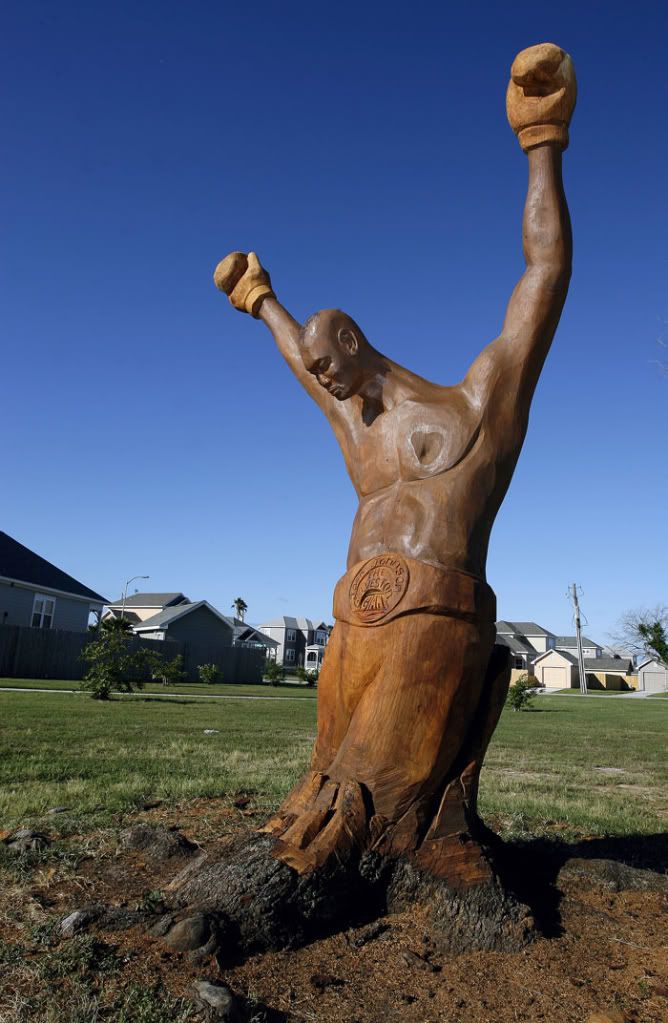 Earl Jones, Jack Johnson, carved wood from a tree killed by Hurricane Ike (photo by Jennifer Reynolds for the Galveston County Daily News)
One Last Scandal for the Champ, Jack Johnson
. The first black heavyweight boxing champ,
Jack Johnson (1878-1946)
, was dogged by scandal during his career. The Galveston native's whole life was a big "Fuck You" to white racist America. So a large sculpture carved by Earl Jones (who really needs a website to show off his work) from one of the oaks in Galveston that was killed by Hurricane Ike is a lovely tribute to the champ, right? But
some of the neighbors don't agree
. It draws too many tourists and looky-loos. And the last thing Galveston needs is tourists! Hell, if I were one of those neighbors, I'd be out there hawking Jack Johnson memorabilia! This whole
carving sculptures into Ike-killed oaks is an amazing grassroots art thing in Galveston
. Seriously, the city should publish a map online showing all the locations of these sculptures and promote it to tourists. I'd take that tour. (
Galveston County Daily News
)