I hit the galleries hard this weekend--six in total, three I had never been to before. I like to take pictures in galleries, but I feel a little uncomfortable doing it. Museums won't let you--the guards will sweep down on you if you try.
So I went to
McClain Gallery
with a different approach. I would ask for
permission
to take photos. I even made up business cards for this blog, to try to give a little legitimacy to my request. And I was prepared to get a "no." That would have been fine. But the reaction I got was weird. The fellow I talked to (McClain?) was indifferent to whether I took photos. But he was worried that I would
write
something
controversial
. This was a commercial gallery that existed to sell art--not to create controversy. I assured him that I had no intention of being controversial (kind of an empty promise because I have no idea what he would consider controversial). That ended my experiment with asking permission; in other galleries, I just whipped out the camera, hoping not to be kicked out. Still, given McClain dude's conditional permission, I snapped away.
The show in the front gallery is work by Jason Villegas, who also has a show up at the
CAMH
. You can't ask for better advertising than that (or, as Don Thompson writes
The $12 Million Stuffed Shark
, CAMH enhances Villegas' brand in the eyes of local collectors). Villegas does his own version of
crap on crap
. For him, the crap consists of old golf shirts found in thrift stores, particularly ones that had little animals on them. Obviously the famous brand is the Izod alligator, but it turns out that there were (are?) lots of animal knock-offs.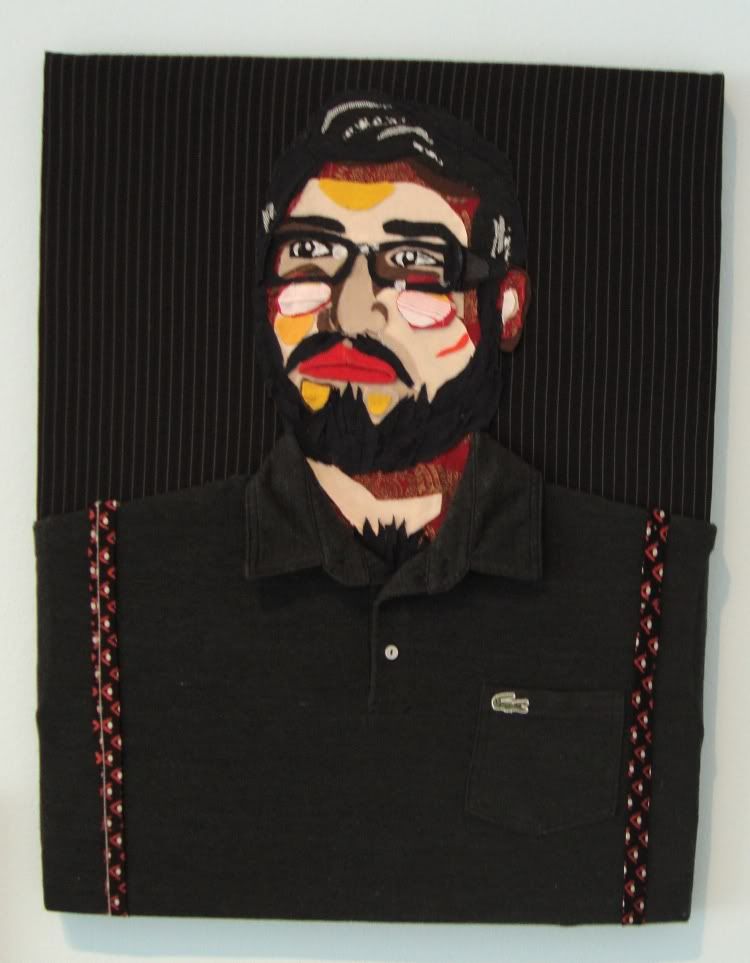 Conquistador, Jason Villegas, 2009
He approaches the work of tearing up and recombining golf shirts from every angle, including paintings of the assemblages. One of the pieces at CAMH consists of horizontal ripped pieces of shirts stapled to the wall in the shape of a rounded triangle. The shirt bits all have long thin curled up bits of fabric hanging down like fringe. So here at McClain, Villegas basically paints this assemblage. Twice.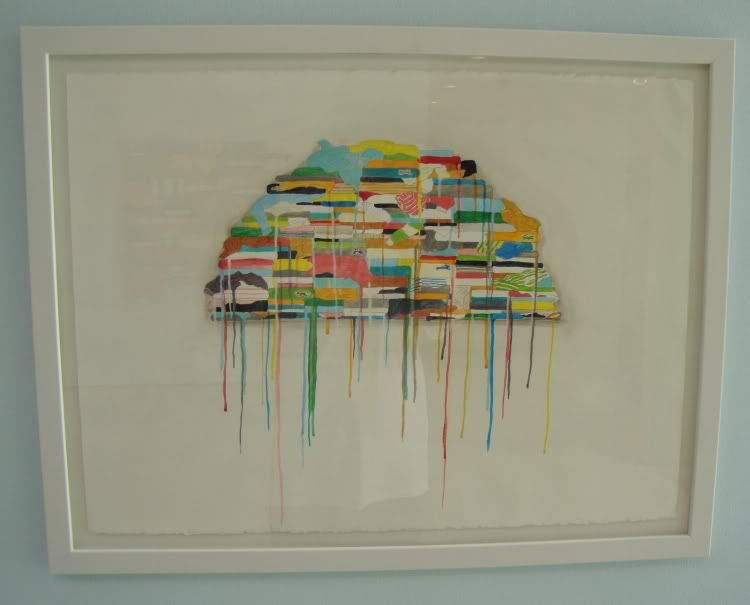 Polo Pile, Jason Villegas, acrylic and marker, 2009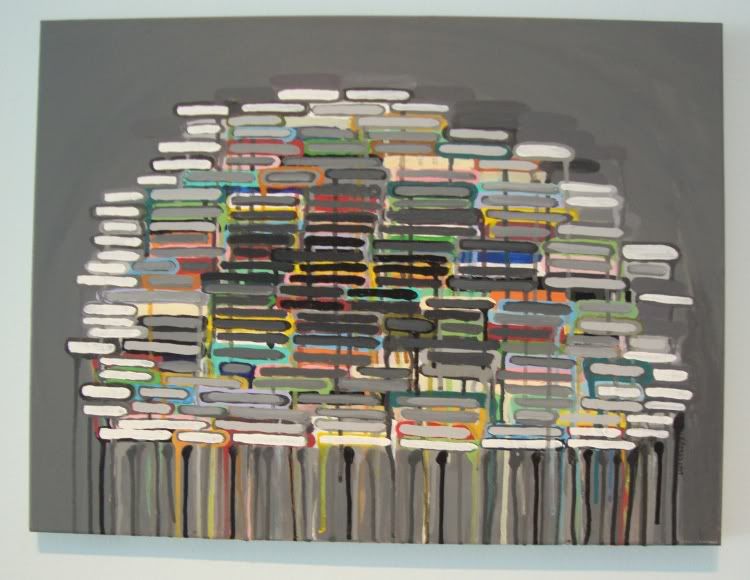 Polo Pile Subdued as Microorganism, Jason Villegas, acrylic, 2009
The hanging fringe of the original is replaced by paint drips in these versions.
He also creates self-portraits where he takes on the animal identity of each brand.
Self-Portrait as Fox Brand, Jason Villegas, marker and pencil, 2009
Self-Portrait as Hare Brand, Jason Villegas, marker and pencil, 2009
The biggest piece was drawn and stapled right to the rear wall of the gallery.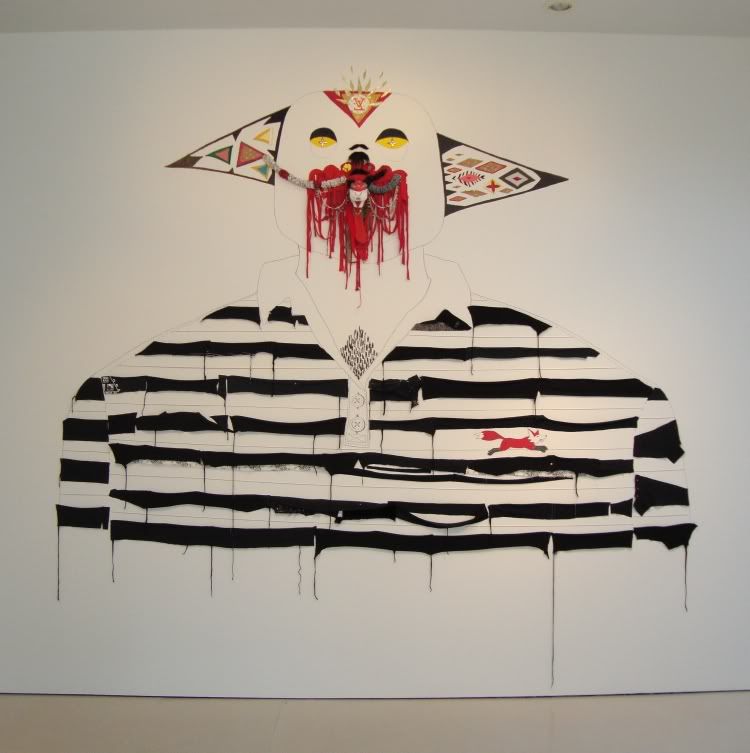 Fox Brand Spirit Portrait, Jason Villegas, mixed media installation, 2009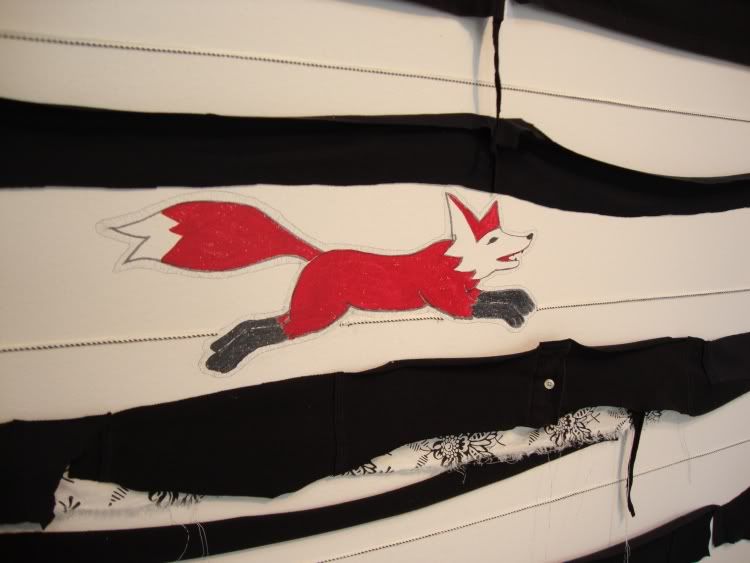 Fox Brand Spirit Portrait detail, Jason Villegas, mixed media installation, 2009
As you can see, the little fox appears to be drawn right on the wall. (Or maybe drawn on paper and pasted.) As the man I spoke with repeated emphasized, the McClain Gallery is a commercial enterprise. All these works are for sale; all of them have prices on a price list. Except this one, which is POR (price on request).
So what do you get if you buy "Fox Brand Spirit Portrait"? Does Jason Villegas come over to your house and staple the bits of torn golf shirt right on your wall? Does he draw a little fox on your plaster? I have often wondered this about installations that are sold through commercial galleries.
In a gallery in the back is a small show by The Art Guys. Whenever I see their work, I just dig their endless inventiveness and humor.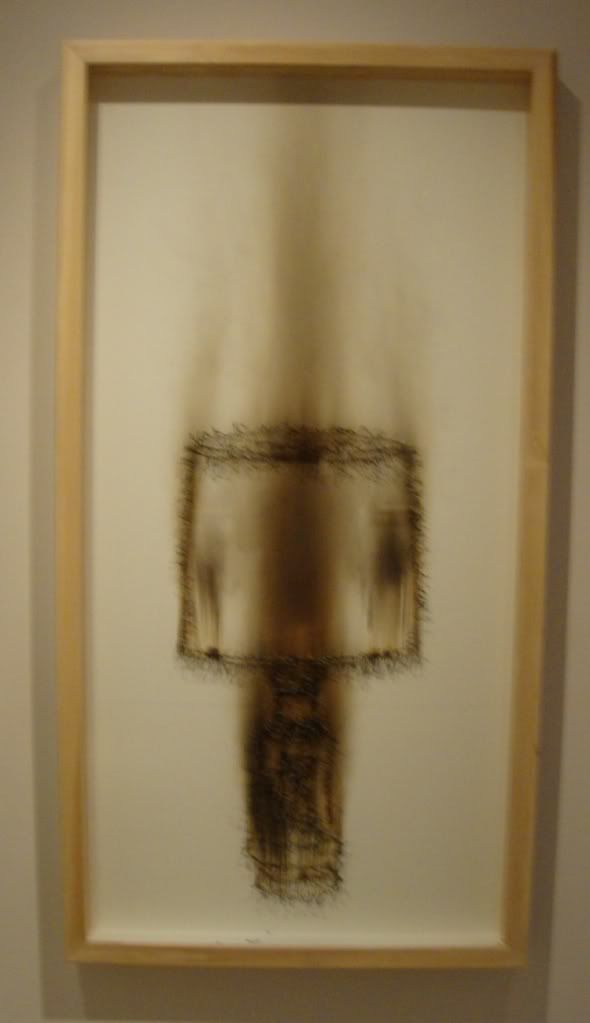 Lamp, the Art Guys, burned matches on paper, 2008
Burned matches? Yep. Here's a detail.
Lamp detail, the Art Guys, burned matches on paper, 2008
But here's my favorite piece in the show. I apologize for the poor photograph. I have done all kinds of digital manipulations to make it a little more readible.
Any of These Locations Would be an Excellent Place to Begin a Drawing, the Art Guys, graphite on paper, 2008
It's hard to read, but the little phrases in this piece say things like "Left of center", "Exact center", "Slightly off-center", "Near the bottom", etc. That piece should go in a drawing textbook.
Impressions of the gallery? Very high-end commercial (although I should add that you could buy some of those Jason Villegas pieces for really decent prices). You look at the artists McClain shows, and they are almost all fairly well-known contemporary figures. In
The $12 Million Dollar Stuffed Shark
, Don Thompson speaks of how big New York and London galleries will have subsidiary relationships with galleries in other parts of the country, so that non-NYC galleries can market some of the big names from NYC to the hinterland. So I wonder if McClain has that kind of relationship with any blue chip galleries in NYC. Such an arrangement, I assume, would mutually benefit the artist (geographically expanding his market), local collectors (improved access to top artists' work), the local gallery (ability to show top NYC artists), and the New York gallery (improved access to non-NYC collectors). But I wonder how the contracts between the local gallery and the NYC gallery work? Of course, I have no idea if this is what McClain is doing in the first place, so please excuse this idle, completely
uncontroversial
speculation.