by
Robert Boyd
In spring, I visited various Austin art establishments and
one that impressed me a lot was Tiny Park
, an apartment gallery in North Austin. Last night,
Tiny Park
made the transition to being a storefront gallery. It's not quite what I'd call a full-fledged gallery--the owners/directors,
Brian Willey and Thao Votang, both have full-time jobs which means the gallery is only open on Saturdays and occasionally during the week for special events. But it's ambitious, and I respect anyone who tries to do anything serious with art while maintaining a full-time job (which, after all, is the "business model" of The Great God Pan Is Dead).
The opening, which was a "greatest hits" show rather than an exhibit of all new work, was well-attended. Jaime S. Castillo told me that roughly half the people there were the type of people who would show up to Tiny Park openings in the old apartment location, and the other half were people who showed up for gallery events but had never made the trek out to the old, relatively obscure location. (This was a very rough estimate on his part.)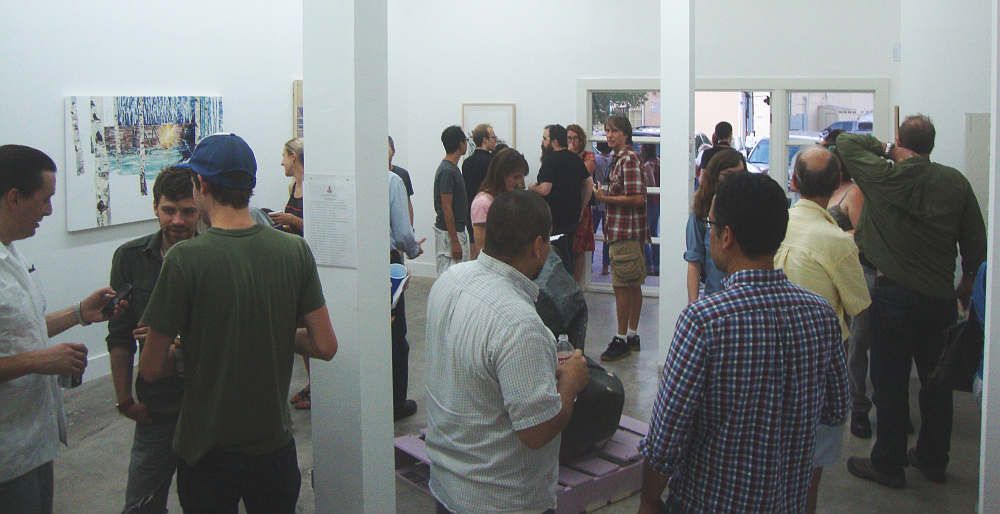 Austin's gallery scene seems to always be in a state of struggle. (Not that it's a walk in the park in Houston.) I heard lamentations about Art Palace's move to Houston--and that happened two years ago. So Tiny Park is fulfilling an important role. I hope the responsibility isn't to much for them!
Even though it's an official white cube gallery now, it still retains a bit of the old apartment gallery vibe. Like these cookies, baked in the shape of their red Christmas tree logo.
I had seen a lot of the art here the last time I visited. But there were also pieces that were new to me that I liked a lot.
Miguel Aragón, Retrato #4, Tabla de Yesa, hand drilled drywall, 65" x 48"
My first reaction to this piece by
Miguel Aragón
was that this was some random piece of garbage--a chunk of damaged drywall from a construction site. In short, a typical piece of "post-craft" art. But I was quite wrong, because facing it was this piece:
Miguel Aragón, Retrato #4, Matriz, hand drilled paper with xerox, 65" x 48"
So the drywall was a part of the process to make this piece. And the process is itself part of the piece. When you realize this, you can see the face emerging out of the drill-holes in the drywall. And the face itself is disturbing--it appears to be the face of a corpse. The damaged quality of both pieces invokes a sense of violence, and the way the image--which looks like a blow up from a newspaper photo--is partially erased reminds me of the work of Oscar Muñoz.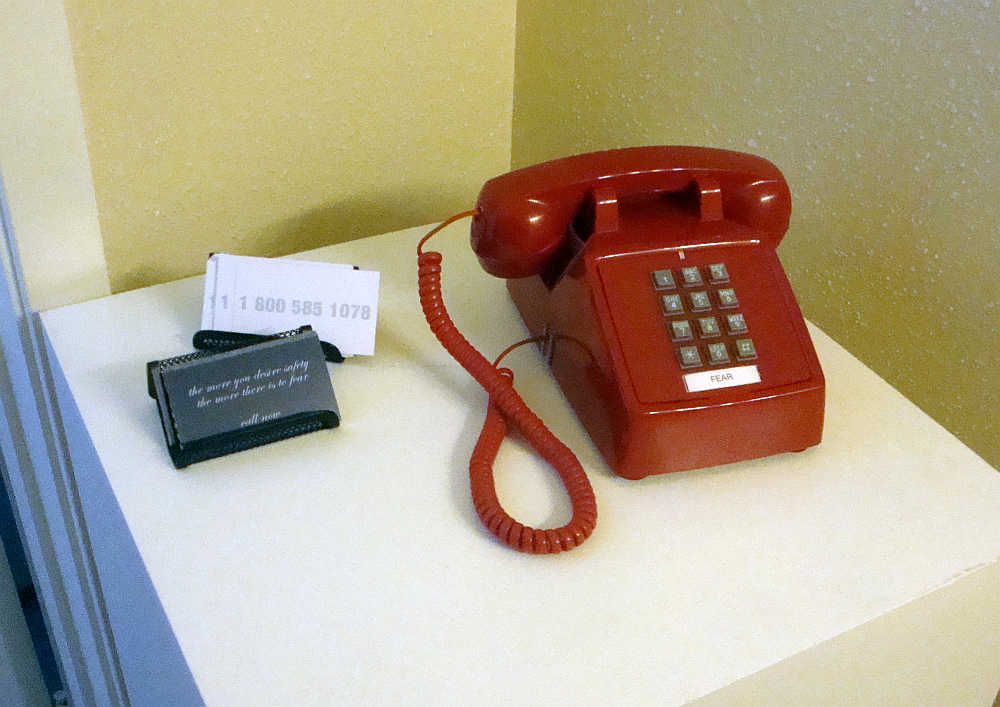 Deborah Stratman, Fear (Call Center v. 2), 2012, mixed media
Fear was in the bathroom. This piece by Deborah Stratman is one that you yourself can experience by calling 1-800-585-1078 and describing your greatest fear. Stratman has been cataloging these fears since 2004. She plans to continue doing so until 2014. What will happen then, I don't know. But until then, it might be therapeutic to tell an answering machine the thing you fear the most.
Michael Sieben, Abandoned Ladder to Heaven Sculpture, 2011, mixed media
Michael Sieben's Abandoned Ladder to Heaven Sculpture was the funniest piece in the exhibit. The ambitious goal (a ladder to Heaven) is lazily undermined. It made me think of the dream of Jacob in Genesis 28:10-19, of course, and Bernini's Ecstacy of St. Teresa, but filtered through a slacker consciousness. Instead of being an ecstatic visionary like Jacob or St. Teresa, the builder of this ladder to heaven is a lazy slob who completes three and a half rungs before giving up and leaving his tools strewn on the floor. In a way, it could be read as an allegory of certain contemporary art practices--the willingness to half-ass the job as long as the concept is minimally communicated (or not). But's that's my gripe, and Sieben might not have been thinking about that at all.