Last year, the Apama Mackey Gallery put up a one-night only show called
The AMG Visual Stimulus Package
. The show's gimmick was that all the artwork was on sale for either $50 or $100. It was in their really cool gallery made of old shipping containers up on 11th in the Heights. I've wondered what happened to them. The last show they had that I know about was last December, and the gallery always seems locked. I have been assuming they went out of business--or at least on hiatus.
The
new Stimulus Package
was tonight, and it didn't really settle the questions because it was held at
Ggallery
. It was still put together by the same people, but now in a bigger gallery. It looked like there was more art, too.
Here's some of the art I liked there.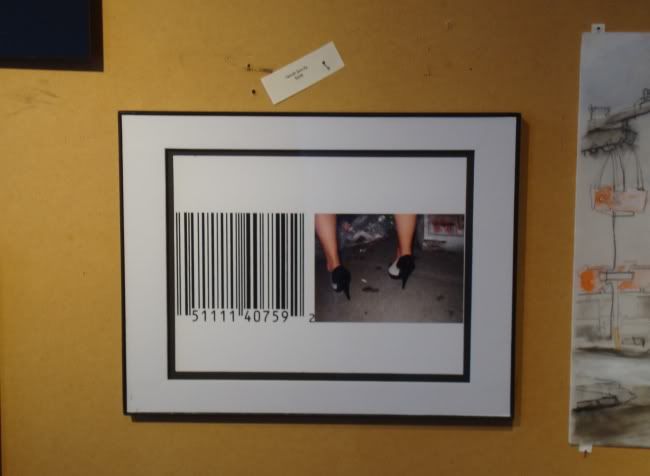 Sarah Jawda, untitled, photograph
I liked the juxtaposition of barcode and "fuck me heels." I guess it could be read as saying sex is a commodity. Jawda is a designer and half of the design crew
Jawda and Jawda
.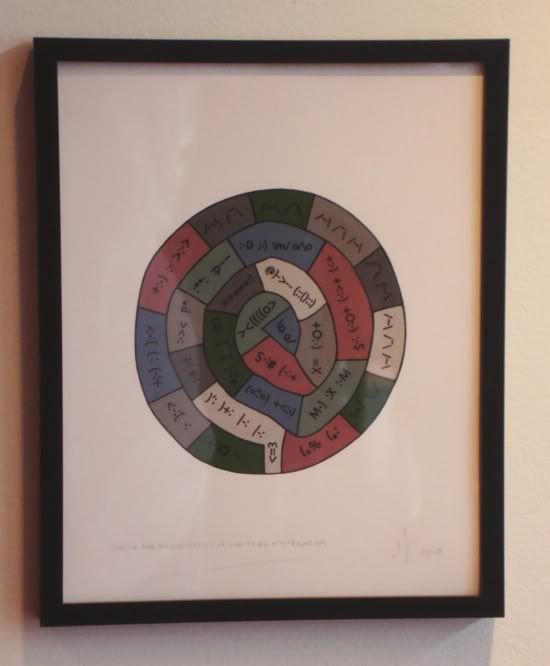 Marzia Faggin, not sure what the title is, painting
I saw a
couple of Marzia Faggin paintings at Poissant Gallery
last month, and liked them a lot. I liked her work in this show as well. The work she showed here--this painting and a couple of other pieces--is drastically different from the work I saw before. I wonder where she is coming from with her work? It's hard to reconcile the work I've seen. I like it all, though.
Chris Olivier, untitled, lightbulbs, nuts, bolts, wire, 2010
I liked these a lot and I
almost
got one. Picking them up is a trip--they weigh quite a bit. I was worried about how to display it. It seemed very fragile, very breakable. A functionless object made out of very functional pieces. Chris Olivier was apparently part of
I Love You Baby
and now also makes art under the moniker
Bexar
.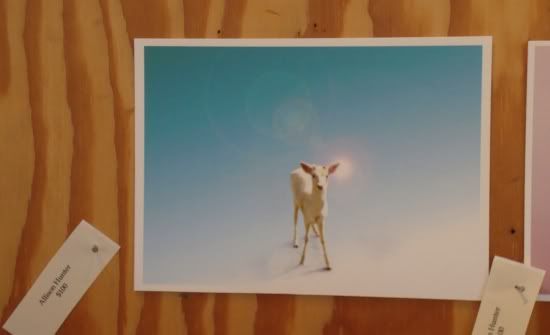 Allison Hunter, untitled 23, photograph
I was really harsh about
Allison Hunter's
Diverse Works installation
Zoosphere
. On the opposite scale, her four tiny pastel photos of lambs and birds that were on display here were really good. They seemed so plastic and
wrong
, yet with a subtle hint of sincerity that undercut the airless irony. I liked them quite a lot.
unknown artist, unknown title, phtoograph
I don't remember who this artist was. It looks like he or she took a piece of 35 mm film and blew it up, sprocket holes and all. The image could almost be newsreel footage of Evita Peron. The photo I took of it has a bunch of blue reflection in it. At first I was bummed, but the more I look at it, the more I like the reflections! It was just what the piece was missing! Kidding--I liked it for what it was. The hugely blown up motion picture film worked for me.
I liked some other art as well--enough that I bought it. But that's another post.