I am a collector of comics art in addition to collecting contemporary fine art. Collecting comics art is a lot easier than collecting contemporary fine art for one simple reason--original comics artwork is a lot cheaper. Why? I don't really understand it, to be honest. It seems like in the past decade especially, there has been a growing acceptance of the importance of comics as an artistic medium in this country. This has affected a lot of things--the format of comics (they are much more likely to be published in book format as opposed to the more disposable comic book format), the acceptance of certain comics in the literary world. and obviously (and somewhat regrettably) the embrace of comics by Hollywood.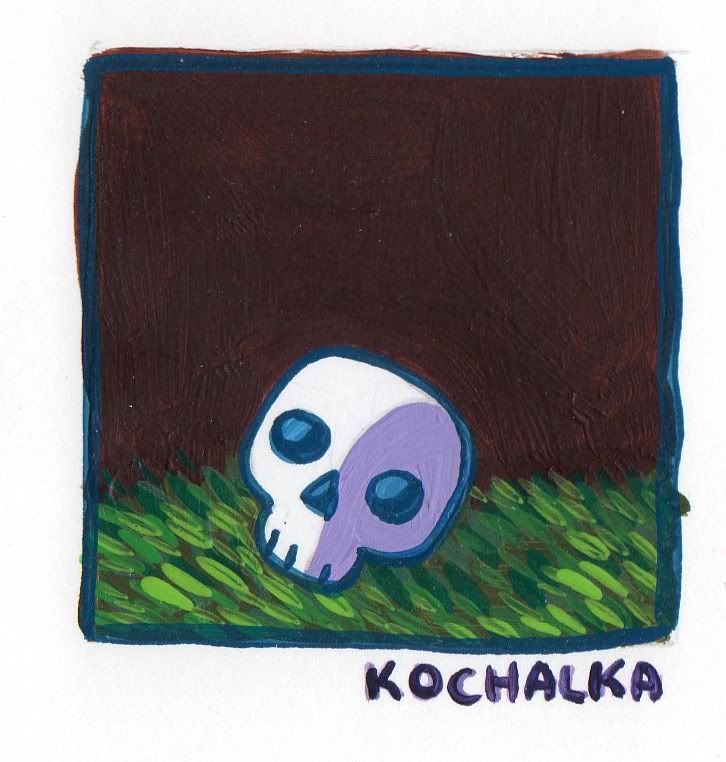 James Kochalka, Skull, acrylic on paper
But the art world lags behind. Comics art is not collected by museums (that I know of) and there are few art galleries that deal with it. The MFAH has a page where you
can search their collection
, which is mammoth. I put in the names "Herriman," "McCay," "Crumb," "Spiegelman," and "Chris Ware" and got bupkis. The CAMH had a show called
"
Splat Boom Pow! The Influence of Comics in Contemporary Art" in 2003. It featured the following artists:
Laylah Ali, Candida Alvarez, Polly Apfelbaum, Ida Applebroog, John Bankston, Jean-Michel Basquiat, Dara Birnbaum, Roger Brown, Enrique Chagoya, Michael Ray Charles, George Condo, Cat Chow, Renee Cox, Henry Darger, Jason Dunda, Michael Galbincea, Kojo Griffin, Trenton Doyle Hancock, Keith Haring, Rachel Hecker, Arturo Herrera, Roy Lichtenstein, Liza Lou, Kara Maria, Kerry James Marshall, Julie Mehretu, Takashi Murakami, Elizabeth Murray, Yoshimoto Nara, Raymond Pettibon, Sigmar Polke, Robert Pruitt, Mel Ramos, David Sandlin, Peter Saul, Kenny Scharf, David Shrigley, Roger Shimomura, Andy Warhol, and Jennifer Zackin. In short, it had precisely zero comics artists. That is indicative of the lack of respect (if not outright condescension) comics art gets from art world institutions.
OK, enough griping. The point is, I think this is a cultural error. But this is how it is, and for me, one unexpectedly nice aspect of this is that comics art is relatively cheap, as I mentioned above. So I have bought a bunch of it over the past few years.
James Kochalka, Worms, acrylic on paper
There is a website called Comic Art Fans where collectors post their collections. Now most of these collections are pretty mainstream--not what I personally would consider artistically interesting artwork. But there are a lot of adventurous, sensitive collectors who post there. For instance, Suat Tong Ng's collection, or Dries Dewulf's (you can deduce from the names that the collectors come from various points on the globe).
James Kochalka, Worms, acrylic on paper
I have put my own collection up there (there are still a couple of pieces I need to photograph, but this is most of the comics and comics-related art I have). Take a look. What's enjoyable about this site is that it becomes a database for the work you have collected, which means it becomes a database for everyone's work. I can easily find people who have similar interests as collectors as I do, and vice versa. So it is a small but perfectly focused social network.
If I ever get my comics festival off the ground (unlikely given the resounding shrug of indifference the proposal has evoked in the readership of this blog), CAF will be a valuable resource. For example, if I were curating a show of Chester Gould Dick Tracy originals, focusing on his use of silhouette, I could look Gould up on CAF to see what collectors have examples and if there might be any I want to borrow for the exhibit.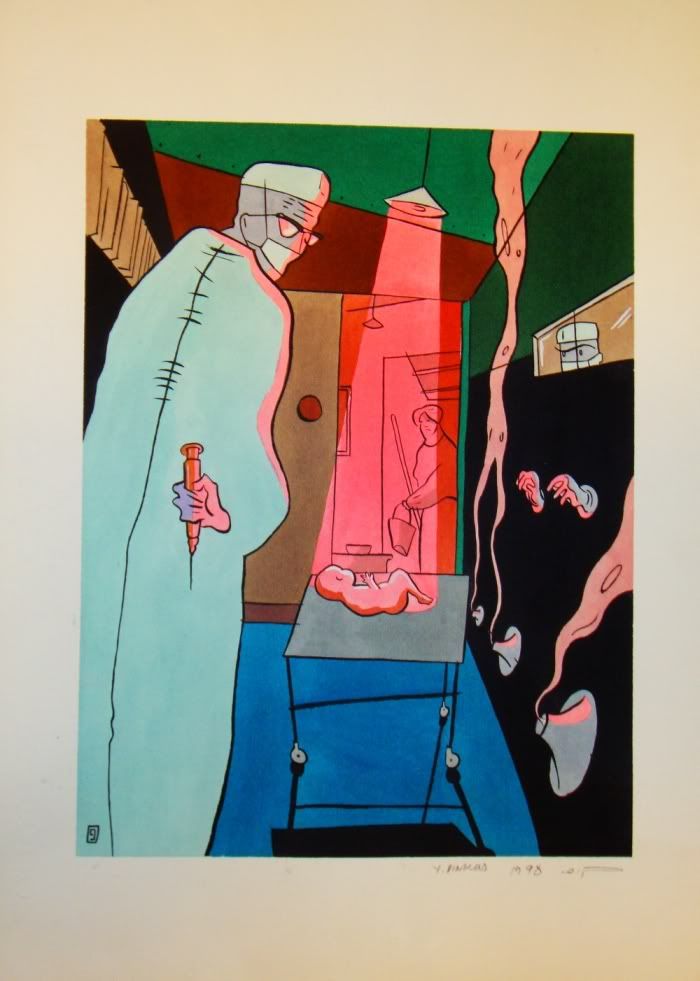 Yirmi Pinkus, untitled, pen and ink and watercolor, 1998