Lane Hagood
took over
the Joanna
on Saturday with a large show of paintings, drawings, sculptures and large photocopies called "The Museum of Eterna". Before I launch into this, I have to confess that I
own two Lane Hagood paintings
. This means that I am rooting for Hagood. When he has a new show, I want it to be good so I can feel good about the pieces I have. But it's conceivable that because I have work of his, I will be biased in favor of his new shows. Read this review with that in mind.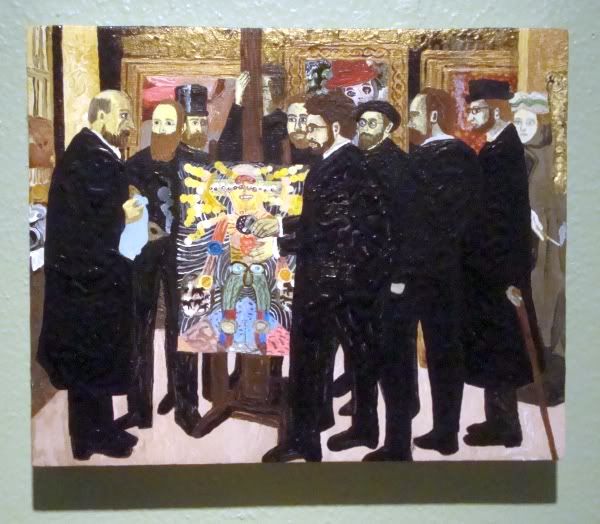 Lane Hagood, Homage to Crawdad, painting on canvas, 2010
This painting is driving me crazy because I know it's a parody of a well-known painting of judges at a salon in 19th century France. But my visual memory is failing me and the internet isn't saving my bacon. I can't remember who painted the original. (
Update
: Yes, art-lovers. It's based on
Hommage à Cézanne
by Maurice Denis, painted in 1900.)
No matter. This painting is typical of Hagood's interests as an artist. He is fascinated with collections of things--objects, artworks, specimens. He refers to various works and group of works as "salons." This word is meant in the old sense of a painting competition as opposed to a collection of people gathered for conversation (though I suspect Hagood would be interested in the latter type of salon as well.) Images of 18th and 19th century salons showed paintings stacked on top of one-another, filling the walls. This
horror vacui
is as typical of
collectors
as it is of collections.
Lane Hagood, Abstract Salon, acrylic on canvas, 2010
So you get works like this which are abstract paintings on one hand but are
collections
of abstract paintings on the other. A single abstraction has the potential to be a heroic, sublime work of modernism--the sort of quasi-religious work that brought modernism to an ultimate crisis. But a collection like this is post-modern. This kind of work recalls Yves Klein more than Mark Rothko. It is more about the spectacle of paintings, the concept of exhibiting them. It specifically reminds me of Yves Klein's
Yves Peintures
, a catalog of paintings that didn't exist. The
Abstract Salons
(there are several in the show) are depictions of abstract paintings that don't have independent existence.
Lane Hagood, Abstract Salon detail, acrylic on canvas, 2010
In two rooms in the Joanna, Hagood creates salon-like environments. In one, he has made a bunch of posters of personal culture heroes.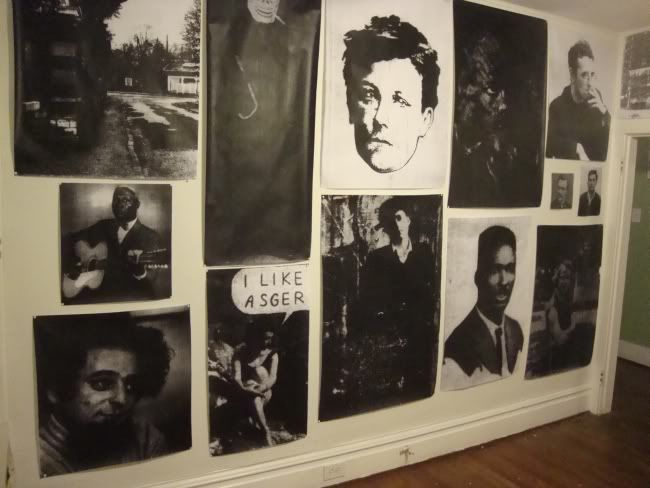 Lane Hagood, Icon Salon installation view, various posters, 2010
Artists, musicians and writers like Rimbaud, Georges Perec and Roberto Bolaño are among Hagoods icons.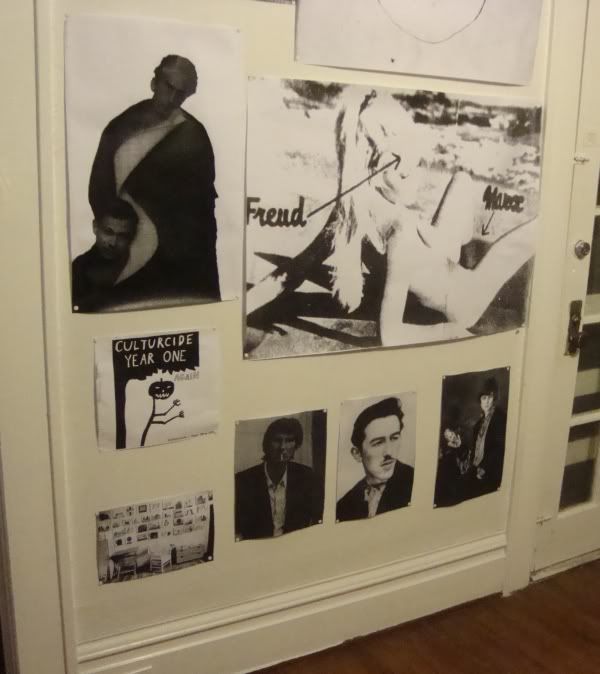 Lane Hagood, Icon Salon installation view, various posters, 2010
Not to mention Houston's own
Mark Flood.
Another salon-room is the
Black Snake Salon
.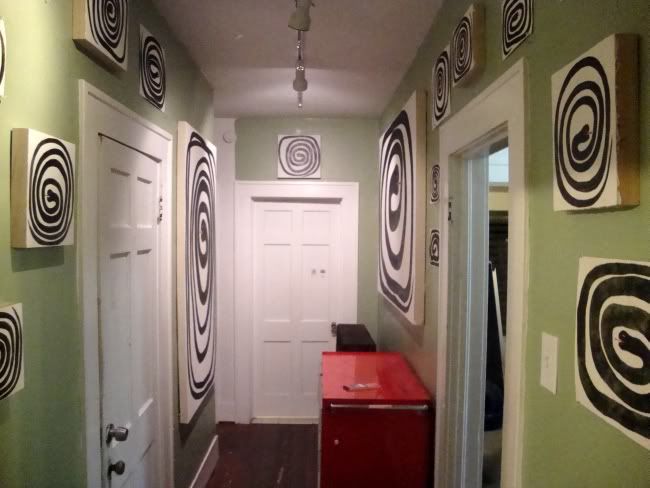 Lane Hagood, Black Snake Salon, mixed media, 2010
Here Hagood is emulating the animal collections of early naturalists, who were themselves no less infected with collector fever as
any other
. These collections are trophies--a word that specifically describes taxidermied animals that have been hunted, as well as a general showing off of valuable items in one's possession. And that is what the collector is all about. His collection signals to other people--his wealth (maybe), his taste (possibly), his learnedness (perhaps)--and possibly all three (a valuable art collection, for example). But there is also a deeper psychological force at work. Collectors are hoarders, and we know hoarding can be pathological. It's a small step from being an avid collector to being someone who has something seriously wrong with his head.

Lane Hagood, Detourned Bust, mass-produced statuary, foam, acrylic paint, 2010
Included in the show are a collection of "detourned busts".
D
étournment is a term from Situationism which means to take existing images, objects or texts, and by changing parts of them to change their meanings. There often an element of political subversion involved (as when billboards are altered to contain anti-consumerist messages). But in general,
D
étournment is part and parcel with modernist and post-modernist art practices--collage, pastiche, parody, etc. Lanegood doesn't seem to be making a political statement or even an anti-art or dadaist statement. (After all, his other art is highly respectful of art and literature from the past.) Instead, he seems to be creating a disturbing experience of classical beauty colliding with disturbing ugliness. The painted foam "heads" might remind viewers of the head of Joseph Merrick (the Elephant Man), of tumors, of fungal growths, or of shit.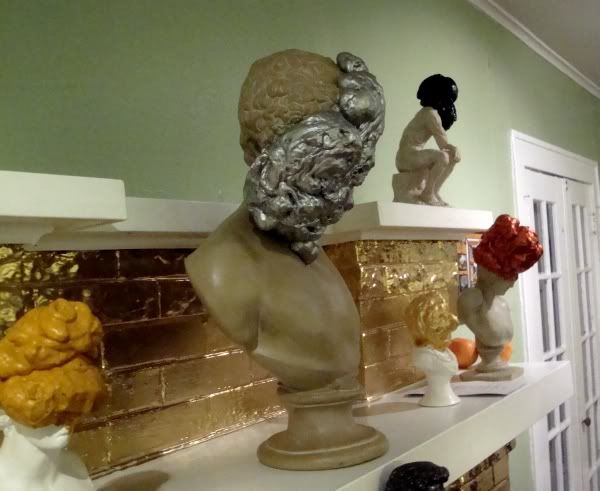 Lane Hagood, Detourned Busts installation, 2010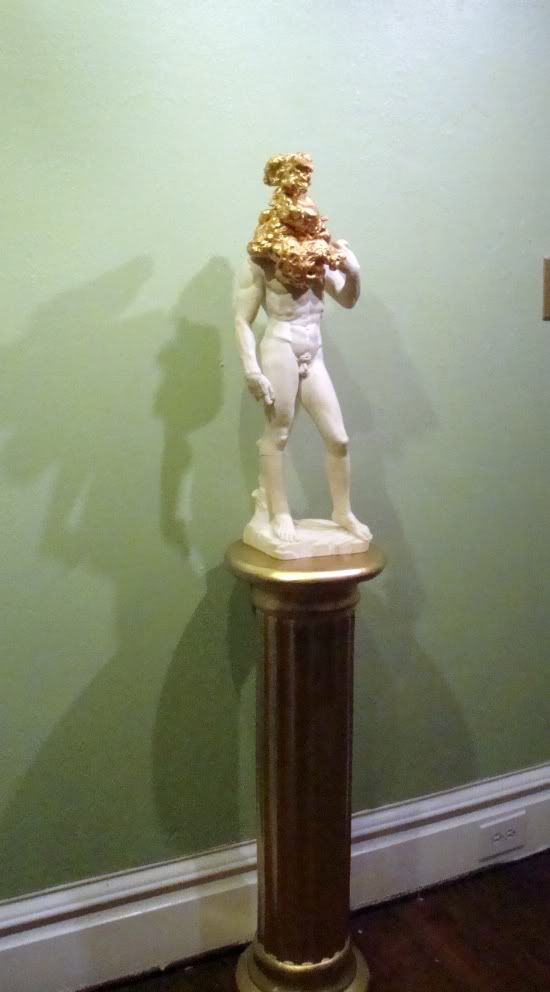 Lane Hagood, Detourned Bust, mass-produced statuary, foam, acrylic paint, 2010
The ironic juxtaposition of shapeless "ugliness" with classical beauty is mirrored with another juxtaposition--mass produced statues and unique shapes. These statues are made from sources ranging from classical Greece and Rome, Michelangelo, and Rodin, but they are churned out in factories for home decoration. Each shapeless foam addition is, however, unique. (Full disclosure again--I bought one of these pieces.)
I will leave you with one more "salon"--a painting of paintings, but unlike the
Abstract Salon
, Hagood is reproducing well-known works of art.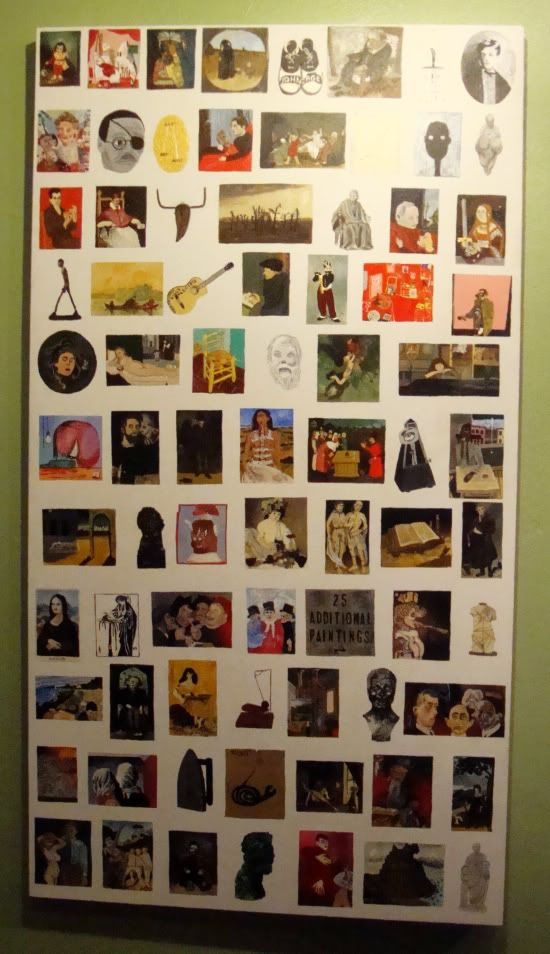 Lane Hagood, Seventy Eight Objects Depicted Within and Object, acrylic on canvas, 2010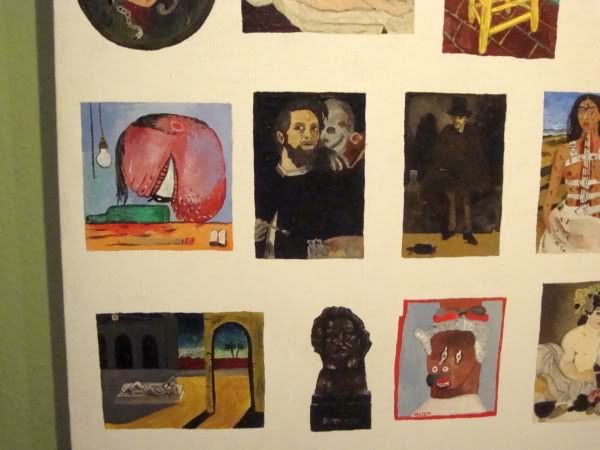 Lane Hagood, Seventy Eight Objects Depicted Within an Object detail, acrylic on canvas, 2010
By painting this, Hagood is creating his own platonic museum--and one that is relatively portable at that. Of course, we have portable art museums already. They are called art books. And we can add to them new technologies like Google Art Project. But Hagood is creating a highly personal version of a portable museum. John Berger wrote about this in
Ways of Seeing-
-he commented how reproductions of photos, texts, and art pinned onto a bulletin board in a teenager's bedroom creates a personal meaning that can't be reproduced by walking through a museum. Hagood mentioned this quality at the opening, how each person's collection is a personal expression. This may be a very solipsistic conception of the "museum" or "collection," but if one accepts, as
Thomas McEvilley
claims, that there is no universal taste, then a personal version of taste is what remains. When I was younger and we still had such things as records, one quick way to learn something about a person was to check out her record collection. Hagood is letting us check out his.
Tweet