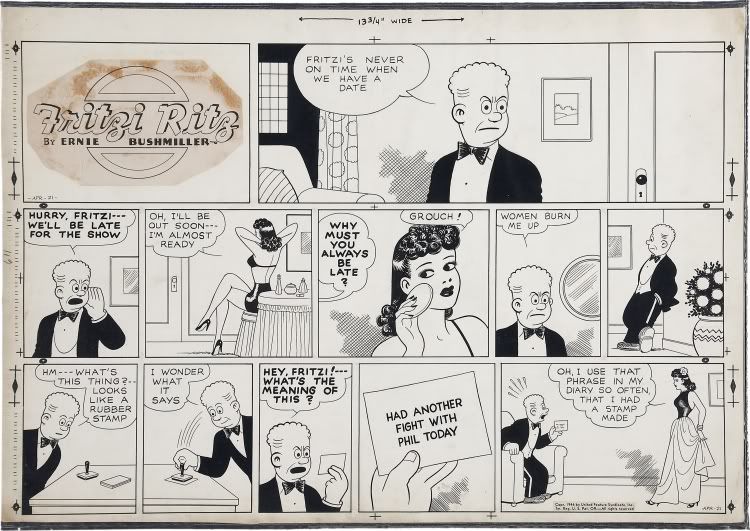 Ernie Bushmiller, Fritzi Ritz, ink on bristol board, April 21, 1946
I've never been a "
Nancy boy,
" even though I understand why they love the strip so much. But I always preferred the Fritzi Ritz strips, with their pin-up style depictions of Nancy's sexy aunt. And
Bushmiller's
ultra-clean style is extremely eye-catching. The original art here is
huge
--24" by 17". It's kind of astonishing how varied strip artists were in how they created their originals.

George McManus, Bringing Up Father, ink on bristol board, December 10, 1937
In contrast,
George McManus
worked quite small on this strip (18" by 4 3/4"). The gag here is not very funny, although Jiggs's line in the first panel made me laugh.
McManus
is said to have invented the clear line style. I'm not sure if that claim is really true, but his crisp drawing does remind one of
Herge
, but even more of
Joost Swarte
. Swarte and McManus both seem to exemplify a moderne art deco approach to drawing comics--Swarte as a postmodernist and a nostalgist, and McManus as a cartoonist perfectly in tune with his times.