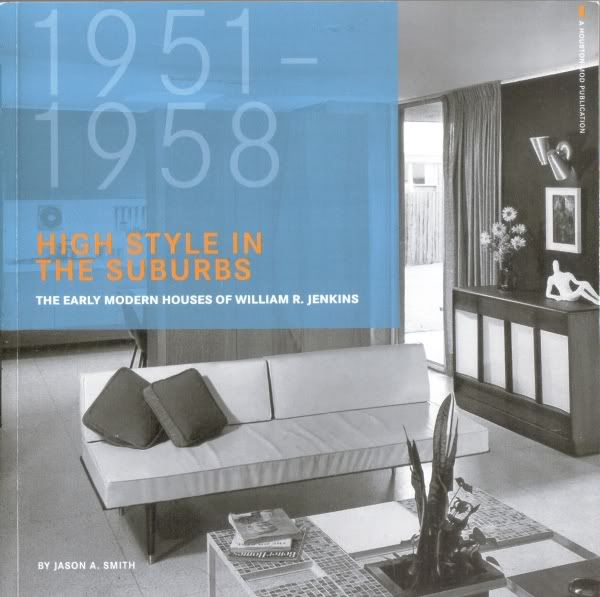 I want to make a brief mention of this book, which I read last week. It's modest (62 pages, discussing 11 houses designed by William Jenkins) but important for the cultural history of Houston. (Yes, I know--"cultural history" and "Houston" are words that don't seem to go together naturally.) These were modernist houses design by William R. Jenkins and built in Houston between 1951 and 1958. They were all built in the southwest part of town, near the Bellaire and Post Oak. Jenkins was an important Houston architect who eventually became dean of the U.H. architecture school during an important period of its expansion (when the Philip Johnson structure that houses the school was built).
This book goes through each house one by one, with plans, period photos, contemporary photos (when available--not all the houses are still around), and brief but informative descriptions of each house and how it came to be.
The publisher is an organization devoted to significant modernist buildings in Houston (from the modest, like these houses, to the huge, like the Astrodome).
Houston Mod
is doing great work in both raising awareness of Houston's architectural history and documenting it. (In some cases, Houston Mod members are buying and restoring mid-century modernist houses--and thus saving them from developers who would thoughtless scrape the lot and replace the houses with neo-Tuscan McMansions.)
(Now if only they could update their website with ordering info for this book. I got my copy at the
MFAH
bookstore.)