Last year, as far as comics art went, I collected mostly classic comic strips. This year, I am going to deliberately try to collect underground, alternative and art comics original artwork. I started off with a bit of a windfall--11 pages by two artists, both of whom were key figures in the "
newave
" comics scene of the 1980s.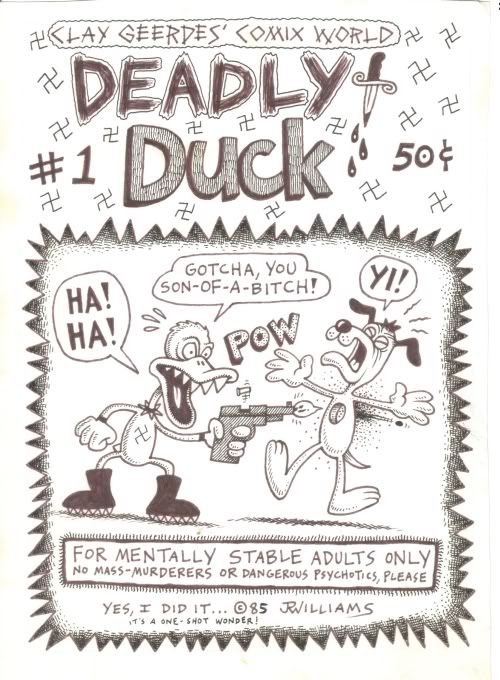 J.R. Williams, Deadly Duck cover, 1985
J.R. Williams
is an artist from Portland, Oregon. The pages here are from a minicomic he did in 1985 for Clay Geerdes Comix World.
Clay Geerde
s was an impresario of minicomics, publishing comics for many artists at the time.
What are
minicomics
? I guess the strictest definition would be that they were xeroxed comics printed on a piece of letter-sized paper folded over once then again to create a 4 1/4" x 5 1/2" 8-page booklet. But in general, minicomics has come to mean any self-published, micro-print-run comic (usually xeroxed). Minicomics arose with the rise of inexpensive and ubiquitous photocopiers in the 1970s. The people who drew them were amateur cartoonists inspired by the underground comics of the '60s. They formed their own networks through the mail, which in turn lead to an international movement of minicomics. (Minicomics can be seen as a subset of the zine movement of the same period. And many fans and practitioners connected to one another through the zine magazine,
Factsheet Five
.)
In the early 80s, minicomics were also called "newave" comics. (There is a massive collection of "Newave" comics coming out presently from Fantagraphics Books.) That's the term under which I first became aware of them, through the great comics critic
Dale Luciano's
mammoth survey of the "newave" scene that ran in several issues of
The Comics Journal
. Later, when I worked for Fantagraphics, I started writing a column about minicomics called "Minimalism" for
The Comics Journal
. I wrote it from 1992 to 1996, but
it continues to this day
, amazingly.
Many of the minicomics artists were really talented. They did minicomics for a variety of reasons, but for some of them, one reason was a lack of venues where they could get their work published commercially. The undergrounds pretty much died in the 1970s, and nothing took their place until the 80s. In the case of J.R. Williams, he found a home at Fantagraphics, where he had an ongoing series. But unlike many of his minicomics peers, he was a professional artist. When I first met him, he was working as an animator in Portland. He later moved up to Seattle to draw full time, and I later hired him to write a comic for me (
Welcome to the Little Shop of Horrors
).
J.R. Williams, Deadly Duck page 1, 1985
Deadly Duck was published in the classic minicomics format. Williams' originals are "two up"--twice the size of the printed pages. His minimal drawing style is highly appropriate to the medium in which he is working, as is his sole idea in this story. In seven tiny pages, you can't put in much plot or characterization. But it's a good size for barbaric yawps like this.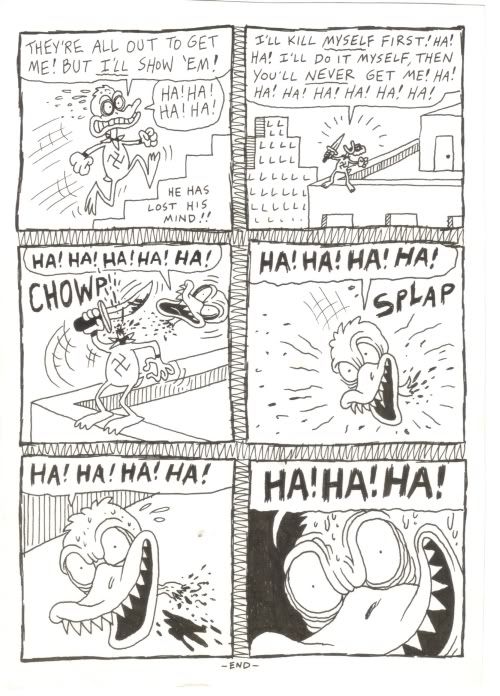 J.R. Williams, Deadly Duck page 7, 1985
I was able to buy all eight pages directly from Williams. They are funny and drawn really well--perfect examples of what minicomics were all about in the 1980s.
Dennis Worden
comes out of the same milieu as Williams. He was from the San Diego area. He started getting published in
Weirdo
, had comics published by Fantagraphics and other publishers, and now does paintings, which he will happily sell to you.
I bought three pages from
Stickboy
#3 (Fantagraphics, 1989). Worden drew them at pretty much their final printed size (8.5" x 11"), which is not typical (most comics are drawn larger than their final printed size). But Worden's art is so precise and clean (not to mention minimal) that they reproduce very well without having to be shrunk.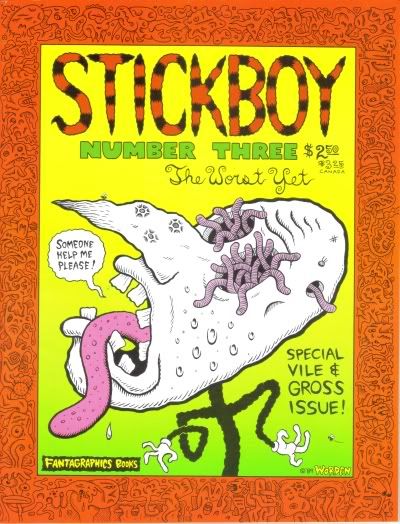 Cover of Stickboy #3
Worden, like Williams, had a powerful wise-ass punk attitude (as you will see in the pages I bought), but he also was unusually philosophical. (There is a self-mocking fan letter from
Wayne White
in
Stickboy
#3 praising Worden's philosophy.) Unlike most cartoonists Worden is an intellectual--a cranky, self-taught intellectual. I think Robert Crumb provided the path. Crumb is a universal cartoonist--within his vast work, every kind of self-examination takes place. Crumb is willing to tackle philosophical and religious ideas, and his own relationship to them, in a way that I think many cartoonists avoid out of a fear of looking foolish. Not Worden--he was quite willing to do the same and defend himself against attacks on his beliefs.
I love Worden's crisp minimal art, and always thought his comics were great. As far as I know, no one ever issued a book collection of his work. So if there is a publisher out there looking for an unusual project, I would say please publish a collection of the comics of Dennis Worden.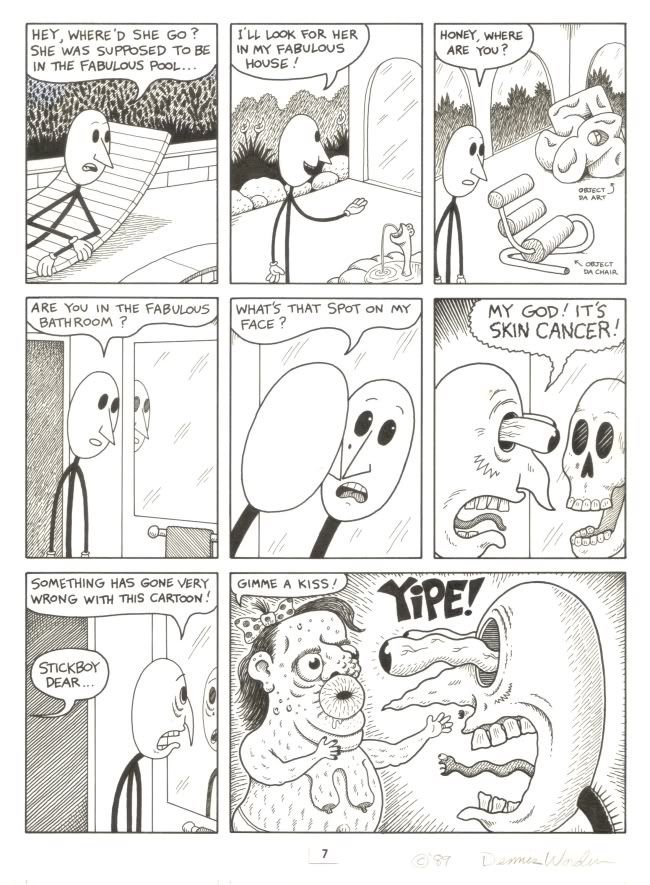 Dennis Worden, Stickboy #3, page 7, 1989
Dennis Worden, Stickboy #3, page 9, 1989