If you haven't read
part 1
and
part 2
, read those first.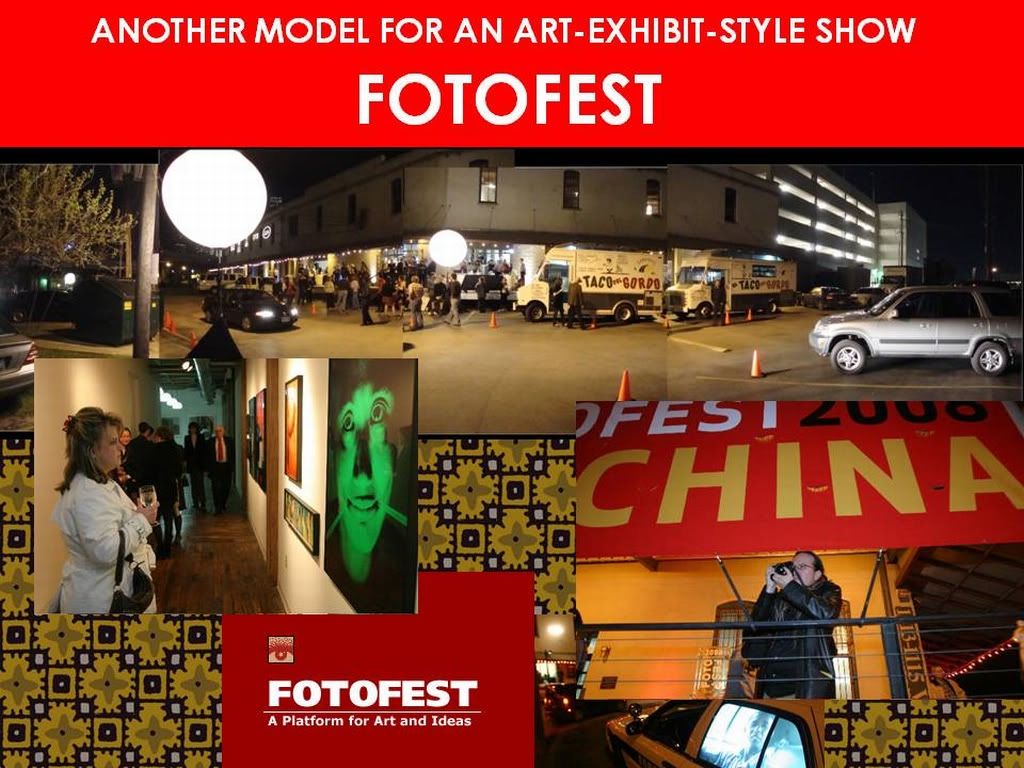 Could a festival like this work in Houston? We obviously couldn't count on high levels of public funding. So if we can't look to Europe for a successful model (at least as far as funding goes), where can we look? A highly successful art festival here in Houston is
Fotofest
. Founded in 1986, Fotofest is a biennial photography festival that features six official exhibits, over a hundred exhibits at "participating spaces", and a large-scale critique for emerging photographers.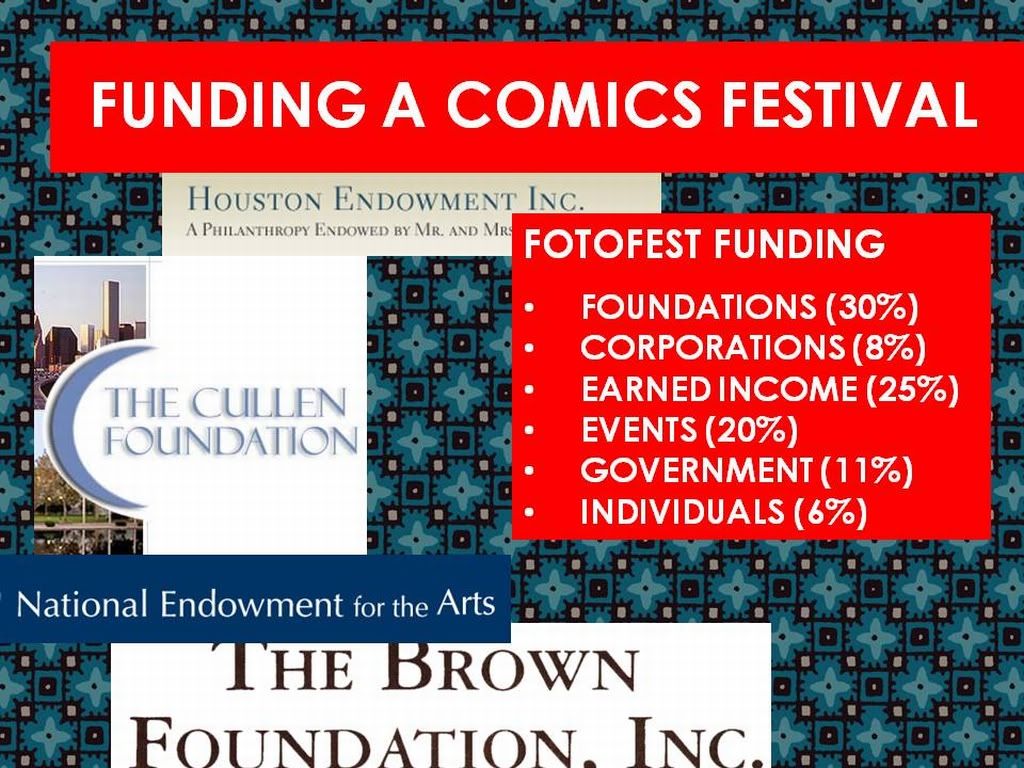 So if we do an exhibit-oriented comics festival, how do we fund it?
Fotofest provides a model
for that. Foundations are their largest funding source. Earned income comes from selling prints, but mostly from photographers paying to participate in critiques. Events include parties and galas and auctions. The government sources include the
NEA
and the
HAA
, a nonprofit organization owned by the city and funded out of the hotel tax.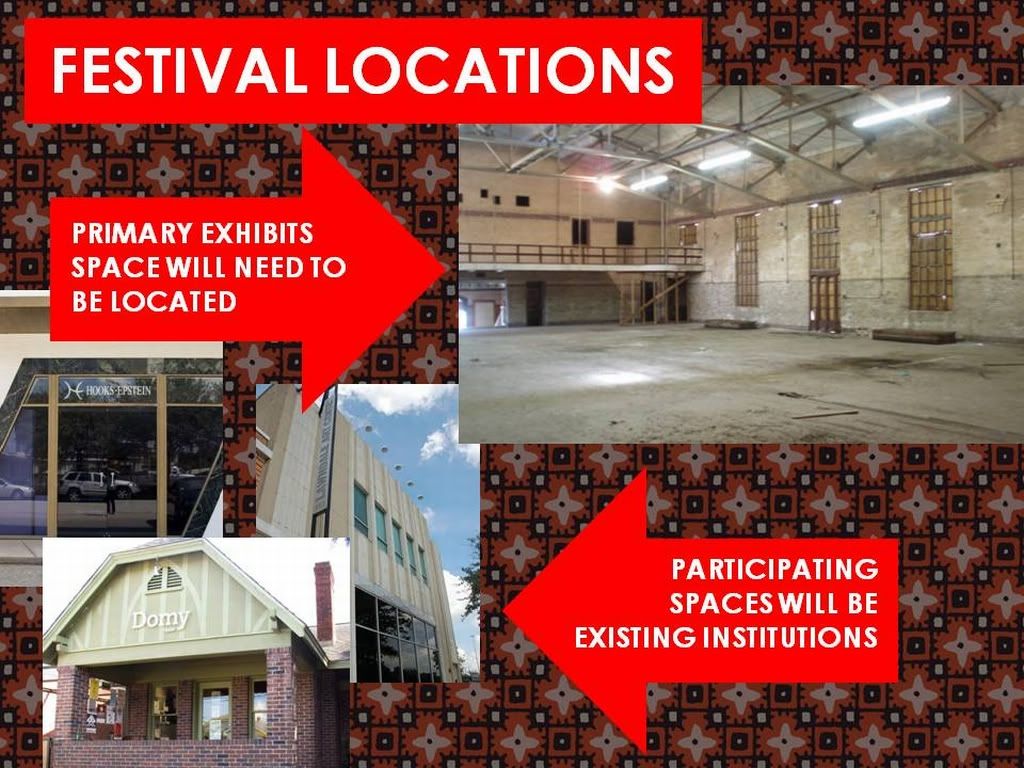 An art exhibit festival needs to have a space where we can display the artwork for at least a month, which rules out a lot of otherwise great locations. Fotofest has used Williams Tower, their own offices, the Winter Street Studios, etc. The participating shows for FotoFest tend to be in art galleries, museums, or public art spaces. A comics art festival would also want to have exhibits in book stores, comic shops, and libraries.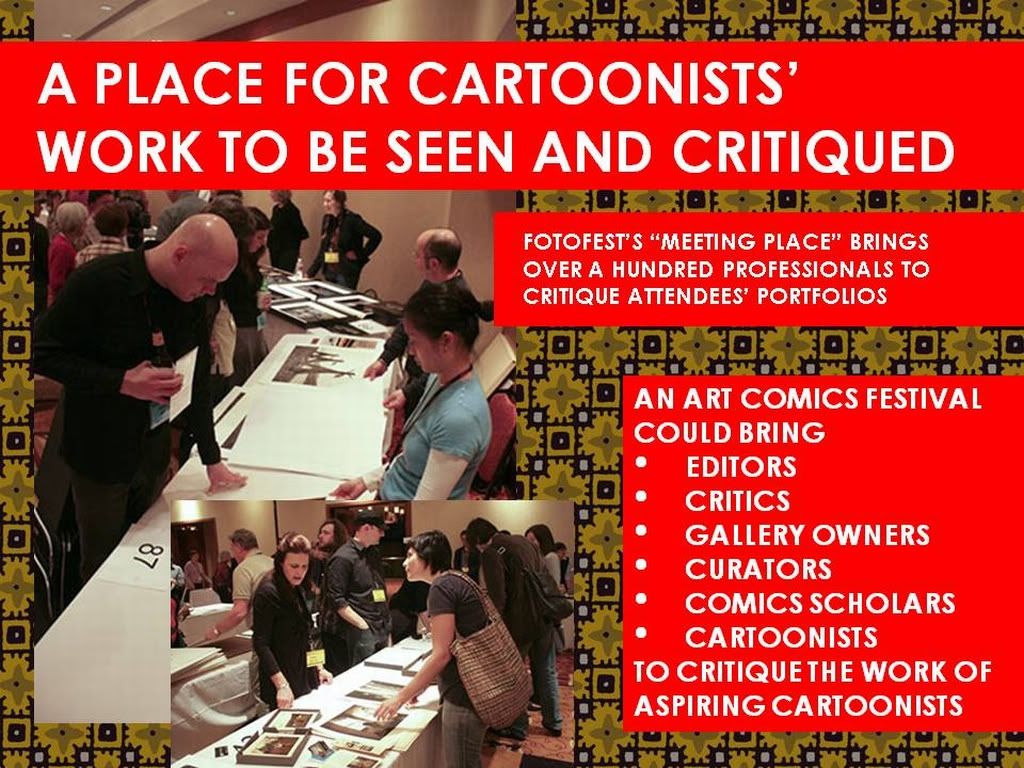 FotoFest calls its critiques "the meeting place." They bring over a 100 photographers, editors, curators, scholars, and critics to look at the work of photographers, some aspiring or emerging, others more seasoned. I would like to see a similar thing for the comics festival. In addition to providing feedback about their work, it would be a place where artists could network professionally with top tastemakers in the field.
One thing I would want to bring over from the academic conference format are slide shows. But I would want the slide shows to be accessible to non-specialists.
Pecha Kucha
and
TED
are both good models for this. In fact, a Pecha Kucha night as part of the festival would be an exciting event. However it is formatted, brief, well-illustrated slide presentations would be a key part of the comics-as-art festival that I envision.
Concluded in
part 4