This is a little late--forgive me, it's been a busy couple of weeks. But better late than never. A new gallery opened up two weeks ago in Midtown.
Philomena Gabriel Contemporary
is located in a tiny storefront on Milam. The building is a lovely old brick office/retail building.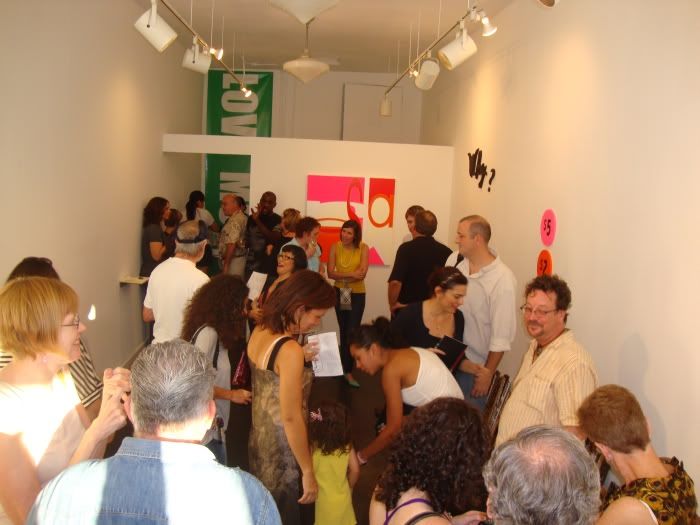 The opening show was a group showed called Outloud. It featured work by a lot of very well-known Houston artists (many of whom are shown "courtesy of" some other gallery. Philomena Gabriel's own stable has yet to be revealed, and I will be curious to see who they take.) But for now, this group show is quite good. All the work are word-based objects.
Besides that, a couple of the works are based on taking things on the floor and leaning them against the wall. Whenever I see works like this--if they work--I think of the work of
John McCracken
. If they don't work, they just look kind of lazy. But in this case, both of the wall-leaners are good, intriguing work.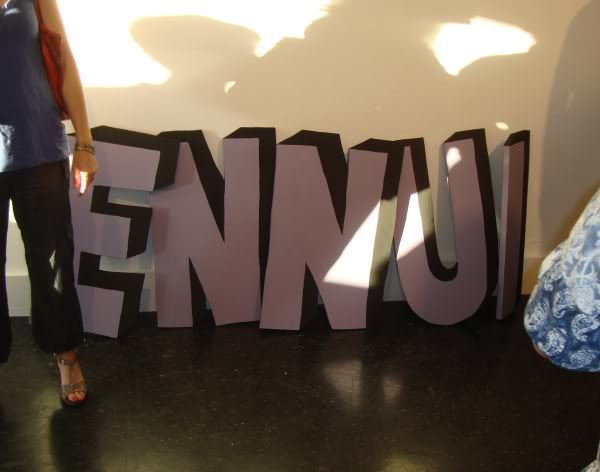 Kelly Klaasmeyer, Ennui, acrylic on gator board, 2010
Ennui by
Kelly Klaasmeyer
tries to embody the meaning of the word. Casually stacked against the wall, it communicates boredom and a lack of interest in doing it "right" (for example, carefully hanging the words on the wall in a perfectly straight line and proper kerning). The ironic thing is that it looks just right as it is. It has a little bit of an
Ed Ruscha
vibe, but that could be said of many of the pieces here. Word-based art is his baby.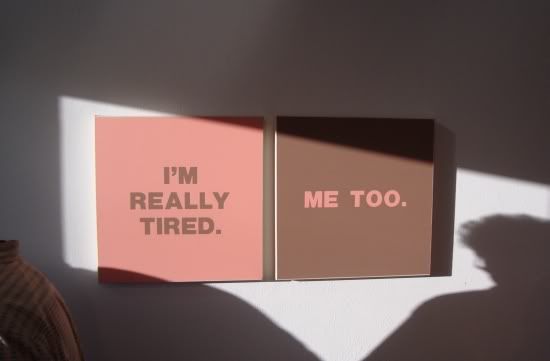 Rachel Hecker, I'm Really Tired, Me Too, acrylic on canvas, 2010
Like this piece by
Rachel Hecker
. It's hard not to think of Ruscha when you see it. The extreme simplicity of it is striking (two colors, reversed on each canvas). The colors are fleshy skin-like colors, like perhaps the painting on the left is the "white" one and the one on the right is the "painting of color." But despite being of different races, these two have something in common! Really, I have no idea what this diptych is all about except that it is funny.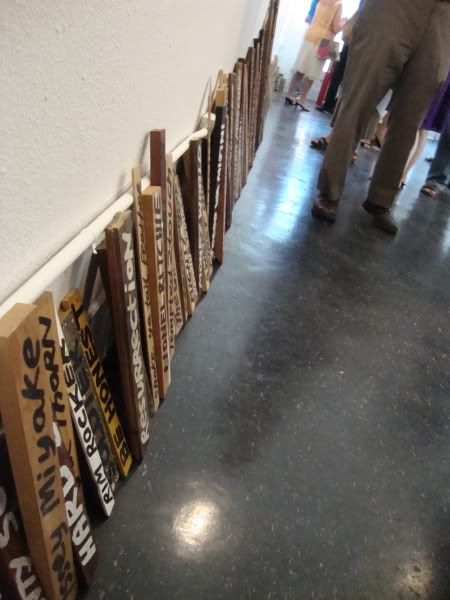 Gabriela Trzebinski, Matatu Sticks Project, recycled wood and acrylic paint, 2002-present
If you search online for Trzebinski images, you'll find a lot of crudely-painted, expressive paintings, and nothing quite like the Matatu Sticks. The effect is like a highly irregular picket fence. The phrases on them are not meaningless, but are devoid of context. And yet, they seem appropriate for naive, hand-lettered signs. They sometimes have religious content and sometimes feel like graffiti.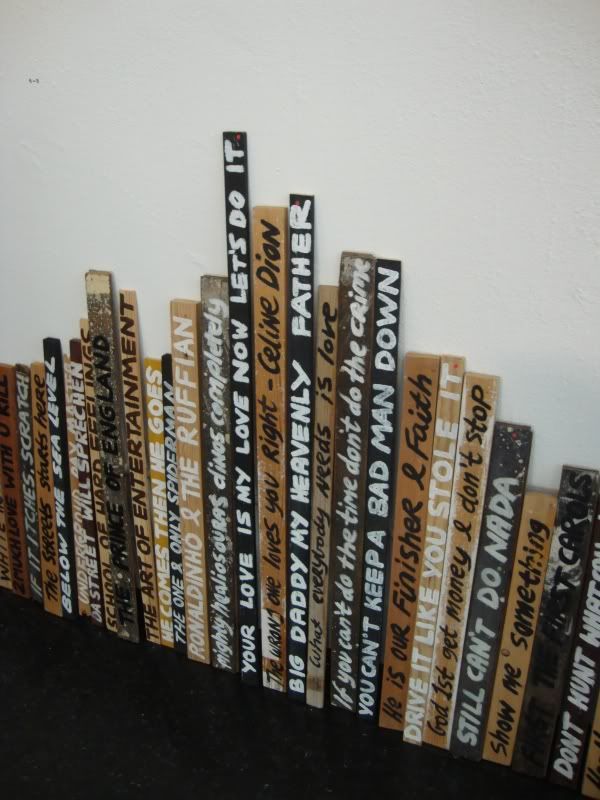 Gabriela Trzebinski, Matatu Sticks Project detail, recycled wood and acrylic paint, 2002-present
The cumulative effect is strong. It's funny, then, that each separate plank is for sale--a bargain at $30! But one alone feels meaningless--a collector needs a bunch to get the ideal effect.
Philomena Gabriel is a welcome addition to the Houston art community. Galleries and art spaces in Houston come and go, and as galleries close, it's good to see new ones open, especially ones that show art as interesting as the art here.