by Robert Boyd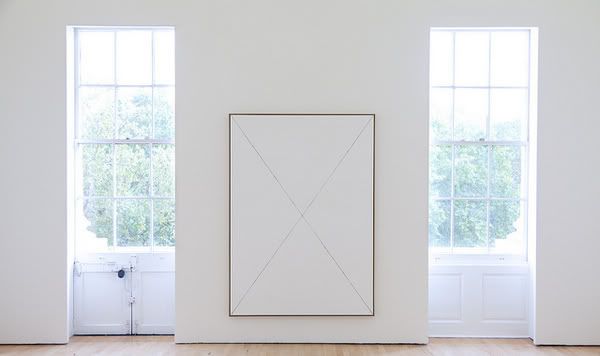 Jacob Kassay, Xanax (detail), 2011. Photo: Mark Blower (ICA)
What is the correct metric for judging art?
Greg.org
expresses disgust (but not too much surprise)
about an ArtForum review
of a
Jacob Kassay
exhibit which asked whether or not his work justified his high auction results. This seems similar to a stock analyst issuing a buy, sell or hold opinion. But the problem is that if we judge art on the basis of "quality," well, we know that's subjective at the very least, and filled with unconscious biases. Price is at least an objective, empirical method. And it's the all-American way to judge things. However, if price seems too crass, may I suggest another objective measure? We should judge art by weight.
The world's best artists.
Here are the top artists in the world from July 2010 to July 2011, based on the only aesthetic criterion that counts, auction results:
1 BASQUIAT, Jean-Michel (1960-1988), USA, €54,709,532
2 ZENG, Fanzhi (1964), CN, €39,246,785
3 KOONS, Jeff (1955), USA, €30,189,587
4 ZHANG, Xiaogang (1958), CN, €30,062,860
5 CHEN, Yifei (1946-2005), CN, €28,353,024
6 PRINCE, Richard (1949), USA, €18,324,243
7 WANG, Yidong (1955), CN, €16,231,154
8 MURAKAMI, Takashi (1962), JAP, €15,784,849
9 HIRST, Damien (1965), GB, €14,807,602
10 ZHOU, Chunya (1955), CN, €14,552,336
That big number after each artist is their auction turnover, as calculated by
ArtPrice
. As far as I could tell, no Houston-based artist made the top 500 of the list (the cut-off auction turnover was €141,998). (
Art Market Monitor
)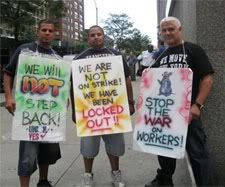 Locked out Sotheby's art handlers (Hyperallergic)
On the other end of the scale
:
Hyperallergic
comes out with its annual "20 Most Powerless" people in the art world. Included are tha locked out Sotheby's art handlers (perhaps the perfect symbol of the 1% waging class war on the 99%), art writers (I'll go along with that--maybe I will instruct my unpaid colleague Dean Liscum to write a scathing editorial on the subject), and New York City public school art teachers (probably could be expanded to any public school art teachers). (
Hyperallergic
)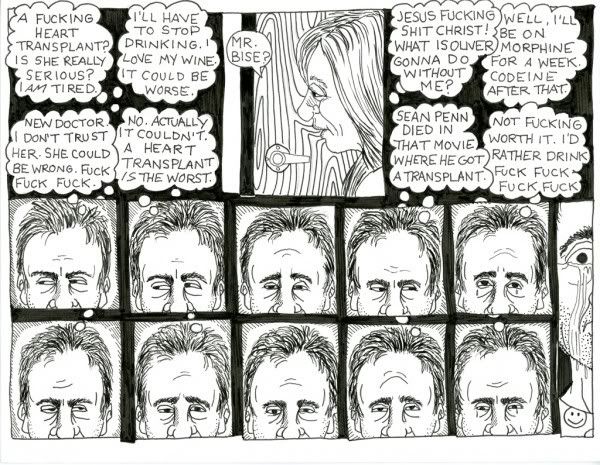 Michael Bise, Life on the List (excerpt), comic, 2011
Add sick artists to the above list
: Like when Sasha Dela has to
have a garage sale
to pay for her medical bills. And can you imagine if an artist needs a heart transplant? Well, you don't have to--Michael Bise, excellent artist and awesome critic, has started a serialized graphic novel on the subject in
Glasstire
. For some reason they don't call it a graphic novel--they call it a "drawing project." And it turns out Bise is a great cartoonist as well! (
Life on the List
,
Glasstire
)
Statue of Popeye in Chester, Illinois
Let's end this on a happy note
: Cartoonist
John Porcellino
has been ambling around the country forever (it seems). His most recent road-trip
took him to Chester, Illinois
, birthplace of
E.C. Segar
. You don't know E.C. Segar? He was one of America's great 20th century artists. He created
Popeye
, but even more important (in my opinion) is that he drew it for 10 years--and those years were magic. (All the Popeye comics drawn after Segar's death were pale reflections.) He was a genius of working-class absurdism. Porcellino (whose own minimalist poetic comics don't owe anything obvious to Segar) takes us through this small town which is extremely proud of its native son. The statue above is one of
four
Popeye-related statues in town. Way to go Chester! Why can't Houston honor its cultural heroes this way? Where are the statues of Lightnin' Hopkins and Donald Barthelme? (
Maybe Blogging Will Help
)