By Robert Boyd
I went to the art gallery at
HCC Northeast at Northline
for the first time this week to see the
Robert McShan
/Michella Fanini exhibit
Rose Colored Glass
. It's an awkward space.
It's a glass box, which makes it pretty hard to hang art. But curator Jonathan Lopez explained that it had one big advantage. Because it's a glass box, students (and anyone else) can see the art whenever the building is open--and the building is open until 10 pm most nights. This is a semi-exception to the rule that community college galleries must have
the most inconvenient hours possible
. It's a nice show--see it if you have a chance.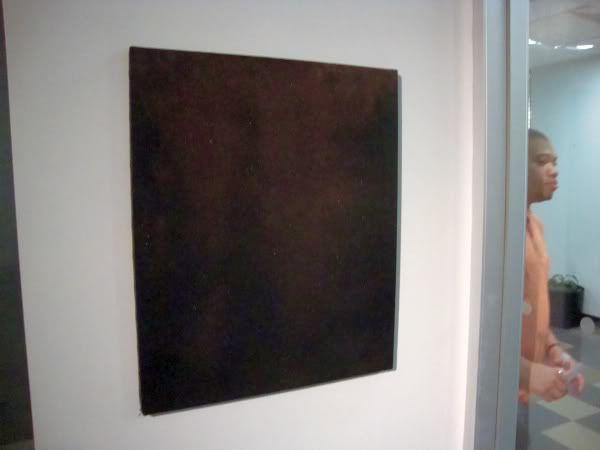 Robert McShan, not sure what the title is or the media!, 2010 (Photo by Robert Boyd.)
This piece by
Robert McShan
woke up the invisible curator. It's almost monochromatic, but if you look close you can see more than one color--it appears to have colored powder or sand in the surface. I saw similar pieces this weekend. So that's the theme of this week's Invisible Curator show--almost monochrome paintings. It has a little to do with the gallery talk by
Christian Eckart
that I wrote about, who spoke at length about monochrome paintings and the sublime.
The other nearly monochrome works I saw were at
Labotanica
. The exhibit,
Painting as Performance,
was curated by
Ayanna Jolivet McCloud
and it is her paintings I want to call attention to.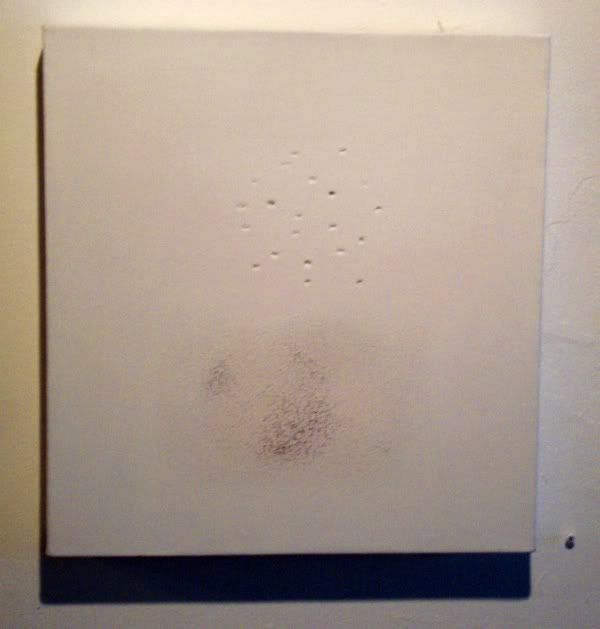 Ayanna Jolivet McCloud, untitled,acrylic on canvas, 2009. (Photo by Robert Boyd.)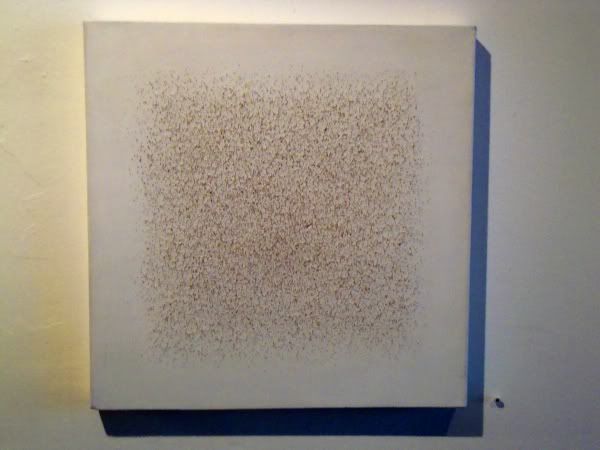 Ayanna Jolivet McCloud, untitled,acrylic on canvas, 2003-2010. (Photo by Robert Boyd.)
These obviously refer
Robert Ryman
. But perhaps what makes these "performances" are the deliberate damage to the picture plan--the dents and gouges. But if we count that as performance, can't we count the act of putting painting on the surface as an act of performance, too? That was the idea behind
"Action Painting."
Ayanna Jolivet McCloud, untitled (Diptych),acrylic on canvas, 2011. (Photo by Robert Boyd.)
This pair more directly references performance by virtue of recalling
Yves Klien
--an artist deeply involved in the metaphysical qualities of monochrome paintings but also deeply involved in performance--including performative aspects of painting (painting using nude women as "brushes", painting with fire, etc.)
So a small two person imaginary exhibit. Monochromatic work--or nearly monochromatic works--can be thought-provoking and even quite emotional. McCloud and McShan have produced excellent, interesting works.
Tweet