I just had to quote this from
Earl Staley's blog
.
Friday is breakfast with my friends. They were all there. Bill is going to Paris next week to do the Picabia thing. I enjoy talking with him about the BAD Picabia's that never make the history books. Remindes me of my bad years. First I was a "Bad Painter" and then I was a bad artist and today I am enjoying the fruit of those years. To quote Charley Sheen, " WINNER!"
Staley then goes on to casually dismiss
Jim Nolan's show
at
Art Palace
,
Heimir Björgúlfsson's show at CTRL
, and the
Heyd Fontenot show at Inman
, before he praises a show I somehow didn't even hear about--Sfumati Nudi by
George Krause
. The photos from the show look really good! I may disagree with some of his brusque opinions (we disagree about Jim Nolan's show, obviously), and I wish he'd
name names
when he slags off an artist's work, but damn if he isn't an important voice locally. Put Staley's blog,
Professor Art
, in your RSS Feed.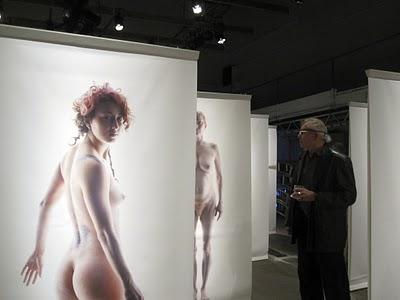 George Krause installation with Earl Staley (not sure who the photographer is!)
Tweet