by Robert Boyd
Nathan Green, installation view with Windows, Gradient and Pizza Quilt, 2011
Nathan Green's
painted work--at least what I've seen--has always played out as occupying a space between sculpture and installation while still being paintings. It has a variety of relationships to a space--or more properly to a wall. It may be hanging from the wall, in the standard way we think of paintings doing. It may be painted on the wall--which
was
standard for paintings before the invention of oil paints. It may leaning against the wall. It may be propped against the wall. Green
seems
to be taking liberties with what we expect paintings to do and to be, but he's not. It's only in well-appointed gallery spaces, in the public areas of museums and perfectly decorated homes do paintings reside in one space--on the wall, not touching the floor. Visit an artist's studio and you will see. Indeed, as I look around the room in which I'm typing this, I see plenty of paintings (and drawings and even an etching I did in college) on the wall. But I also see artwork stacked up in my closet, and paintings leaning against bookshelves (carefully... these are the works from
Walpurgis Afternoon
, waiting to be crated up and shipped to
Jim Woodring
and
Marc Bell
). In a way, Green symbolically recreates a gallery's back rooms, a museum's store rooms, or an artist's cluttered studio with the way he shows the work in his current show at
Art Palace
.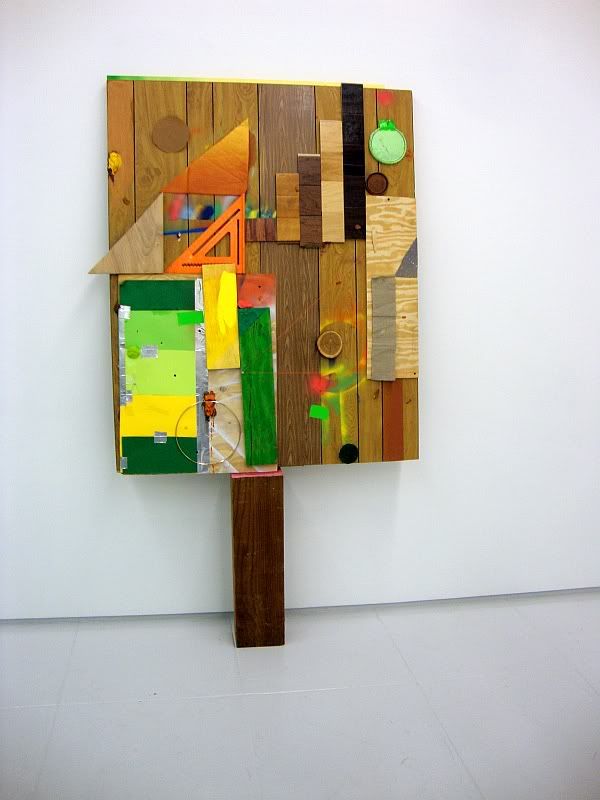 Nathan Green, Garage Arrangement/Sign, mixed media, 2011
Green is explicit in this display strategy with this piece. The name,
Garage Arrangement
, says it all. Things are arranged in your garage not for aesthetic reason, but at best for convenience, and more likely by a random entropic process. The piece is made of the kind of scrap one might find in a garage workshop, and is propped up against the wall the way your rakes and garden hoes might be.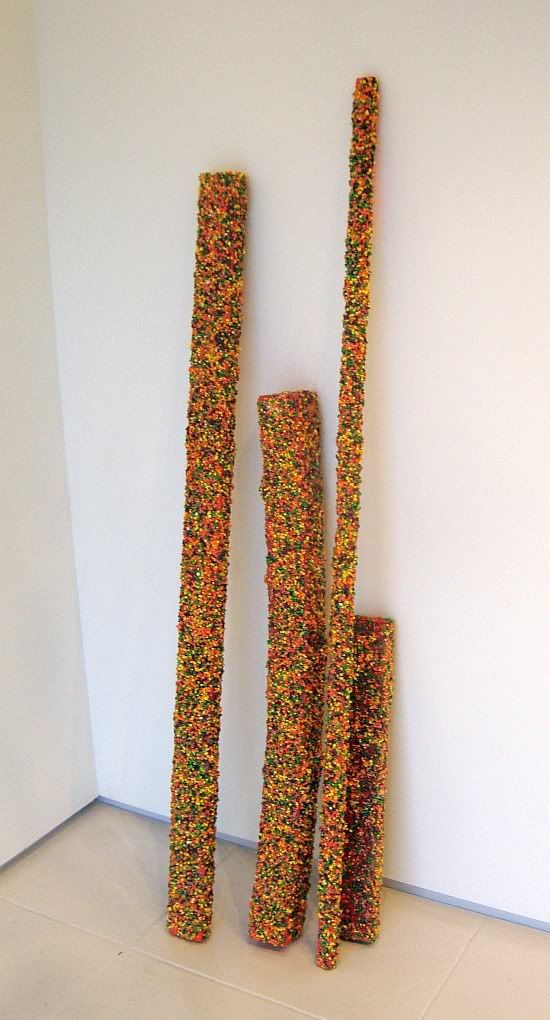 Nathan Green, Nerd Sculptures, "Nerds" and liquid glass on wood, 2011
It is therefore not a surprise that the only purely sculptural works of the show is also leaning against the wall. Of course, one is reminded of
Richard Serra's "prop" pieces
, but here played out as childish and deliberately silly, unlike the threatening and macho Serra pieces. And, of course, by leaning them against a wall, they lose the autonomy that sculpture normally has. By being dependent on the wall, they acquire the quality Michael Fried called theatricality. That quality is amplified by the materials used--candies called
"Nerds"
. Although it seems unlikely that anyone would taste these sculptures, many viewers bring with them a memory of what Nerds and similar candies taste like. And it is this non-visual connection between sculpture and viewer that makes the work theatrical--they can't exist as autonomous visual objects in space. They need your taste memories to complete them.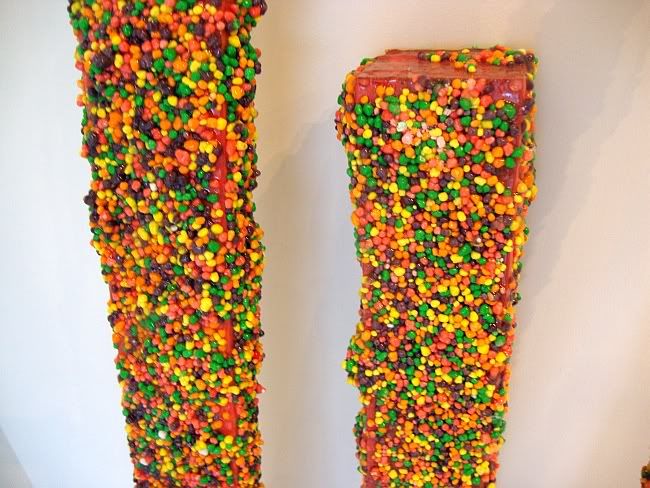 Nathan Green, Nerd Sculptures detail, "Nerds" and liquid glass on wood, 2011
Nathan Green,Three Residues (left) and Day/Night (right), mixed media, 2011
If something in your studio isn't quite the right height, you pile it up higher. If it is running into some other object, you move it over. This show is hung "salon style," but more importantly, it has the feel of the studio.
Nathan Green, Double Fade, mixed media, 2011
This is not to say that Green doesn't have some pictorial interests. One thing that is evident in this show is an interest in colors transitioning from one hue or value to another. In
Double Fade
, he has two such gradients. The paint starts as a dark green at the top of the canvas and transitions to a light green at the bottom. The puff balls, which are glued to the canvas, do the opposite--they are light green at the top and become dark green at the bottom.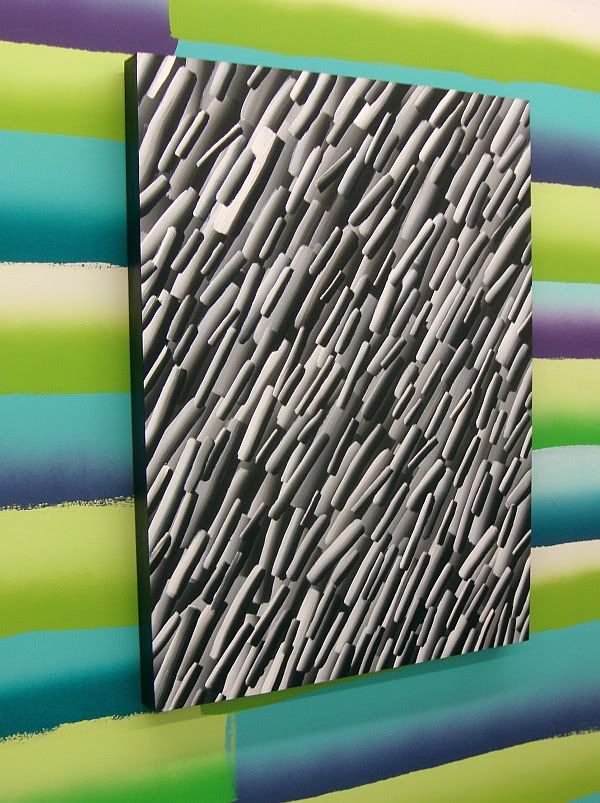 Nathan Green, Gradients, acrylic on panel, 2011
In
Gradients
, Green creates a bunch of light-to-dark gradients, all more-or-less parallel. It appears he is loading one side of his brush with black and one with white in order to create a smooth gradation. (This reminds me of how
Fernand Léger would create volume in his figures.
) He has done something similar on the wall itself, except he appears to be using a paint roller with various bright colors. Still, we have similar parallel elements. They look great juxtaposed.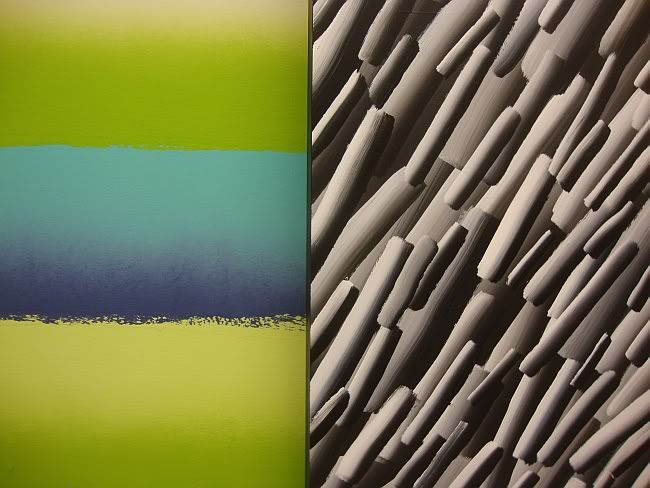 Nathan Green, Gradients detail, acrylic on panel, 2011
Let's imagine you are a collector, and you buy
Gradients
or one of the other paintings here. You hang it on the wall in your well-decorated living room or bed-room. The picture nicely centered. Haven't you lost something? My suggestion is to put it on the floor, propped against a bookshelf or dresser. It will develop an interesting relationship with your space and yourself.