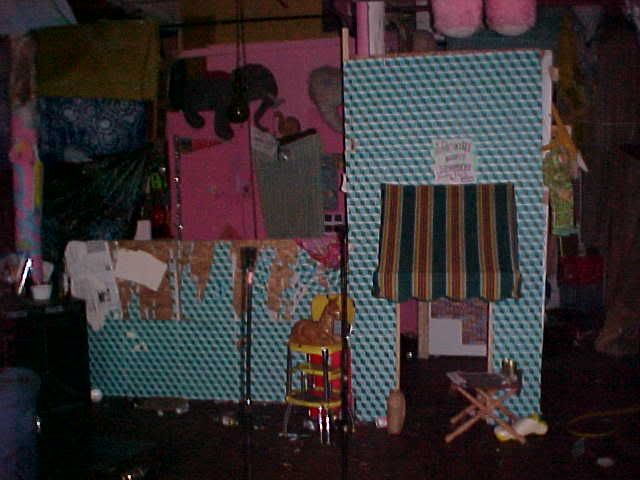 Fort Thunder in the glory days (people lived there)
New curator at the CAMH.
The Contemporary Arts Museum has a new curator named
Dean Daderko
, and
Culturemap has a profile of him
. The writer, Steven Thompson, gives Daderko credit for discovering
Forcefield
. Well, he gave 'em a show and that raised their profile a lot, but I knew about them (and knew some of the members) before Daderko did. It's not often I've been on the cutting edge of anything--so I have to represent! Hey Daderko--how about a
Fort Thunder
alumnus show at the
CAMH
? (
Culturemap
)
The GRAM
Grand Rapids vs. Austin.
If you follow the Austin art scene, you've probably heard that former Austin Museum of Art director
Dana Friis-Hansen is becoming the director of the Grand Rapids Art Museum in Michigan
. He
resigned
from his position at AMOA in January. The AMOA seems to be
a struggling, somewhat troubled institution
. Anyway, Glasstire's
Bill Davenport
wrote a short piece about the move with this snarky headline:
"Dying city gets transfusion from Austin: Friis-Hansen named director of the Grand Rapids Art Museum"
. This prompted the following response from Friis-Hansen in the comments:
Bill, get over it. Texas is being led down a trail to no-know land by its leadership (government, philanthropic??) and MICHIGAN (of all places!) is taking a serious look at a positive future and building a better place for the creative class and the knowledge economy. I'm gonna try to help make MICHIGAN as fertile in this decade as TEXAS was when we all first came here in the 80s. Then we're gonna invite y'all up to our thriving economy and artist-friendly cities.
That prompted a response that said the problem is more to do with
Austin
than with Texas as a whole. Who knows? In any case, the
Grand Rapids Art Museum
looks
pretty great.(
Glasstire
)
#notmethough Call for Entries.
The deadline for this social media-inspired art in
two days
, so you don't have much time! The art must involve one of the following forms of social media: Twitter, Facebook, Flickr, Tumblr, YouTube, Vimeo, or Chatroulette. I guess Photobucket (used in this blog) and LinkedIn aren't cool enough. (
#notmethough
)
Artists, Why Are You Donating Art to Charity Auctions?
Coagula
curmudgeon
Mat Gleason
makes an argument that you shouldn't. Amongst other things, he points out the irony that you artists only get to deduct the value of the materials for this donation, while a collector can have the work appraised and donate it to an institution for the appraised value. (
Huffington Post
)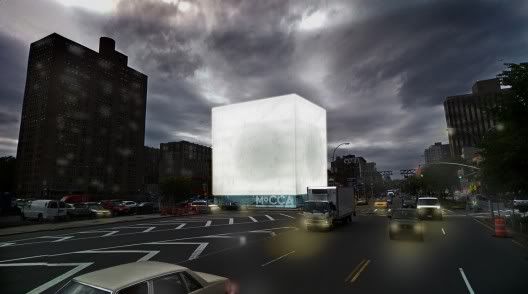 This is what Planda Architecture has pland
America Needs a Good Comics Museum.
Practically every city in Europe has one, but we hardly have anything. Certainly nothing as cool as the
CITEBD
in Angouleme. I don't know if
this proposed glowing white cube by Planda Architecture
is right, but it sure looks cool. The question is whether
MoCCA
can actually get it together enough to build something like this. (
Arch Daily
)