Robert Boyd
In college, one of my favorite classes was on
Rococo
and
Neoclassical
art. These two art movements are closely tied to France and to French history. Rococo art suggests decadent, pleasure-loving aristocratic rule while Neoclassicism makes one think of forthright, righteous republicanism. (This is a vast oversimplification, of course.) In this class, English art from the period was touched on, and it fascinated me. (My paper for the class ended up being on horse painter
George Stubbs
.) Art history gives a pretty short shrift to 18th century English art relative to French art. It seems relatively trivial and it lacks the innovative qualities (and genius) found in the work of, say,
Antoine Watteau
or
Jacques-Louis David
. Furthermore, this all changes in the 19th century when England starts to produce people like
J.M.W. Turner
and
James McNeill Whistler
and the
pre-Rafealites
. English art starts to feel a lot more interesting in the 19th century.
But I have a soft spot for 18th century English painters, so I was very glad to see the paintings from
Kenwood House at the MFAH
. Kenwood House is a large mansion built in the early 19th century in what was then the semi-rural edge of London.
Edward Cecil Guinness
purchased the house and left it and his art collection to Britain when he died in 1927. He was a collector during the gilded age when the robber barons of America went on a buying spree in Europe. But Guinness (who turned his father's brewery into the powerhouse of beer we know today) bought up as many great old paintings as he could and kept them from being shipped over to the Americans. While Kenwood House is being restored, the collection is touring the world. The pride of the collection are the Rembrandts, but I want to discuss the English portraits of Gainsborough, Reynolds and Romney.
There wasn't a strong tradition of painting in England in the 18th century. England tended to import its artists--
Van Dyck
for example, who has several works in the Kenwood House collection. The Royal Academy wasn't founded until 1768 (with
Joshua Reynolds
as its first president). Britain was different from Italy, France and Spain--those countries had institutions that were major consumers of art. The government and the church always needed new paintings. Britain's art market seems to have been more similar to the Dutch--wealthy individuals drove it. And men and women of wealth in England wanted portraits mainly, and occasionally pictures of their stuff (the horses that Stubbs painted, for example). Noblewomen particularly wanted portraits of themselves while they were still young and beautiful.
Thomas Gainsborough, Mary, Countess Howe, ca. 1764, oil on canvas, 95" x 61"
Thomas Gainsborough
was the master of such work. His full-length portraits place his subjects in lovely if somewhat indistinct rococo landscapes. Their clothes are always magnificent, and he tells us something about these ladies in their faces. I won't say his paintings are psychologically acute, but
Mary, Countess Howe
, comes off as a no-bullshit I'm-on-to-you person while
Lady Brisco
might be a bit of an airhead.
Thomas Gainsborough, Lady Brisco, ca. 1776, oil on canvas, 92 5/8" x 58 1/2"
Gainsborough was perfectly satisfied to be a portrait painter. Joshua Reynolds (
Sir
Joshua Reynolds, to be precise) was frustrated by this profession. He saw his French counterparts doing great historical, mythological and religious scenes. He completely believed that those kinds of paintings were inherently superior to portraits, which in turn were inherently superior to landscapes and still-lifes. Contrast this to Gainsborough, who, when he wasn't painting portraits for money, entertained himself with landscapes.
Joshua Reynolds, Self-Portrait, ca. 1788, oil on canvas, 31 1/8" x 26 1/2"
Reynolds therefore tried to combine his preference for loftier subjects with his portraits by posing his subjects in mythological or literary scenes.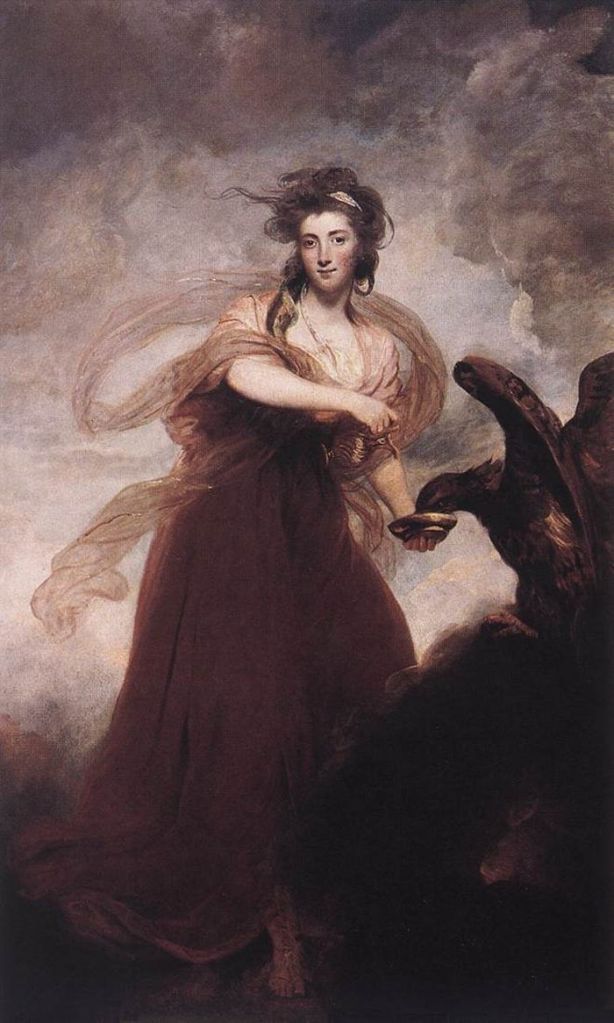 Joshua Reynolds, Mrs. Musters as "Hebe," 1782-85, oil on canvas, 56 3/8 x 44 5/8"
Therefore, Mrs. Musters becomes Hebe, the cupbearer for the gods and eventual wife of Heracles. Reynold's palette was more subdued than Gainsborough's and his costumes less fashionable because they were meant to be timeless. But in this, he was always in battle with the desires of his subjects.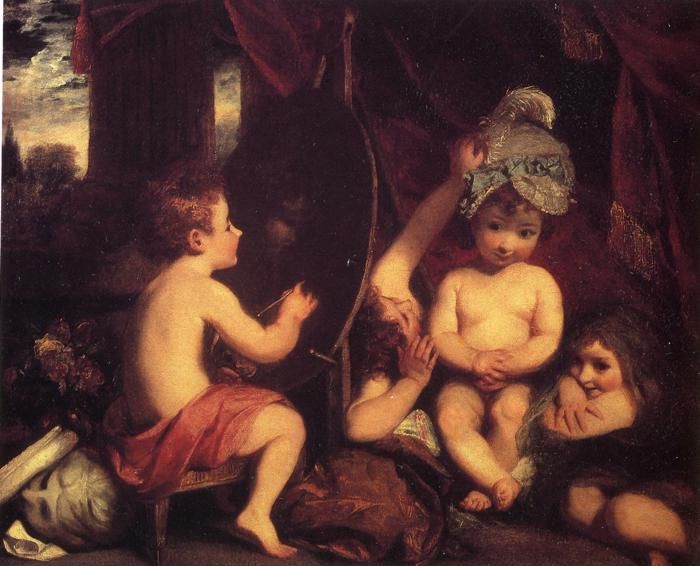 Joshua Reynolds, The Infant Academy, 1781-82, oil on canvas, 45 1/8" x 56 1/8"
The Infant Academy
satirizes his plight. The baby boy painter on the left produces a portrait of coy baby girl on the right, who is surrounded by her friends, one of whom is adjusting a fancy hat on her head. In the meantime, remnants of noble classical art are strewn on the floor behind the painter, apparently forgotten. He may be portraying them as infants to suggest that English art was an infant compared to continental European art. And Reynolds may have been onto something--I think this focus on society portraits has contributed to the lingering prejudice against this work. But from the perspective of the 21st century, I don't see why we should feel that
Mrs. Musters as "Hebe"
portrays a less important subject than what is portrayed in
The Oath of the Horatii
(1784). We have no reason to carry the weird prejudices of the 18th century Royal Academy into our own period.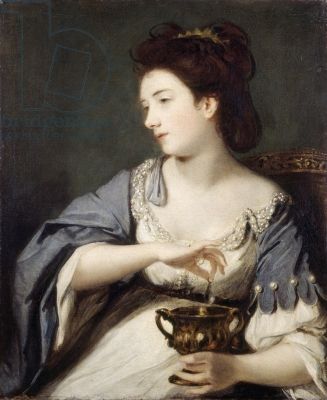 Joshua Reynolds, Lady Mary Leslie, 1764, oil on canvas, 56 1/8" x 44 1/2"
As contrived as it may seem for Reynolds to portray his subjects in mythological or literary scenes, in many cases he is perfectly justified in doing so because his subjects were actresses. In a sense, their poses in the paintings carried on the work they did on stage. And the paintings became, in a sense, advertisements for them.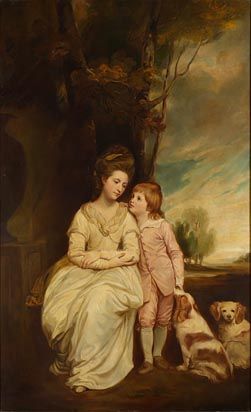 George Romney, Anne, Countess of Albermarle, and her Son, 1777-79, oil on canvas, 94 1/2" x 58 7/8"
In addition to Gainsborough and Reynolds, the giants of English portraiture, the show featured several paintings by
George Romney
. I wasn't familiar with Romney at all, but his portraits are just as interesting as his two somewhat better known peers. He painted
Emma Hart (née Amy Lyon, later Emma, Lady Hamilton)
many times. She is one of the most interesting figures of 18th century England, and part of her fame came due to Romney's many paintings of her. Like Reynolds, he posed her in classical scenarios. She wasn't an actress but was besotted with theater and seems to have been an eager participant in these poses. (Later in Naples, she created a form of entertainment called "attitudes," a kind of mime performance that reenacted classical scenes. Attitudes became a popular art form all over Europe in the late 18th century.)
George Romney, Emma Hart as "The Spintress," 1784-85, oil on canvas, 68 5/8" x 50 5/8"
These paintings depict an England in ascent, a fun-loving place full of fashionable Ladies and Gentlemen and sexy actresses. Reynolds desired to be a "history painter" instead of a society portraitist. But if his spirit keeps track of such things, he may be gratified to discover that time has turned him into a history painter after all. He, Gainsborough and Romney have, by virtue of their portraits, become some of the greatest recorders of 18th century English history we have.
This exhibit will be on view until September 3rd. In addition to seeing the paintings, check out the MFAH's online series,
The Characters of Kenwood
, which gives biographical sketches of the various figures associated with the exhibit. I hope they will pay attention to the subjects of these portraits--their stories are worth telling.