Another group show at
Poissant Gallery
, and like
the last one
, this one is quite good. Poissant has one big advantage over many other galleries in town--it's huge, and it contains several distinct spaces. In the front, there are two pieces by
Jed Foronda
,
both using his excavated magazine technique.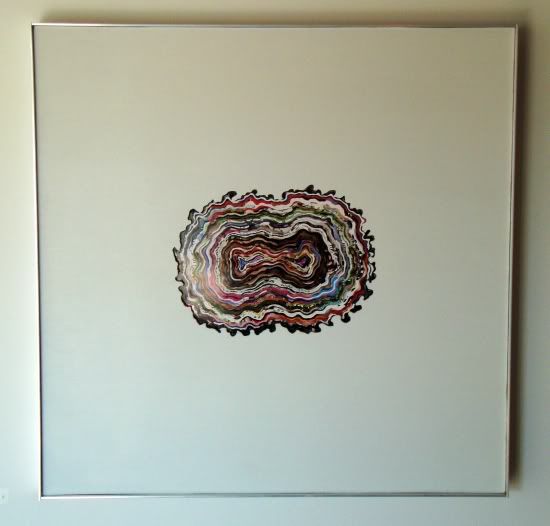 Jed Foronda, Excavation #17, magazine, painted wood panel, 2010
There's nothing new here for him, just subtle variations on a technique he has already perfected. Foronda uses inherently colorful magazines like
Artforum
and
Playboy
, which help guarantee that each layer that is excavated will have lots of colors on them. But it might be interesting to use the same technique on a magazine of book where all the pages are white with black type. As it is, the works are all about the relationship with a colorful, irregular hole with the white, straight edge of the board. The sculptural aspect of it is important, but maybe not as important as the colors. But magazines fade, so these pieces will undoubtedly change over time. And in some ways, we might be at the beginning of the twilight of the printed magazine. How much longer will
Playboy
and
Artforum
survive as paper magazines?
The next room is the biggest. Poissant Gallery calls it the South Gallery. This is where they put the drawings and wood carvings of kayaking enthusiast
Jason Makepeace
. Makepeace is a highly skilled woodcarver who has show work at
Poissant Gallery before
, including some highly unexpected wooden sculptures of
slinkies
. This time around, he's carving scale model kayaks, but leaving the job partly undone.
Jason Makepeace, Half Kayak, hackberry log and paint, 2010
Jason Makepeace, Embedded Kayak, ash log and paint, 2010
I guess these pieces relate the modern kayak (or canoe), which is a high-tech manufactured leisure object which could only be produced by a highly advanced economy, to the origins of this mode of transportation--the dugout canoe, which is surely one of the earliest vehicles made by humans. There is also a cool contrast between natural and crafted here (it makes me think of
Al Khazneh of Petra
), and the small size of the kayaks calls forth images of toy boats, scale models that little boys love (I know I did). They are beautiful pieces.
Michael King, Night Clock, oil, wax and enamel on metal plates laminated onto MDF, 2010
Michael King did a pair of pieces,
Night Clock
and
Day Clock
. The combination of materials seems unusually complex given the minimalism of the pieces. But these aren't strictly flat-flat colored rectangles. It's hard to see from my photos, but there is a grid of each of the rectangular elements, and subtle variations in color. Think of
Ad Reinhardt
, another artist whose nearly monochrome paintings don't photograph well.
Michael King, Day Clock, oil, wax and enamel on metal plates laminated onto MDF, 2010
What I can't figure out is why these two pieces are "clocks." But whatever, I like them--they look great.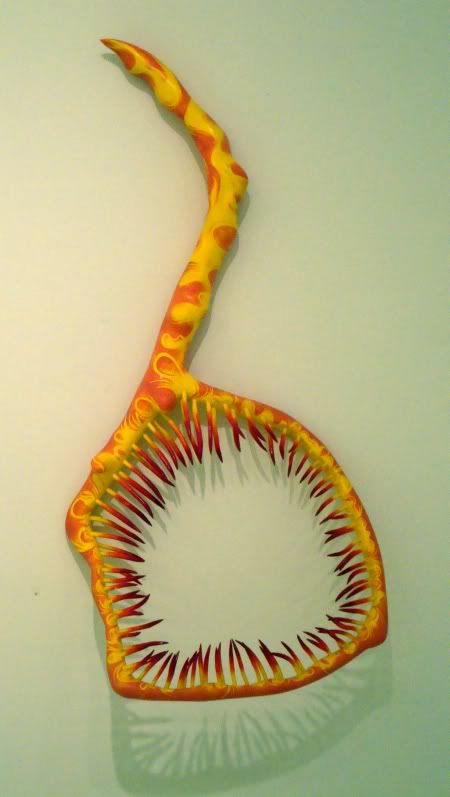 Lee Littlefield, Big Mouth Tattoo, wood-vines and enamel, 2010
I love seeing
Lee Littlefield's
work, especially on the side of the road driving around Houston. This one is a little unnerving. It looks like one of those worms or fish that is all teeth and mouth--horrible alien eating machines. Contrast that image with the sunny colors. Nice yet creepy piece.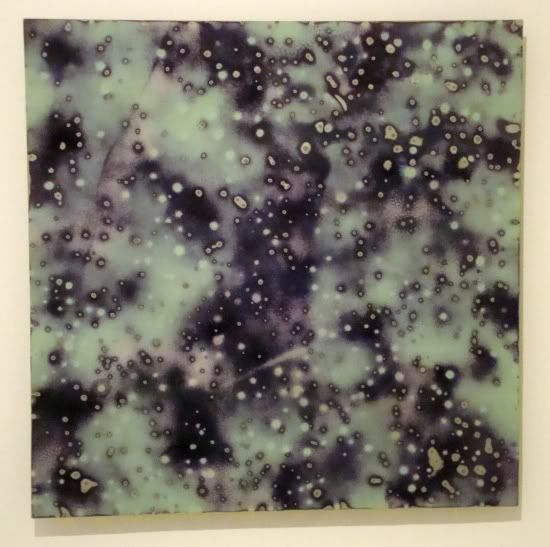 Devon Moore, Drift, industrial dye and acrylic lacquer on steel, 2008
I like this one by
Devon Moore
because of the way it looked like pitted, corroded industrial metal. But I was uneasy looking at it. It's the kind of piece one can easily see decorating the lobby of an office building. Artistic empty calories. A piece like this is nice to look at, beautiful even. But I am suspicious of its beauty. And I feel attracted to a piece like this, I understand the mistrust of beauty that many critics and artists express. But at the same time, I want to be receptive to beauty. And this piece, with its evocations simultaneously of corrosion and star fields, is indeed beautiful.