In my view, the hardest art exhibits to pull off are ones that have a theme--particularly if the exhibit is tendentious. As
Edward Winkleman wrote
in a recent bl
og post, "M
ost political art not only sucks, it can barely aspire to sucking." What were the organizers of BRWN PLNT up to?
In an invitational group exhibit, comprised of works driven by conversations with a panel of environmental experts, emerging and established Latino artists from across Texas use their creative skill and continue a ripple effect in a pool of thought regarding environmental concerns particular to Texas and our neighbor to the south, Mexico.
I can barely express how unpromising this sounds. Artists need opportunities, and I don't blame any artist for taking one that comes his or her way, but based on this description

, each artist must have been challenged both to make a piece of decent art and to tiptoe through a minefield of political correctness.
Now before I go too far hanging myself with my own rope, let me say that this dispeptic introduction reflects my feelings about the project, not the artworks. Not that the art was great--a lot of it was pretty bad. But that is par for the course in any group show, themed or otherwise. And in the end, what interests me is what I like.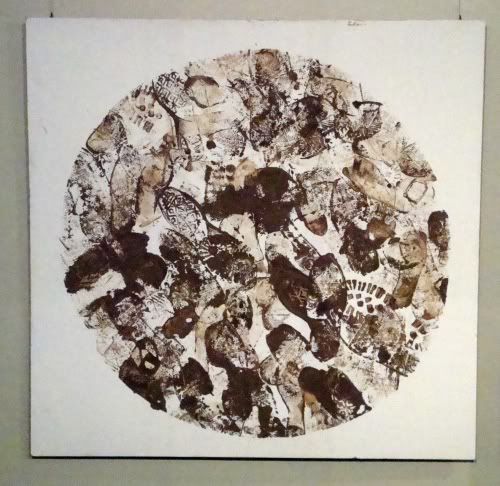 Jonatan López, Raza, clay on painted wood, 2010
Jonatan López, Polución, tire dirt on painted wood, 2010
These two pieces by Jonatan López are the same size on the same color piece of painted wood. (They look so different in the photos because I color-corrected
Polución in order for the tire tracks to be visible.) The titles imply that tire tracks (and by implication, cars) are pollution and walking is not--a banal sentiment. But one not supported by the art, which definitely makes them equal. If anything, walking looks "dirtier" than driving! I thought this contradiction, this incongruity, made the work more interesting--and it was visually striking as well.
Daniel Adame, Pristine People Plots, Backyard Bases and Lost Lands: Where We Are, Where We're Going, Where We've Been, mixed media on wood, 2010
This one wins the "long title" contest. I have no idea what Adame is getting at with this title, and that may be just as well because what is pleasing about this relief is its presence as a cobbled together object. It appears to be made of beat-up reclaimed pieces of plywood--perhaps construction site debris. It's not clear if the artist painted and scored the surface, or if he just found the pieces that way. Identifying it as "mixed media" keeps it vague (deliberately?). The end result is a handsome, mostly monochrome piece of junk assemblage, like a collision between Robert Ryman, Edward Kienholz and Frank Stella.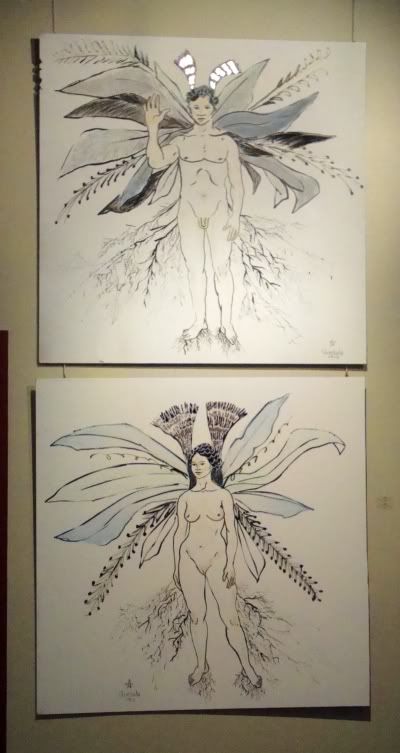 Ángel Quesada, Male Morph (top) and Female Morph (bottom), china marker, silver leaf, ink, pastel and wax on wood, 2010
I was amused by these two lovely mutants because of their origin--they are the male and female figures that were engraved onto a plaque that accompanied the Pioneer space probes in 1972 and 1973 (the first man-made objects to leave the solar system). These images (along with other information on the probe) were meant to tell who we were, in the off chance that the probes were recovered later by extraterrestrials. But Quesada seems to be suggesting that the aliens will be us.