It's weird that there are three big collage shows up in Houston right now. The biggie, of course, is
the Kurt Schwitters exhibit
at the Menil. Then the
Al Souza show
at Moody Gallery. And then this one, the most colorful of the three, Austin artist
Lance Letscher
on view at the
McMurtrey Gallery.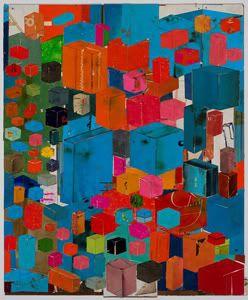 Lance Letscher, Most of My Little Ones, collage on masonite, 2010
When I saw the Schwitters exhibit, one thing that struck me was how
brown
his collages were. How they were composed of varying shades of beige and tan. And one sees the opposite when one looks at the collages of Al Souza and Letscher. But looking at Schwitters is, perhaps, the future of looking at Souza and Letscher. All these printed sources that Letscher cuts up, they are going to fade. The paper they are printed on will get brown. The glue he used to attach them may acquire a visible color as it ages. So enjoy their brilliance today--it won't last. (All this may be untrue if the images he collages are actually printed with archival inks on acid-free paper--which would be nice but not expected.)
Lance Letscher, Space Station #2, collage on masonite, 2010
A bunch of the collages in this show feature these colorful rectangular boxes. Some of them are arranged in a kind of modular fashion to be "space stations." When you see photos of the
International Space Station
, you see something conceptually similar. It, too, is a modular structure, where each module was brought up separately and attached to the whole in space. But where the ISS is black (solar panels) and white (everything else), Letscher's station is a riot of colors. And it appears infinitely variable--the modules are all more or less the same, and as we can see in three variations, can be arranged in any old way.
There is something boyish happening here. Letscher is building models of space craft, not too different from a kid playing with Legos. This feeling of being a boy making things carries through in other pieces, too.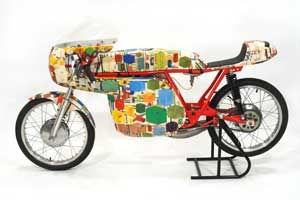 Lance Letscher, Minarelli Racer, collage on vintage motorcycle, 2010
I think connecting with those boyish interests is on Letscher's mind. He has just written and illustrated a children's book called
The Perfect Machine
. The very
first line in the book
is, "Once there was a boy whose head was filled with ideas. He loved to draw and think."
Lance Letscher, TKO, collage on masonite, 2010
Lance Letscher, FK, collage on masonite, 2010
Letscher makes a nod to his collage forebearers (including Schwitters) with several collages composed mostly of letters and word fragments. I've long thought that this approach to collage was an attempt to take the flood of
data
that we get every day as a result of living in an industrial civilization, and turning that data into nature. Or at least neutralizing the data by robbing it of linguistic meaning, leaving only (at best) visual meaning. As jumbled and chaotic as these compositions are, they are also pleasing and relaxing once one forces oneself to
stop reading
them. That's actually a little tough for a habitual reader like me, but worth it here.