by Robert Boyd
I saw
Joe Davidson'
s show at
Barbara Davis
a couple of weeks ago, and meant to write about it then. The show closes on April 16, so if you get a chance, swing by and see it. This work is fun to look at but it's also a prime example of a genre of art that I call "stunt art." The idea behind stunt art is that the viewer is utterly amazed that an artist can make artwork out of some unpromising or even absurd material. It makes me think of the famous sexist quip by Samual Johnson, quoted by James Boswell in his
Life
: "Sir, a woman's preaching is like a dog's walking on his hind legs. It is not done well; but you are surprised to find it done at all." He may have been wrong about women preachers, but the idea applies perfectly well to stunt art. In the case of Joe Davidson, it might be paraphrased "like an artist producing a landscape out of scotch tape."
Joe Davidson, Untitled (Landscape), Scotch tape on vellum, 2010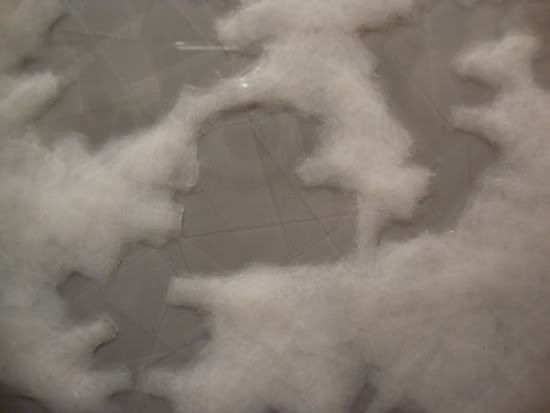 Joe Davidson, Untitled (Landscape) detail, Scotch tape on vellum, 2010
The thing about stunt art is that it is usually quite difficult to create. Far more difficult than using traditional drawing or painting or photographic tools. So perhaps that's the value in it--it is the result of an often tedious, slightly crazy process. And knowing this adds something to the viewer's experience of the art. But still, it is easy to see how this art becomes sort of a circus act--the main thing about it is how ridiculously difficult it was to create and how unexpected the materials are. I think that is the balancing act--go too far, and your art becomes little more than a
Ripley's Believe It or Not
entry.
I think that because of the hazy white and gray landscape, like mountains seen through a snowstorm, Davidson skates on the art side of stunt art. In other words, there is more here than
just
the stunt.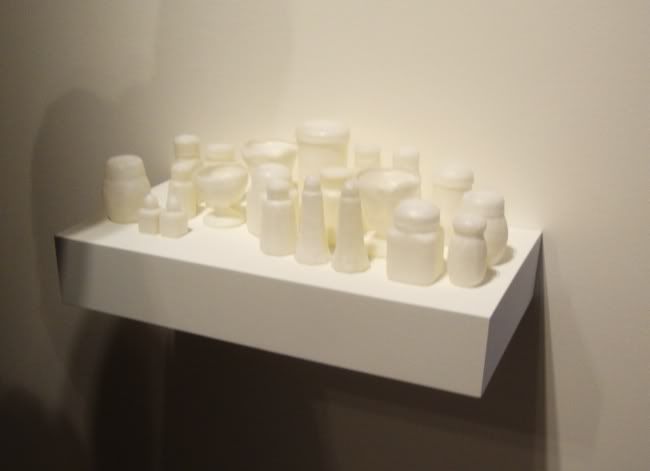 Joe Davidson, Sunday Shakers, scotch tape, 2005
And here he maybe stays on the right side of the stunt by recalling the austere still-lifes of
Giorgio Morandi
. The spareness of these pieces could be said to recall the postwar existentialist spirit of Morandi and
Giacometti
. Still, when one common reaction to these pieces is, "Oh my God! It's made out of scotch tape! Amazing!", you know you are in the presence of stunt art.
Joe Davidson, Sunday Shakers detail, scotch tape, 2005
Tweet