by Robert Boyd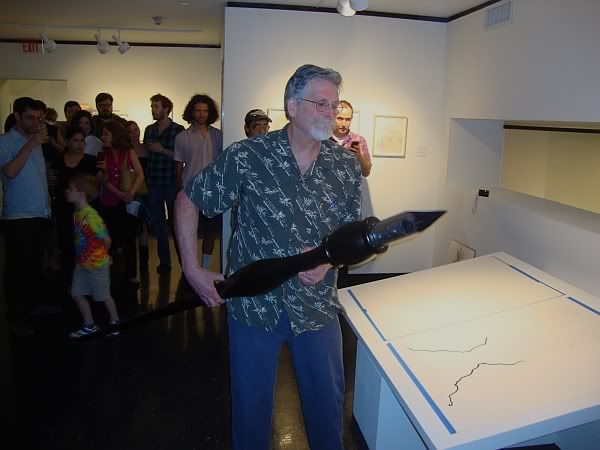 Jim Woodring with THE PEN
I feel a little weird writing about my own show. But I have lots of photos to share from the opening of
Walpurgis Afternoon
, which featured art by Jim Woodring and Marc Bell. And my friend
Scott Gilbert
(cartoonist of the long-running Houston strip
True Artist Tales
and a long-time associate of Lawndale) wrote up a description on Facebook that I am, with his permission, swiping to reproduce here. (And when I write the word "description," I mean "complete rave".)
Very successful opening night for the Jim Woodring and Marc Bell exhibition here in Houston at the Lawndale Art Center , and a triumph for show curator Robert Boyd. Woodring demonstrated his giant nib pen, and even turned it over to show-partne

r Bell and several amatuers before the night was over.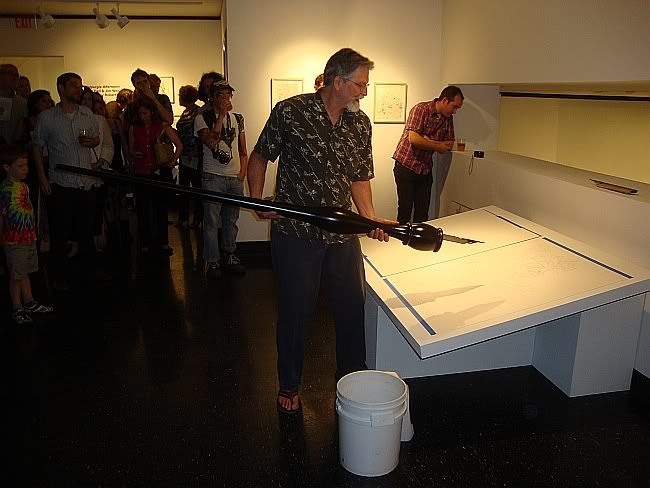 Boyd made a short introduction, discussing how Woodring was dragging the private act of cartooning into the public arena of performance in the tradition of folks like Yves Klein. And indeed, with his big nib, Woodring has truly become the John Holmes of comix. The show featured displays of various pages of art from the Frank books, as well as color and charcoal illustration works that were wonderful to see in person. Bell displayed a similar variety of his exquisite drawings, with their amazing delicacy and wild formal invention, including most of a story that I believe appeared in an early Kramer's Ergot.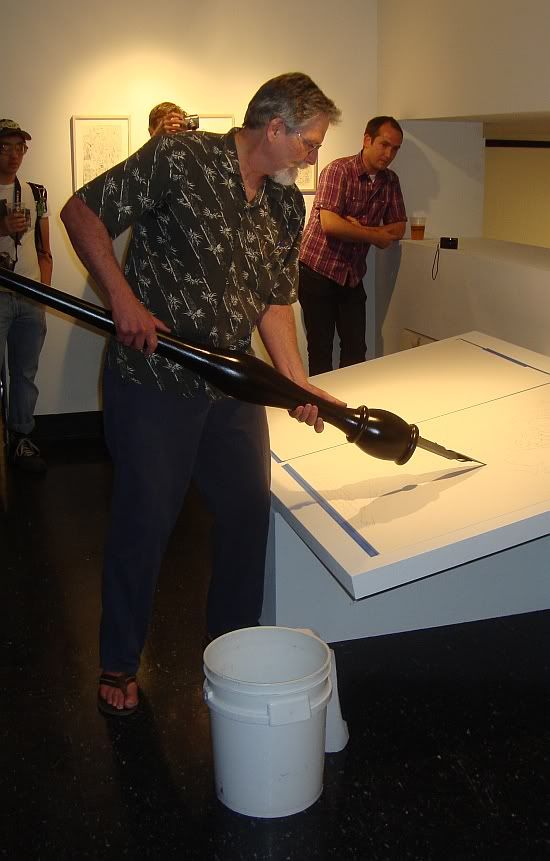 Amusing moments: Woodring was appropriately dressed for the hot Houston weather in a Hawaiian shirt and flip flops, while simultaneously showing his West Coast roots. At only one point did the giant nib pen go wrong, dropping a perfectly straight vertical line down the body of the creature Woodring had pencilled in advance. Jim quickly turned the drip into drool. When Bell was handed the nib, he quickly drew a giant bottle of white out, appropriate to the situation. Woodring was amusingly self-conscious about any of his acrylic paint mixture "ink" that dripped on the gallery floor, and about disposing of the excess at the end of the night (as if this 25-year old gallery had never had paint, gold dust, plaster, and even excrement dripped on its surfaces in the past).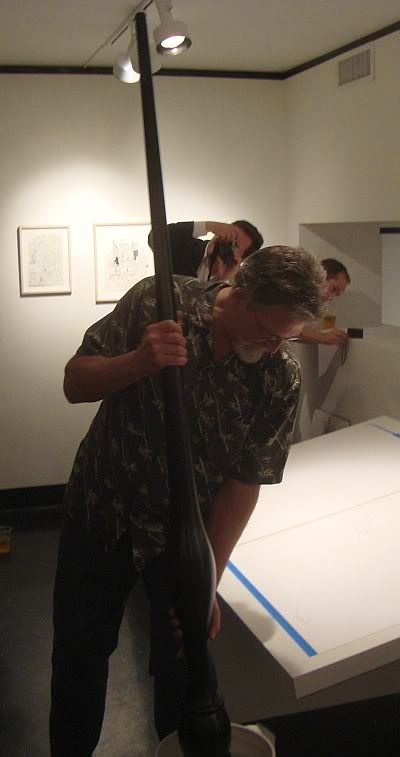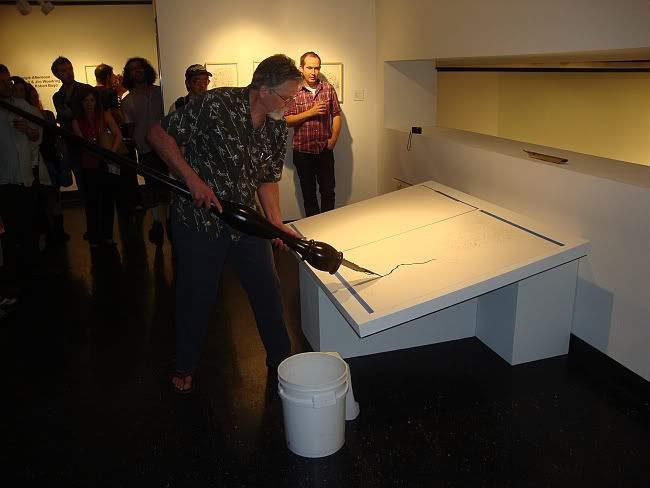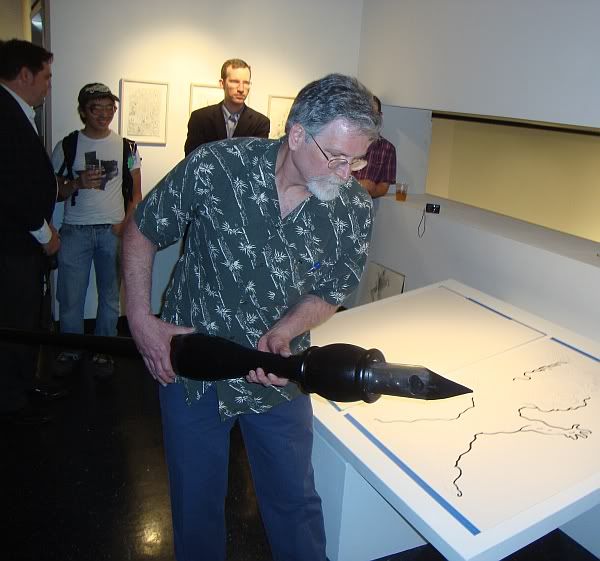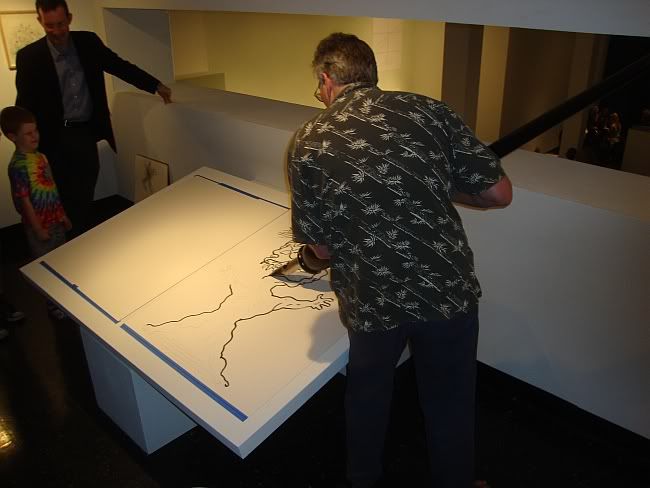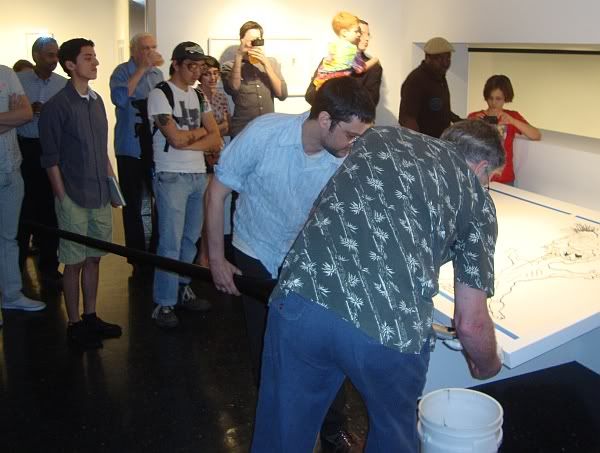 Jim Woodring hands the pen off to Marc Bell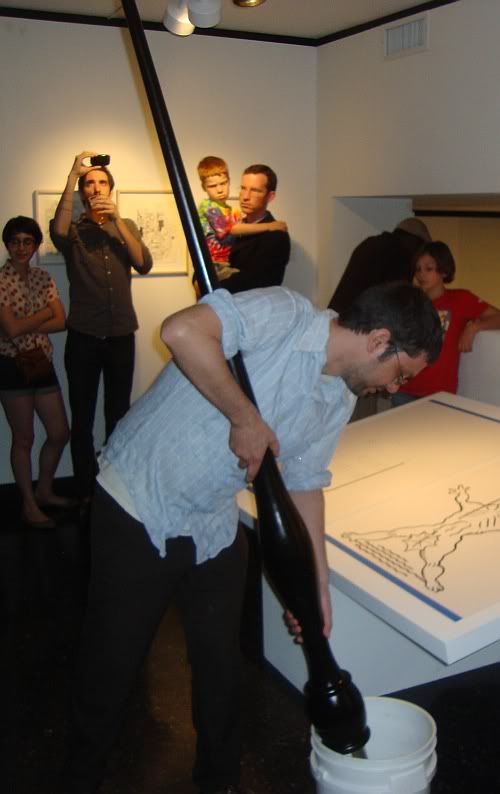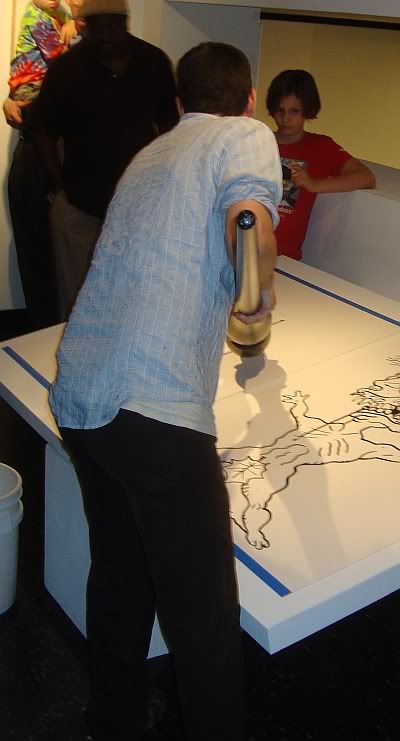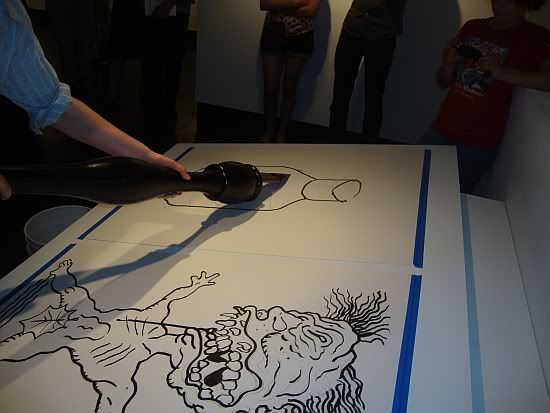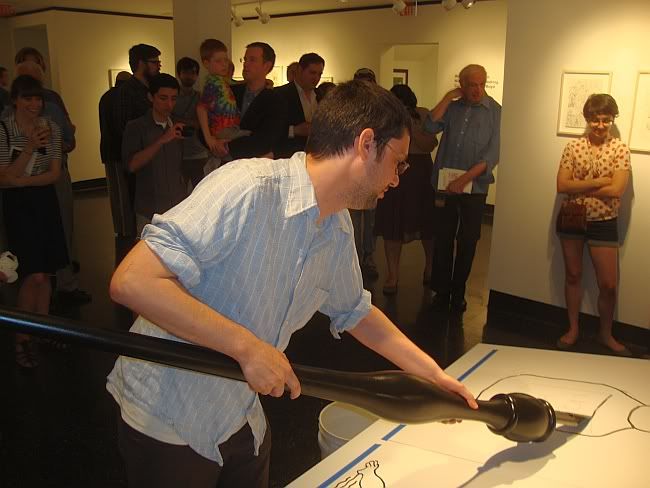 More
here
and
here
!