by Robert Boyd
Nau-Haus
honcho Dan Allison has opened a second gallery in town (has anyone else ever done this in Houston)?
d.m. allison
is located on Colquitt in a modest converted house next door to the hulking Laura Rathe Gallery. It has a large back yard, so I hope that means we'll see a few sculpture shows in the future.
For now, we a have a show of paintings and drawings by
Perry
House
. I think there is often a bias against drawings. They are seen as less exciting or perhaps as mere way-stations on the way to the final work--the painting. They often seem incomplete, especially when compared to paintings by the same artist. They tend to command less money in galleries and at auction.
But in Perry House's new show, the drawings seem much more interesting than the paintings.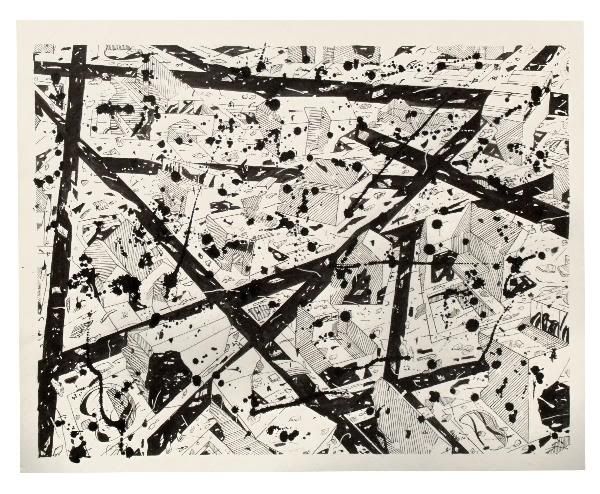 Perry House, 3-18-10, Helter Skelter series, pencil, brush and ink, 2010
These drawings are helped by the fact that they are
inked
, which is what you generally see done with comic book artwork. This creates a super-bold chiaroscuro effect. It gives the work a visual punch. The drawings are for the most part on the same scale as the paintings--
3-18-10
is 24 inches by 32 inches, so they don't have to compete on an unlevel playing field for the viewer's attention.
Perry House, 5-13-11, Helter Skelter series, acrylic on canvas, 2011
In contrast, the pastel colors of the paintings are riotous but don't have strong contrasts in values--they lack the punch of the drawings. The overall effect is softer and less powerful.
Perry House, 5-19-10, Helter Skelter series, pencil, brush and ink, Whiteout, 2010
Because of the way that they are inked, the drawings remind me of comic book art. Because of their manic energy, they reminds me a bit of the work of
Mariscal
from the early 1980s. They are visually arresting pieces.