Robert Boyd
So why the hell am I still writing about this?
The Houston Fine Art Fair
is so last week. I already covered it
here
and
here
. What else is there to say?
Well, plenty. Don't look for a thesis here. But I do want to discuss the art that was on display, the business that was done, the reaction of Houston to it. This is Houston's first art fair and mine as well. From what I've read, the expansion of art fairs was due to the encroachment of auction houses on galleries. Auction houses used to deal exclusively in old art, but in the 70s they tentatively stepped into the world of contemporary art. They had something that galleries couldn't provide--market pricing. This is not to say that auction houses are totally transparent, but at least the prices reported represent more or less what the market, at a given moment, is willing to pay for a given artist. These secondary market sales ate at the galleries' business. Art Fairs were a new way for galleries to market their work.
One of the best conversations I had at the show was with Debra Pesci, associate director at
Hollis Taggart Galleries
. Hollis Taggart shows postwar art with an emphasis on pop art. The prices for the work were not cheap, as one might imagine. Nonetheless, Pesci told me they sold three pieces. I asked her if that was enough to make it worth coming, and she bluntly replied, "No."
Pesci explained the difference between an established art fair (like the Armory Show or ArtBasel) and something like this fair. "In New York or in Basel, it's like a frenzy when they come in. There's a definite interest in buying right away, and also in being
seen
buying. In this area it's far more discreet. It's something that's much more thought about. [It] doesn't always make it viable for businesses to participate."
So given this, the question was, would Hollis Taggart be back? Pesci said, " I think it would be something we definitely would consider. I think that you need to establish an art fair more than one year. You establish the art fair's identity and your identity within the art fair so that people know who you are.
"It's getting a public to understand that this is more than just coming to look; it's coming to make acquisitions. That sounds really basic, but sometimes for new fairs, that's not always the case."
She made a point that coming to a new art fair was an investment because there was a learning curve for attendees. I hope they come back next year, because Hollis Taggart had one of the nicest booths. They had several works by Marjorie Strider and
Idelle Weber
. I saw their work last winter in New York in
Seductive Subversion: Women Pop Artists 1958-1968
. This is one of those shows where artists who failed to get "cannonized" the first time around get a second chance--and it was an eye-opener.
Idelle Weber, Step Sisters, acrylic on linen, 1964
Idelle Weber was one of the artists who really impressed me most in the Brooklyn Museum show.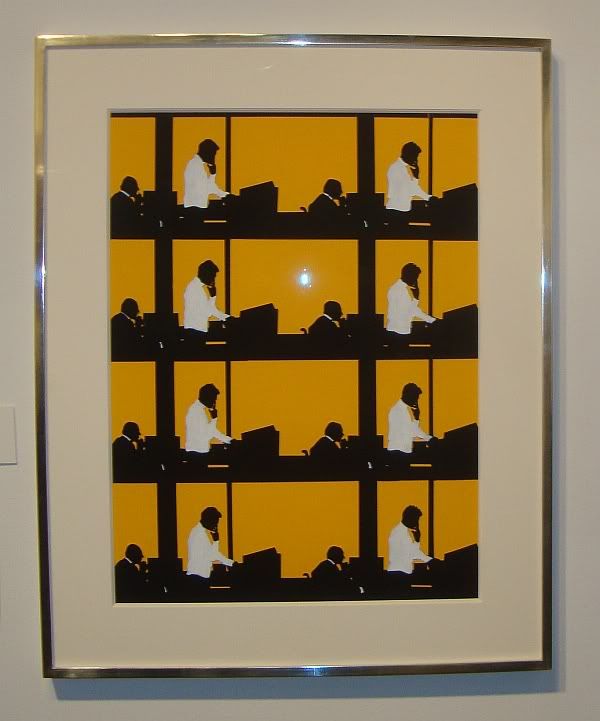 Idelle Weber,Lever Building 2, collage and Gouache on Color-aid paper, 1970
Does this look semi-familiar? Here's what it reminds me of: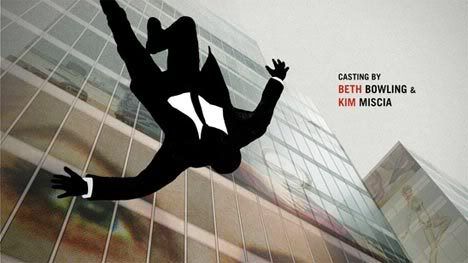 Mad Men title sequence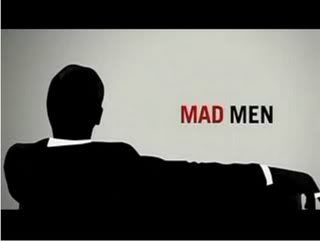 Mad Men title sequence
The
Mad Men
title sequence was put together by a group called
Imaginary Forces, and they won an Emmy
for it. I wonder if they thanked Idelle Weber when they accepted the award?
Hollis Taggart was not typical in their responses to my questions. The other galleries were all much more upbeat, but less specific. I was particularly interested in hearing from the Latin American galleries. After all, coming in from New York or Miami is much less expensive and difficult than coming from Bogata or Buenos Aires. One gallery that had work I liked a lot was
Ginocchio Gallery
from Mexico City.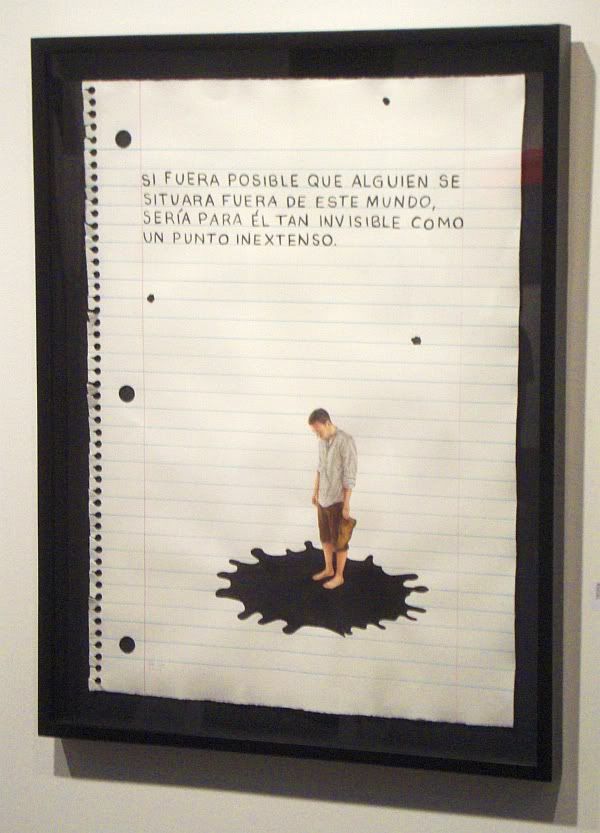 Hugo Lugo, Estudio para marcar el camino,

gouche y tinta sobre papel algodon calado, 2011
I spoke to Karen Pozos from Ginocchio. One thing that struck me was that Ginochio's art fair strategy was quite different from Hollis Taggart. Hollis Taggart goes to five art fairs a year, while Ginocchio goes to ten. One might conclude that art fair sales are a much more important part of Ginocchio's total revenue than Hollis Taggart's. They loved the Houston Fine Art Fair. I asked Pozos if they would be returning next year, and she immediately said yes, adding, "We kind of already decided that even before we had sold anything that we would want to come back again." And they did get some sales. But they had an advantage of having relative inexpensive works. The drawings by Hugo Lugo, for example, were available for $5000. That's nothing to sneeze at for ordinary folks, but compared to some of the more blue chip pieces for sale at the fair, it was a relative bargain.
Hugo Lugo,
Estudio Para Desprenderse,
gouche, tinta y hilo sobre papel algodon calado, 2011
I liked Lugo's work. The two pieces above look as if he painted on lined pages torn from a spiral-bound notebook. But he didn't--those pages are 29.5 inches high. In other words, he took paper, carefully cut out the holes and tore each one, and also carefully ruled out the blue lines. In the case of Estudio Para Desprenderse, Lugo went further--the blue lines are actually blue thread, sewn into the paper.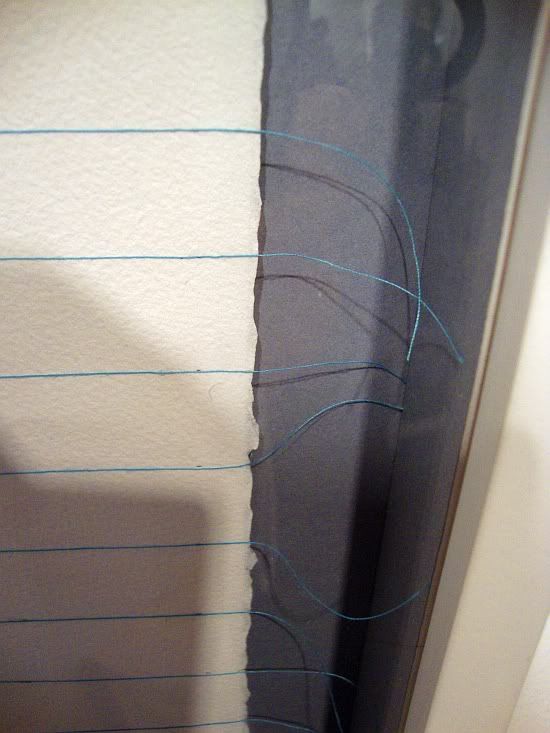 Hugo Lugo,
Estudio Para Desprenderse detail,
gouche, tinta y hilo sobre papel algodon calado, 2011
In addition to these spiral notebook pieces on paper, the gallery included one on canvas.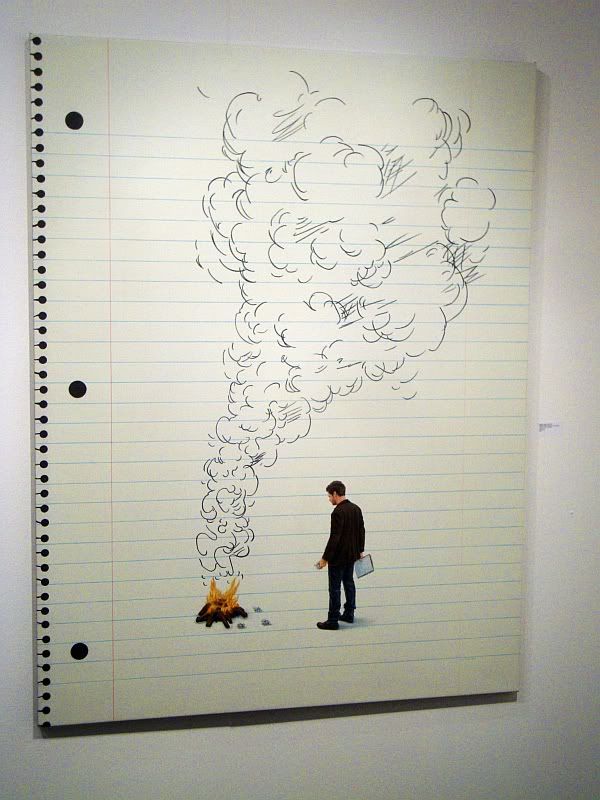 Hugo Lugo,
Boceta Para Transformar una Memoria, acrílico y oléo sobre tela, 2010
I'm assuming that the other Latin American galleries are in the same boat. They have to go to art fairs because they can't count on American and European collectors to visit their galleries in person. And Houston might have seemed like prime ground for their art--after all, the MFAH has made it an important part of their mission to collect lots of Latin American art.
Of course, like every gallery here, the work in the Latin American galleries was hit or miss. Enjoy Coke by Gaston Ugalde at Salar Galeria de Arte from La Paz, Bolivia, was worth a chuckle.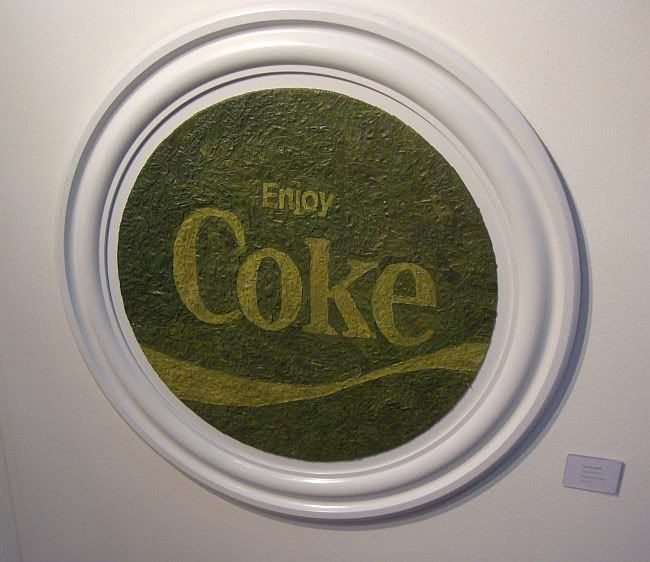 Gaston Ugalde, Enjoy Coke,
coca leaf collage, 2011
Something to hang on your wall and you hoover some Bolivian marching powder, hmmm? Actually, I can't imagine anyone hanging this--it seems like an expensive bit of joke art. I talked to the folks from Salar Galeria. They explained that the underside of the coca leaf was light while the top was dark, hence the two tones used in this collage. They also said that because the leaves were coated with some clear resin or something, they would never fade in color. Yeah, right. If you bought this piece and the leaves did turn brown, what would you do? Go to La Paz and get your money back?
In contrast to this was the work at Document-Art Gallery from Buenos Aires. It was a brave booth. There was really no obvious eye-candy there. Here is the broken English of their website describing their mission:
Founded in Buenos Aires in 2009, Document-art is highly committed to search, identify and valorize not only works, but documents art-related, which become essential to understand conceptual movement in Latin America So we not also represent a number of artists that are continuing the tradition of Art in Latin America, but also research the world looking for unique documental material that supports and emphasize those works of art.
(I would have translated the Spanish version, but it was missing!) OK, if you can past the rough English, and if you, like me, are interested in conceptual art, you can see that this is simultaneously fascinating and, well, uncommercial! And yet, they hit multiple art fairs every year. I thought the booth, decorated with photos of artists and covers of obscure journals and manifestos, was very exciting.
Horacio Zabala,
Hoy el Arte es una Cárcel, pencil on folded tracing paper, 1972
This sentiment, which echoes such gestures as John Baldessari burning his old paintings in 1970, is not what I expected to see at an art fair. One thing that was amazing about this art fair is that your could see art from the past 70-odd years of Latin American art--Wilfredo Lam and Joaquin Torres Garcia, constructivist work from various countries, and 70s conceptual work like Horacio Zabala's (and Milton Becerra's, who I will return to later) as well as work produced this year.
One gallery I liked a lot was YAM Gallery from San Miguel de Allende, Mexico. I spoke with curator Melanie Harris de Maycotte about their appearance at this fair. I asked her if the show had paid for itself, and she said, "It will. By the time we leave, it will have." She pointed out that they were working with museums (which ones, I wonder?) who don't buy pieces on the spot. This didn't occur to me--not only are galleries marketing to collectors, but also to museums--and museums have a different way of buying art than collectors. When asked whether they would return next year, she said absolutely. YAM Gallery is relatively new (6 years old), and unlike Document-Art or Ginocchio, they are just starting to dip their toes into the art fair world. The Houston Fine Art Fair is the second fair they have ever been to.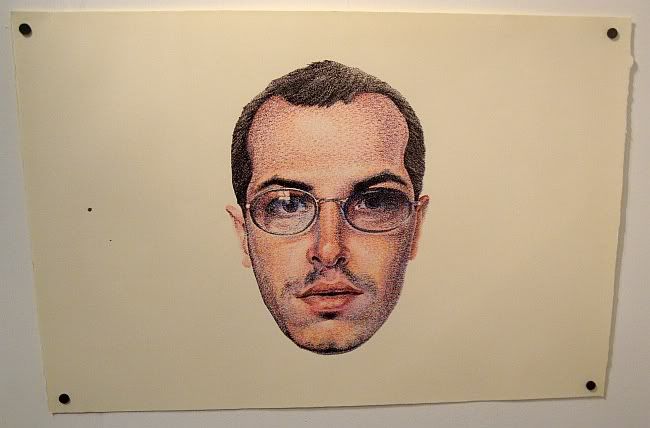 Adam Chamandy, self portrait, not sure about the media or date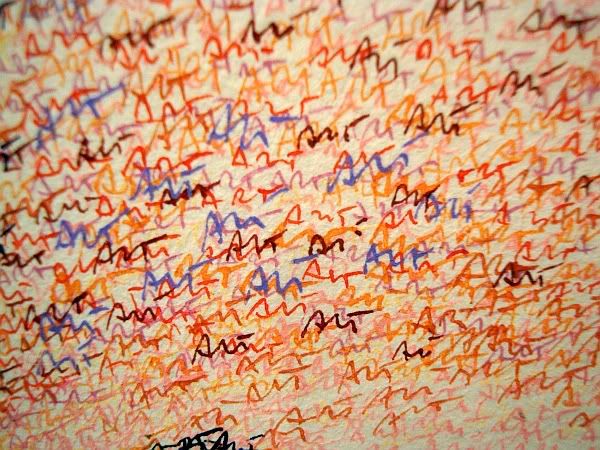 Adam Chamandy,
self portrait
detail, not sure about the media or date
I liked Adam Chamandy's big self-portrait, and liked especially that the image was constructed completely of the word art, written small and by hand. It's the ne plus ultra of self-referentiality.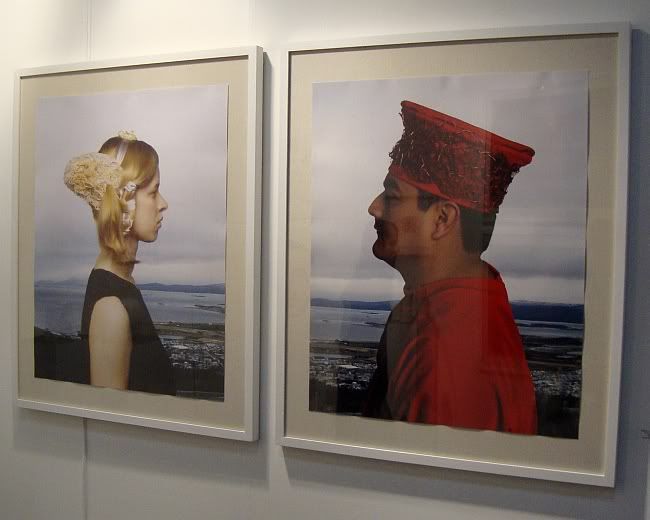 RES, Ramón y Maria, C-Print, 2005
With RES's photo, the self-referentiality is more typical--art history is quoted in this beautiful double portrait (the original is, of course,
a pair of portraits by Piero della Francesca
from 1472). RES was featured in the MFAH's show
Cosmopolitan Routes: Houston Collects Latin American Art
, so bringing this work to the fair was probably a good move for YAM.
Latin American art was also very well represented in galleries from Miami. For instance, I really dug this piece by Argentine artist
Daniel Gonzales
at
Diana Lowenstein Fine Arts
.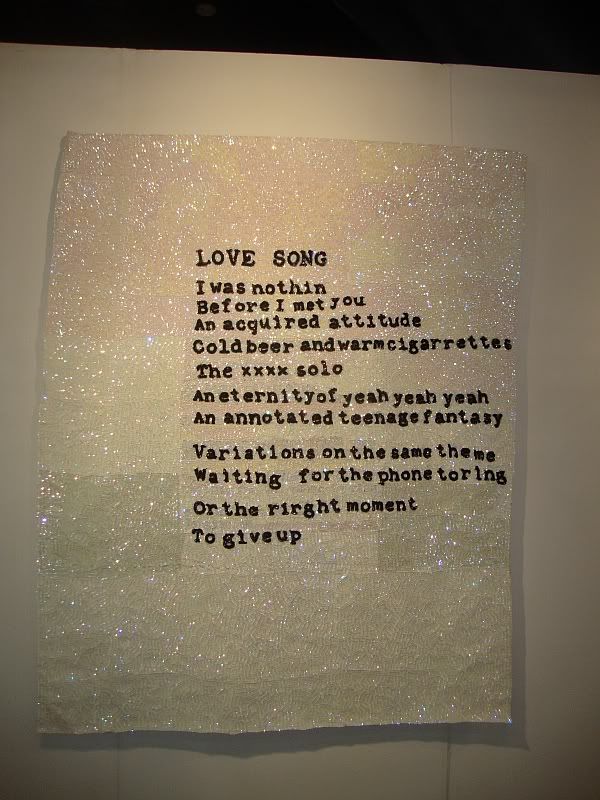 Daniel Gonzalez, Love Song, hand-sewn sequins on canvas, 2011
I honestly like it, but at the same time, it seems like the kind of work that panders to the art fair audience. It's sparkly and sexy and
in English
. On the other hand,
Colectivo MR
makes a work that can be read as a criticism of cultural colonialism.
Colectivo MR, Theater Box, lamda impression, 2007-8
They put indigenous Andean people, dressed in clothes that seem (to this gringo) like highly formal indigenous garb, into a box at a theater or opera. The box seats represent class distinctions, but so, in a way, do the beautiful and elegant clothes they are wearing. Within their culture, these seem to be people of status. The juxtaposition of the embroidery on their clothes and the baroque gilt decoration of the box make this a more complicated piece than one might expect. So how did this work end up in an art fair? Well, I think the answer is simple--it is beautiful and visually striking.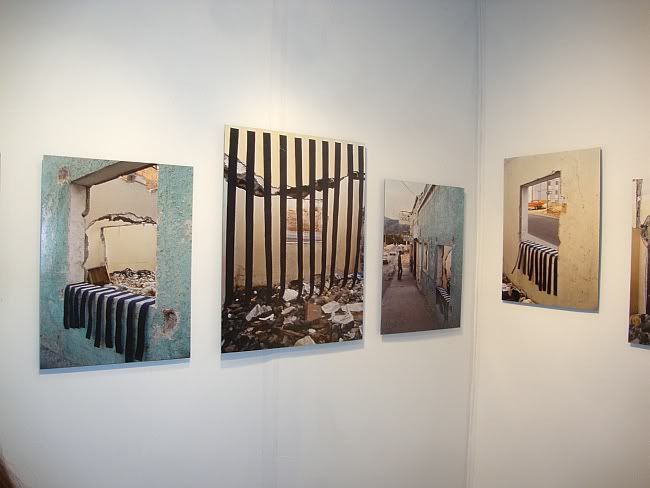 Milton Becerra, Analysis of a process over time, photographs and video, 1976-77
"Beautiful" is not the word that comes to mind with
Milton Becerra's
work in the
Hardcore Art Contemporary Space
booth. The work consists of black strips of cloth hung in parallel lines in and on damaged buildings. Becerra was responding to art of his time--minimal art, constructivism, etc.,--which seemed removed from ordinary concerns. Obviously one thinks of
Daniel Buren
, but a better comparison would be
Lygia Clark
and
Hélio Oiticica
in Brazil, two constructivist who abandoned pure abstraction to bring objects and performance into the world in which they lived.
The location of the photos is Longaray El Valle, a neighborhood in Caracas Venezuela. My understanding was that the government forced the inhabitants of the neighborhood to vacate it and move into new government housing projects. This kind of slum clearance/rehousing was a world-wide project in the post-war period, drawing equal support from the left (removing the poor from tenements owned by slumlords to supposedly better places to live) and the right (freeing valuable land for development and concentrating the underclass into narrowly proscribed areas). And artists of all stripes were there to record these events (for example,
Muswell Hillbillies
by The Kinks--for all you rock and rollers out there). Becerra's art in a sense criticizes then current art movements and artists for their apparent indifference, at least as it was reflected by their art. Put that in your pipe and smoke it,
Carlos Cruz-Diez
!
Milton Becerra, Analysis of a process over time, photographs and video, 1976-77
I spoke with Nina Fuentes, the owner of
Hardcore Art Contemporary Space
in Miami. I remarked on the daringly uncommercial nature of the work (at least it seemed so to my eyes). It was political, it was not pretty, it incorporated video, etc. Nonetheless, she said the show had gone very well for them. She said she planned to come back next year.
Ana Tiscorni, not sure what the title is, installation with chairs
Alejandra Von Hartz Gallery
is another Miami gallery that shows a lot of Latin American artist, including this installation by Uruguayan artist
Ana Tiscorni
. It was unusual to see installations like this in the art fair--work usually was free-standing and pretty much portable.
Continued in
Part 2