by Robert Boyd
(
Part 1 is here
.)
The Houston Fine Money Fair
Everyone knows that art fairs are commercial enterprises. The point is to sell artwork to people for
money
. Money money
money
. But what kind of freaked me out was how much of the art for sale was about money--and in some cases, literally made out of money!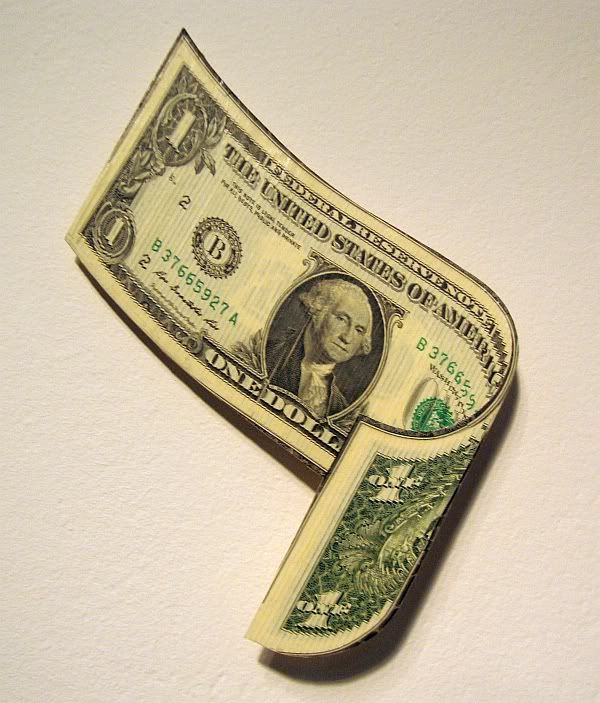 Mark Wagner, Gale Bill, currency and mixed media on panel, 2011
Mark Wagner
had several pieces made out of carefully sliced up dollar bills at the
Pavel Zubock Gallery
booth, including the tour de force below.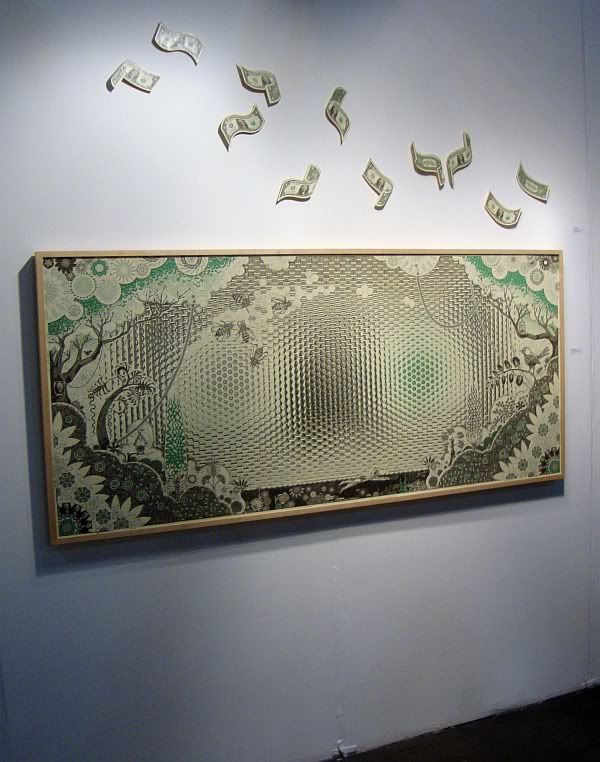 Mark Wagner, The Land of Milk and Honey, currency and mixed media on panel, 2011
Not to be outdone,
Jonathan Ferrara Gallery
from New Orleans devoted their entire booth space to the folded dollar photos of
Dan Tague
.
Dan Tague, Don't Tread on Me (left) and We Need a Revolution (right), archival inkjet on paper, 2011
Dan Tague, The End is Near, archival inkjet on paper, 2011
It wasn't just U.S. currency that was on display. I'm pretty sure
Santiago Montoya
, whose work was displayed at
Arte Consultores from Bogata
, Colombia, used other currencies in his money pieces.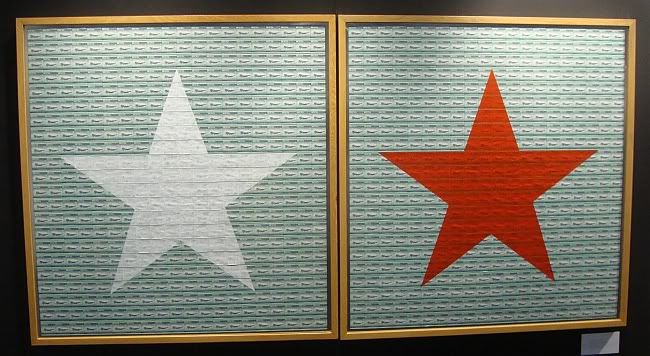 Santiago Montoya, Wishing Stars (diptich), paper money on stainless steel, 2011
Galleries--next year, if you want to strike an original stance, show art made out of credit cards.
Improvisation
The booths looked great--a lot of work was done to make them look just right. But what happens when you show up and you forgot to pack a display stand? You improvise.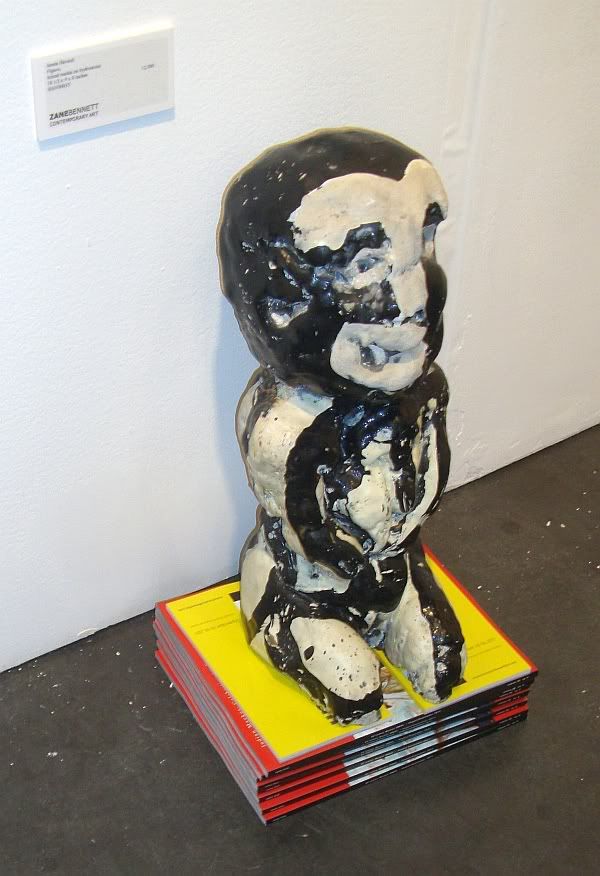 James Harvard, figure, mixed media on hydrostone
If you're
Zane Bennett Contemporary Art
, you place this $12,500 sculpture on a pile of magazines.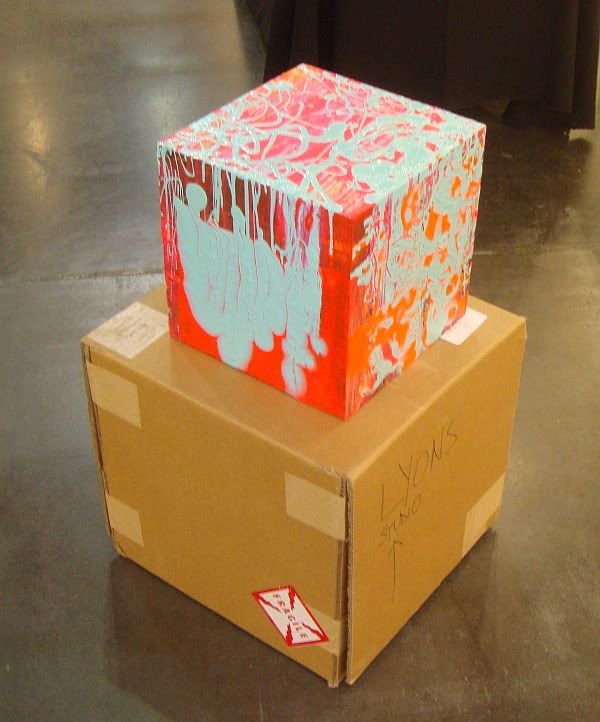 M. Lyons is the artist--that's all I know
(I can't remember who this artist is or what the gallery was.) I asked them if the box was part of the art and was told no. I guess you just have to do what you can...
Bad Art
I've mostly discussed art I like. I don't suppose it will surprise you that there was some pretty bad art there. Glasstire even had its readers send photos of the worst art (
here
, scroll down). Here are a few of my "favorites."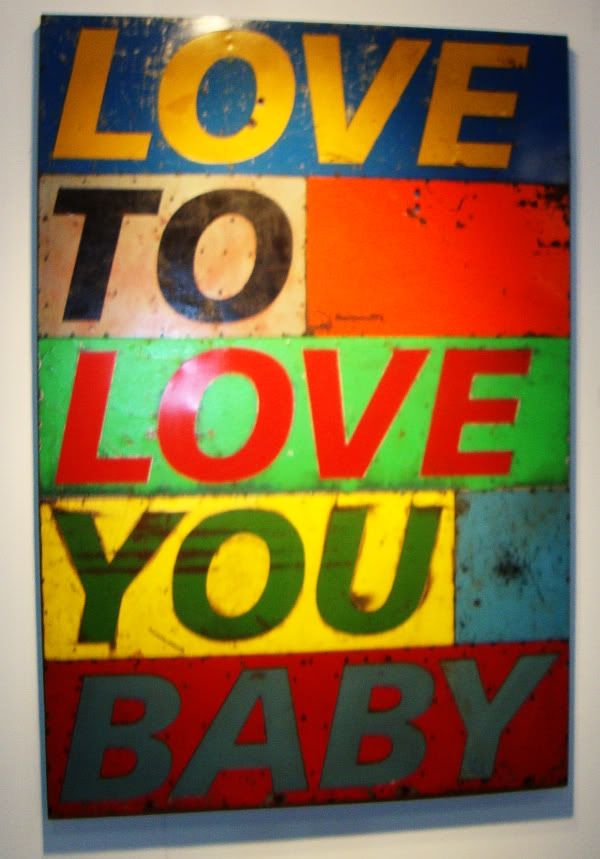 David Buckingham, Love to Love You Baby, metal [sic]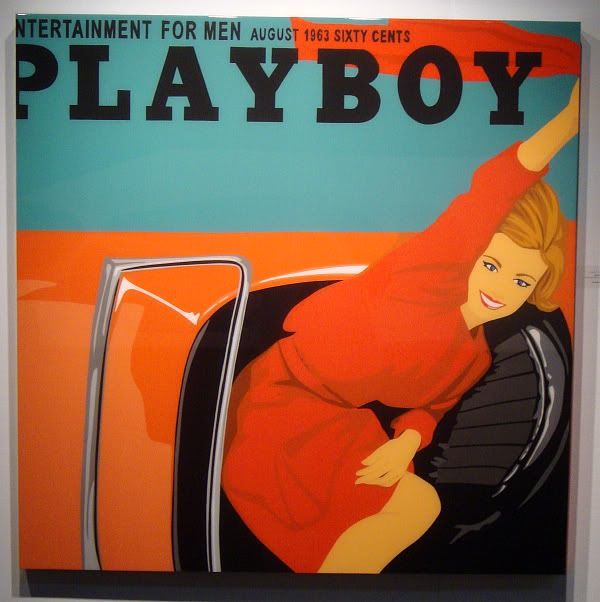 James Wolanin, August 1963, acrylic and resin on canvas
These lovelies were at
Caldwell Snyder Gallery
, which had a booth full of similarly bad art. One can imagine a scenario of, say, North Korean artists being shown slides of contemporary American art and being asked to create something similar. These pieces feel like imitations of contemporary art by artists who don't really understand contemporary art.
On the other hand, the creator of this bronze teddy bear at
Schuebbe Projects
looks like he knew precisely what he was doing and just didn't care. It positively revels in its stupidity. (Sorry I didn't get the artist's name.)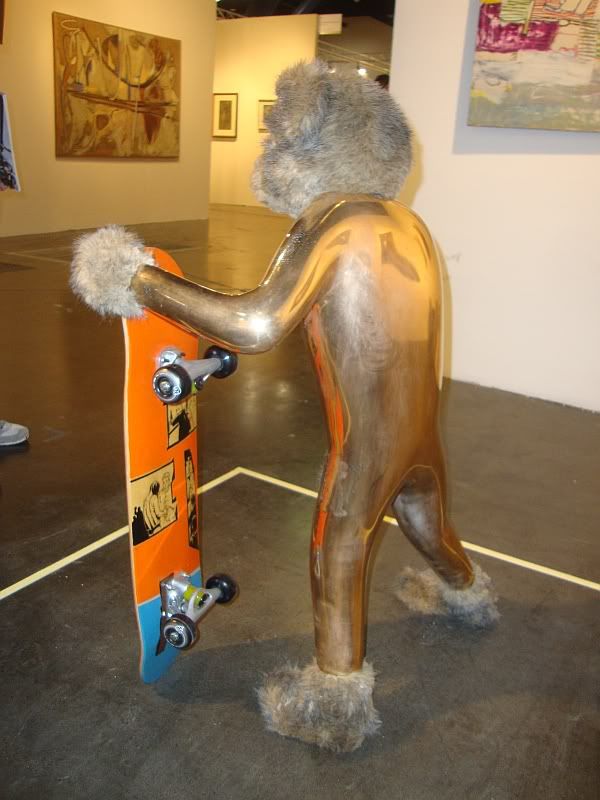 Shred on, little dude!
Arman, Dark Magnetism (Cello), mixed media on board, 1991
I like
Arman
's early work, and I think the
nouveau realistes
are somewhat underrated. But then I see something like this and think, maybe they aren't really all that underrated. This piece was on view at the
Riva Yares Gallery
booth.
The Houston Comics Fair
I remarked in an earlier post how an art fair resembled a comic book convention with somewhat more expensive merchandise. The Houston Fine Art Fair also resembled a comic book convention because it had comic book-esque art.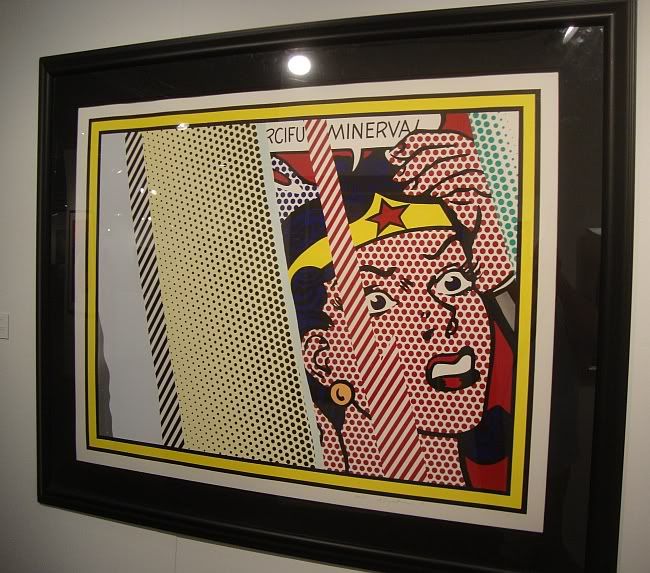 Roy Lichtenstein, Reflections on Minerva, mixed media print, 1990
Roy Lichtenstein is the classic comics appropriator, but I was still surprised to see this piece at
Hollis Taggart
. Suprised for two reasons--first, I thought he stopped using comics as a source in the 60s. Second, his comics-based images typically were more anonymous--not well-known characters like Wonder Woman. And yet, here she is, in a prismatic dissolving visual space. Not bad.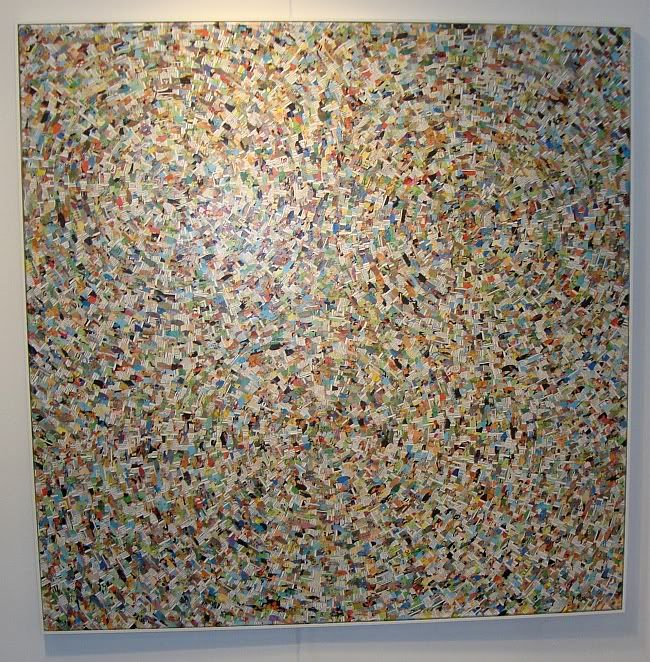 Magdalena Murua, Triple Vortice, paper on canvas
This piece by Magdalena Murua required cutting up little circles of comic book artwork and pasting it onto a canvas. OK comics fans--can you tell just be the colors what comic this could be? (The detail below will show more than enough to figure it out.)
Magdalena Murua, Triple Vortice (detail), paper on canvas
This piece was at the
now contemporary art
booth. And it appears from looking at
her website
that all her art involves pages of comics.
Greely Myatt,unsure about the title, steel and air
At
David Lusk Gallery
, there was this piece by
Greely Myatt
that distilled comics down to one of its basic elements--balloons (word balloons and thought balloons).
More Bad Art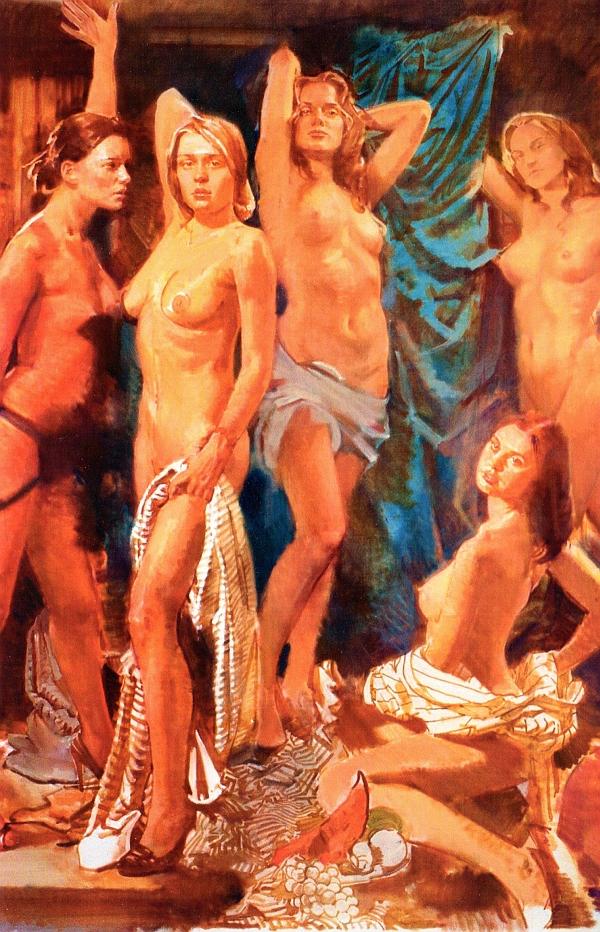 Arsen Savadov, Les Demoiselles d'Avignon, oil on canvas, 2011
Mironova Gallery
is a gallery from Kiev. Now I don't want to traffic in stereotypes, but, oh, why the hell not? You think of Russian (and Ukrainian) oligarchs--super-rich, super-crass dudes (and they are all men, as far as I can tell) buying up yachts and football teams and trophy wives and art by the metric ton. People like Roman Abramovich, Alisher Usmanov, and Ukraine's own
Viktor Pinchuk
. They want art that screams out how wealthy they are and what good taste they have. So owning a pornified version of
Les Demoiselles d'Avignon
is perfect, because he can point out
the art history behind it
and the post-modern pastiche that
Arsen Savadov
has created, and when the boys come over for some cigars and poker, they can discuss which of these demoiselles they'd most like to fuck. (Not surprisingly, Pinchuk is a
big
collector
of Savadov.)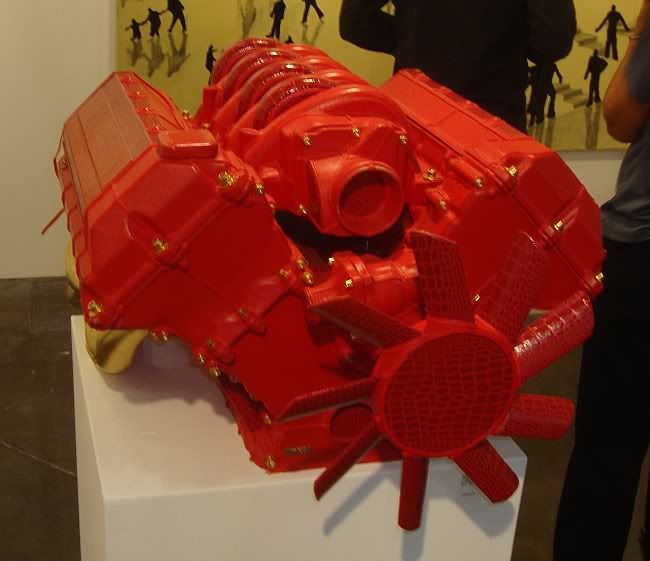 Oksana Mas, BMW from the series Heart Removing, 8 cylinder engine, leather, gilt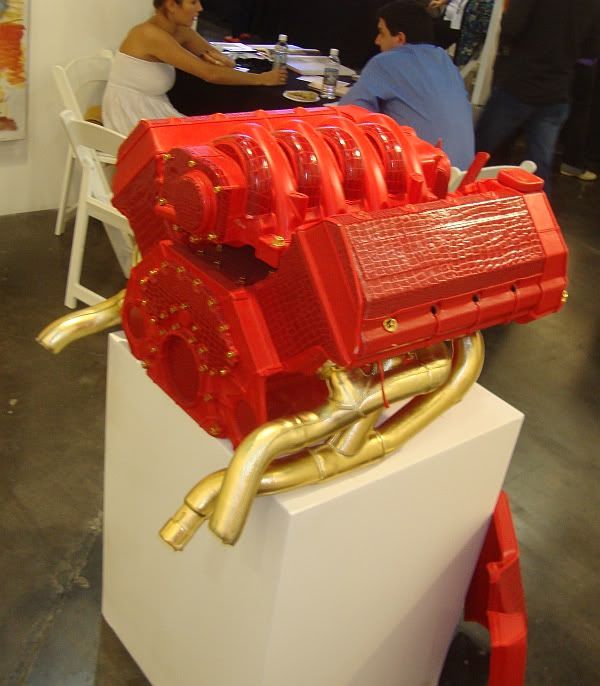 Oksana Mas, BMW from the series Heart Removing, 8 cylinder engine, leather, gilt
Oksana
Mas
has created a piece that hits all the conspicuous consumption buttons at once--a BMW motor, covered with fine leather like an expensive designer purse, with gold-plated nuts and bolts! The funny thing is that this is the third leather covered motor I have seen in the past year or so. The first was a V-8 covered with a carefully sewn snakeskin cover by
James Drake at his Station Museum Show
. The scond was another James Drake snake-skin over engine (a motorcycle engine this time) at
Moody Gallery
. But the meaning of Mas's engine is quite different--her's is about consumerism and wealth, while Drake's was about masculinity. (One thinks of "Who Do You Love" by Bo Diddley: "I got a brand new house on the roadside/made from rattlesnake hide.")
The overwhelming effect of this art was an appealing to the wealth flaunting tastes of the Victor Pinchuk's of the world. But that's what old money always says about the nouveau riche--their cash can't gain them class. I hate this art, but I kind of admire its brazenness.
Whoops! Out of space!
I'll continue this in
part 3
.