by Robert Boyd
Last year, I wrote
my first "top exhibits of the year" post
, and I will again this year (later this week), but I thought it would be nice to see what
other
people in Houston thought. I sent out a request for people to tell me what they considered the best (and worst) art things of the year. I wanted to hear about the best exhibits, of course, but also the best events, performances, trends,
whatever
. Fourteen people replied from all strata of the Houston art world (except gallery owners, for some reason--the gallery owners I emailed have chosen to keep their favorites close to the vest). Three of the respondents requested anonymity--they are all artists, but that's all I'll say about them. (I asked for "worst show," and
everyone
who replied to that question requested that I keep them anonymous. I understand. It's a small art community. I'll write about those responses in a future post.)
To understand what they were saying, I gridded out their replies. The left-hand column was their choices, and the top row was their names. What I hoped was that by doing this, a consensus choice would become evident. No such luck.
In all, my 13 respondents picked 36 art things in Houston that they really liked. But only six got more than one vote! So that's where I'm going to start--all the art exhibits that got
two
votes from my poll.
Andrei Molodkin, Liberty, acrylic block and plastic hoses filled with crude oil, pump, compressor, Dedolight, video camera, projector, 2011
Andrei Molodkin: Crude at the Station Museum of Contemporary Art
. This show got props from both
Howard Sherman
and
Devon Britt-Darby
. And I have to add that it's a show that comes up a lot in casual conversation.
from left to right: Arturo Palacio, Barry Stone, Barry Stone's wife whose name I am blanking on
Barry Stone, Dark Side of the Rainbow at Art Palace
. The Austin-based photographer Barry Stone has had a good year. He was the subject of the first
Pastelegram
print issue, and his show at Art Palace was pretty great. I liked it so much that I bought a piece on lay-away. One of my anonymous respondents described Stone's photography as "fucking awesome," and another anonymous respondent called it "really good."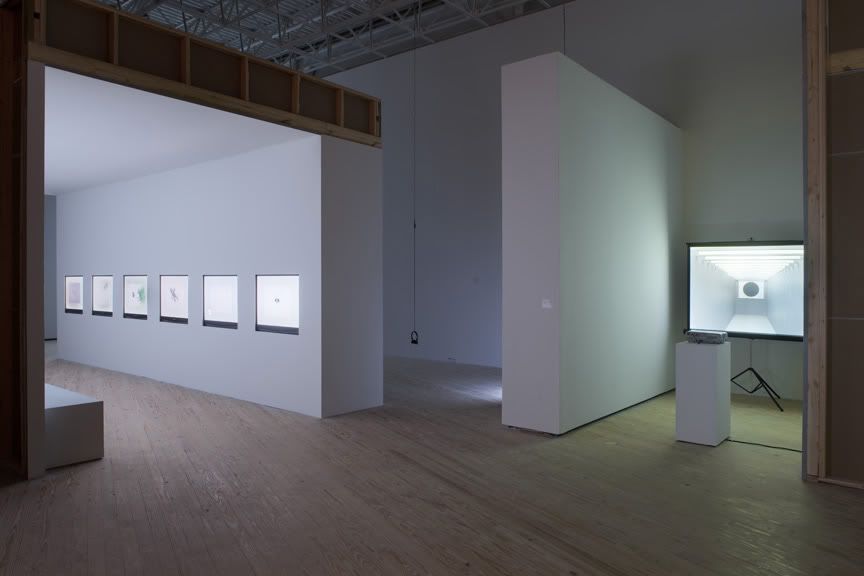 Answers to Questions installation view
John Wood and Paul Harrison, Answers to Questions at CAMH
. One anonymous respondent loved this show, but wasn't sure whether is was the staging of the show or the videos themselves that he liked most. I agree--whatever you thought of the videos (which I personally loved), it was extremely well staged. Michael Galbreth of
the Art Guys
also listed it as one of his favorites of the year.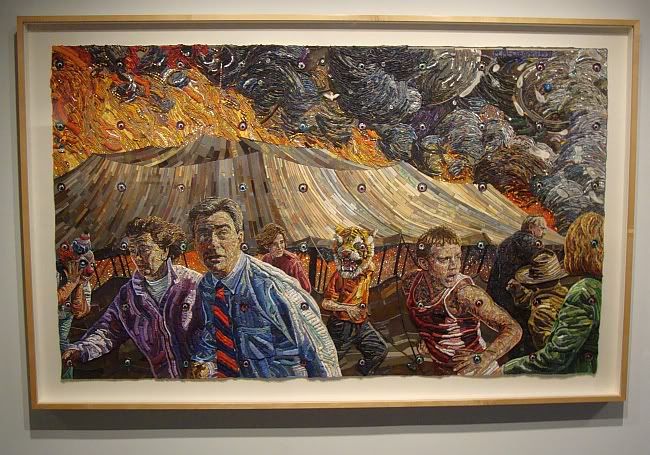 Mary McCleary, not sure about the title...
Mary McCleary: A Survey 1996 - 2011 at the Art League
. About
Mary McCleary's
show,
Emily Sloan
wrote, "Her work had a profound affect on people. They were touched! ([You] don't see that all the time.)" That's true. We so seldom see people visibly moved by artwork these days that we are slightly suspicious of it. Howard Sherman also noted it as one of the best of the year.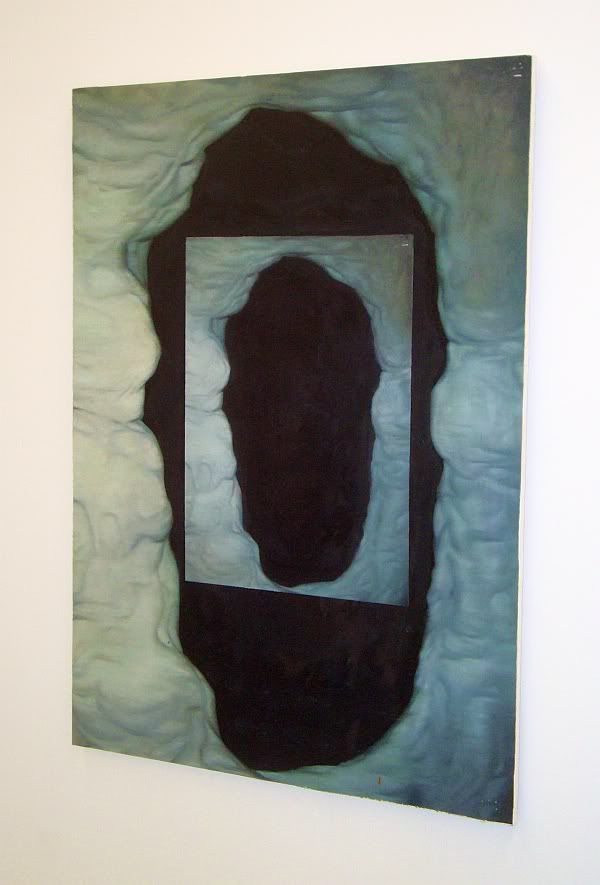 Seth Alverson, can't remember the title...
Seth Alverson at Art Palace
. This was the intriguing show where
Alverson
repainted all the canvases that didn't sell from his last show. The result, according to one anonymous respondent, was "double awesome." Artist
Brett Hollis
also included it as one of the best shows of the year.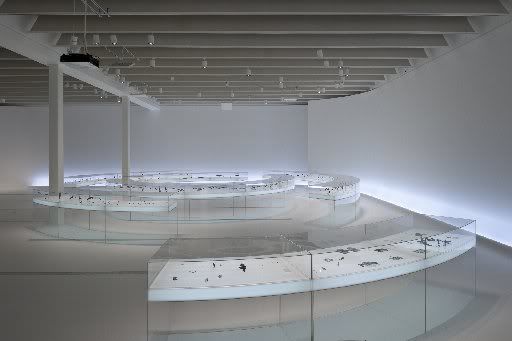 Arctic Realities installation view, photo by Paul Hester (via)
Upside Down: Arctic Realities at the Menil
. This show was listed as
one of the best of 2011 by Artforum,
but even more important was that
Mark Flood
liked it: "Upside Down: Arctic Realities at the Menil was just awesome."
Devon Britt-Darby
also included it on his best-of list.
By virtue of getting more than one mention by my distinguished respondents, this heterogeneous list is the closest we have to a consensus of Houston's art world. Let's call it a six-way tie for #1. The rest of the shows/events mentioned are tied for 2nd place, and I'll cover them in
part 2
,
part 3
,
part 4
and
part 5
.