by Robert Boyd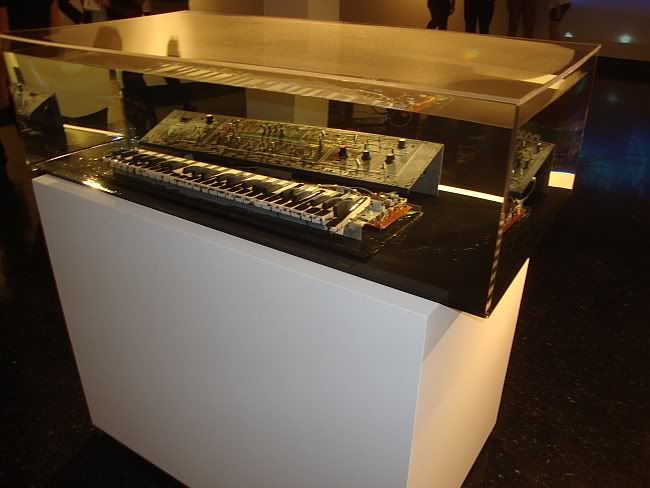 Debra Barrera, Timestep (for Wendy Carlos), plexiglass, Moog synthesizer, resin, graphite, water, 2011
Timestep (for Wendy Carlos)
was the first piece that caught my eye when I walked into the mezzanine gallery at Lawndale for their most recent show. There was something just
wrong
about a big, obsolete piece of electronic equipment sunk in a tank of water. And the nasty black stuff on the keys--
what was it?
I could see it was a Moog, and when I think Moog, I think of people like
Rick Wakeman
and
Wendy (formerly Walter) Carlos
. I had a copy of
Switched-On Bach
when I was in High School.
The piece was an indirect tribute to movie director Stanley Kubrick, as approached through the music. Carlos had done the soundtrack (including many electronic versions of various classical warhorses) for Kubrick's
A Clockwork Orange
.
That this connection to Kubrick exists is interesting to know, but what sticks with you is the image of this instrument submerged in a tank. Obviously one can't look at it without thinking of, say, Damien Hirst's
The Physical Impossibility of Death in the Mind of Someone Living
or Jeff Koon's
Three Ball Total Equilibrium Tank, particularly the latter. There is something mysterious about a basketball or a synthesizer sitting in an otherwise empty fishtank.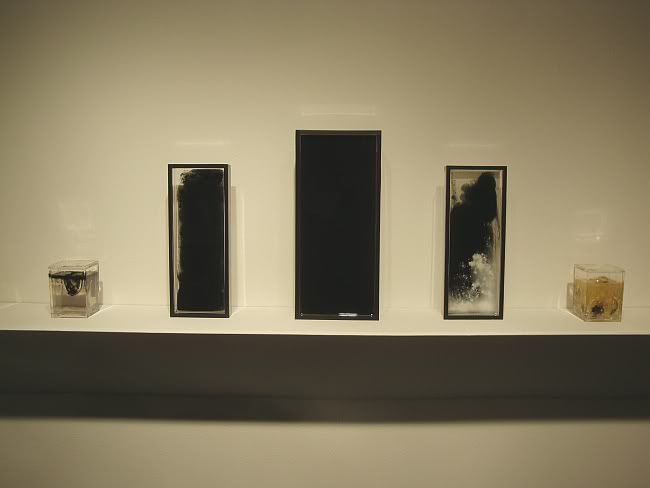 Debra Barrera, Zarathustra, epoxy resin, graphite, pure pigment, electrical tape, 2011
Barrera continues her Kubrick obsession with Zarathustra. Black resin slabs will surely remind one of the monoliths in Kubrick's 2001: A Space Odyssey. Of course, when we see the first of the three monoliths in the movie, the music playing is the fanfare from Richard Strauss's Also Sprach Zarathustra. In this piece, resin plays a bigger role. But she plays against our memory of the monoliths in the movie. Her monoliths are defective--not solid black, they have clear parts. (In Arthur C. Clarke's novel of 2001, the first monolith is clear crystal.) They even have electrical tape on them, as if the superhuman intelligences that created them have had to repair them in the crudest way possible.
Debra Barrera, Sleeping Beauty, liquid silicone, needles, thread
Maybe
Sleeping Beauty
has a movie soundtrack connection--I'm not sure. When I saw it, I thought that it was a continuation of Barrera's games with resin. Like epoxy resin, silicone is a relatively modern invention. Unlike epoxy resin, silicone doesn't feel permanent. It's soft, it's flammable. The resin pieces in the show seem as if they will last a long time. One looks at
Snow White
, another piece in the show with pearls and valium encased in epoxy resin, and one feels it'll be like the insects captured in amber for millions of years (amber itself is
fossilized tree resin
). But
Sleeping Beauty
sleeps for only a hundred years (perfectly preserved and unaged). If the epoxy resin pieces are new fossils,
Sleeping Beauty
has an expiration date.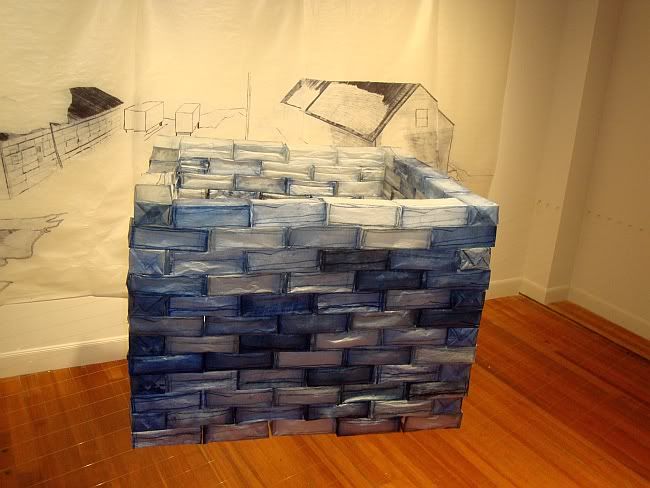 Carrie Scanga, View from High Places, tracing paper hand printed with etchings, variable dimensions
Carrie Scanga, View from High Places, tracing paper hand printed with etchings, variable dimensions
It's a little hard to tell from these photos, but
Carrie Scanga'
s sculpture,
View From High Places
, is actually resting on a plane formed by fishing line stretched out on a parallel pattern about three feet above the ground. Perhaps this picture will make that clear: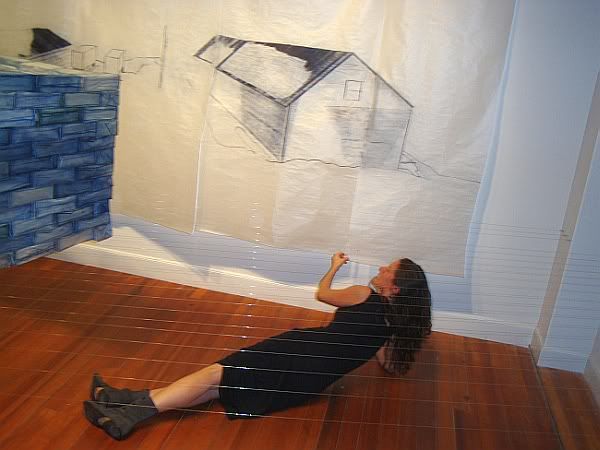 Carrie Scanga, View from High Places (with the artist), tracing paper hand printed with etchings, variable dimensions
Scanga rolled under the fishing line to straighten out a drawing which had been blown out of place by the air conditioning. This piece is part of Scanga and
Alexis Granwell
's exhibit
Ballast/Break
in Lawndale's Project Space. I had a thought about their work when I first saw this show, but because I'm lazy and it's taken me so long to write about it, Kelly Klaasmeyer scooped me. She wrote
​I'm not so jazzed about the 2D works in Alexis Granwell and Carrie Scanga's "Ballast/Break" in Lawndale Art Center's project space, but there is some pretty nice 3D stuff going on.["Alexis Granwell and Carrie Scanga at Lawndale Art Center: Some Works Are More Successful Than Others", The Houston Press, Dec. 5, 2011]
And also due to my laziness, I'm not going to talk about the 2-D work. Read Klaasmeyer for that. I liked these bricks, blue, made of paper, and slightly translucent. Such a lightweight building material has a fantastic quality--something they would have used to construct a city in the clouds, or maybe the city in the tree inhabited by elves in
The Lord of the Rings
. But ironically, the architectural form she builds from these bricks is a brutalist chimney-like form. It seems like a rudely constructed industrial form. This contrast is inherent in the bricks--light and heavy at the same time.
Alexis Granwell, Palimpset and Things to Come (detail), abaca, wire, wood, 2011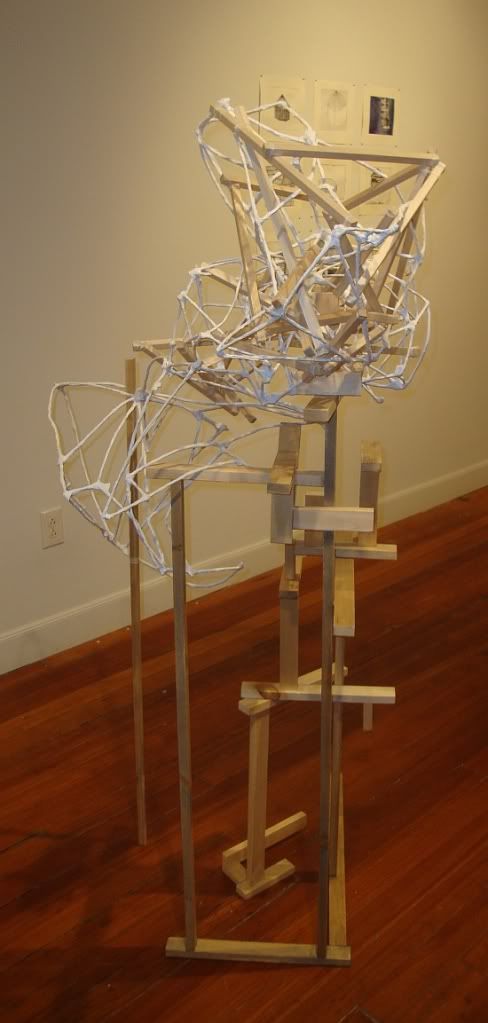 Alexis Granwell, Palimpset and Things to Come, abaca, wire, wood, 2011
Abaca is apparently a plant that a certain kind of paper is made of. Wikipedia states that most teabags are made of abaca. Granwell identifies it as tracing paper in her statement, so both artists use tracing paper--paper that is very delicate--to make sculptures with. Again, we have the opposition between delicate and strong.
But if you didn't know what abaca was, I think the thing that would jump out at you about
Palimpset and Things to Come
would be the way the white wiry structure was enfolded in and amongst the wood structure. Ultimately, it is wood that holds this sculpture up, but once you get to the top, it's hard to say whether the wrapped wire is the structure and it's supporting the wood or vice versa. They seem equal.
These shows run at
Lawndale
through January 7.