(Continued from
part 2
.)
Cody Ledvina, Gawd parents: I am real at BOX 13
. Performance has a hard time in lists like this because it is so fleeting--you had to be there. That said, one of our anonymous respondents
was
there and wrote, "I've always been a big fan of Cody's work. This is something that's been floating around out there needing a space for a while, and I was really excited to see it finally happen."
Grandalism curated by Gonzo 247 at Diverse Works
.
Howard Sherman
voted for several of the pieces put up as part of Diverse Work's ongoing
Gandalism
project.
Heyd Fontenot's It's a Nude, Nude, Nude, Nude, Nude, Nude World at Inman gallery
.
Bill Arning
came in with an unexpected but fun vote: "My fave event was
Heyd Fontenot's
Nude, Nude, Nude, Nude, Nude, Nude World at Inman gallery, the gesamtkunstwerk of seeing all your Houston art pals pose naked for this great portraitist made my year, and yes, I posed too! "
James Burns at Cardoza Art Gallery
.
Mark Flood
liked this show.
James Surls, Molecular 3x3 at CAMH
. This was on
Michael Galbreth
's list.
im Nolan, Palisades Paintings / Brown, Red, Yellow, Blue, photo on canvas, 2011
Jim Nolan, Today is Tomorrow, Art Palace
. This got an anonymous vote. Personally, I think
99¢ Only Stores
should hire
Nolan
as artist-in-residence.
Johnny Meah
:
The Czar of Bizarre at Art Guys Museum
. Michael Galbreth voted for this one, presumably with a little curatorial pride talking. This was definitely the best exhibit of side-show art in Houston in 2011.
Linda Post, Wherever, Art Palace
. Linda Post's video art got the thumbs up from one of our anonymous respondents.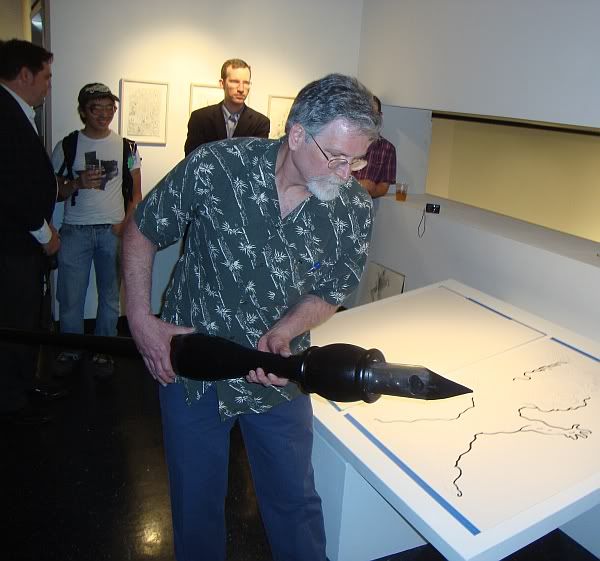 Jim Woodring wields Nibbus Maximus at Lawndale
Marc Bell and Jim Woodring, Walpurgis Afternoon at Lawndale Art Center
.
Brett Hollis
selected this one as one of his favorites, which, as the curator of the show, makes me feel
real proud
.
Mark Ponder, A Time to Celebrate at Lawndale
. An anonymous respondent love this and wrote, "Mark is just getting his start in Houston. He's hugely prolific and his work is playful and sick. I can't wait to see more."
I've hit my limit on "tags", so this post shall be continued in
part 4
and
part 5
.