by Robert Boyd
Before we dive into the results of my public survey of the best of Houston's art scene in 2011, let me talk a bit about the poll. First of all, there were a total of 65 respondents--thank you all. On one hand, 65 is great. On the other hand, I think it represents just a fraction of the total number of people in Houston who have an opinion on what their favorite art exhibits were. I wish I had further reach.
Additionally, with 65 respondents, it is fairly easy to game the results. I believe this has happened--not maliciously, but by virtue of friends of certain artists and galleries voting for those artists and galleries. Let me reiterate--there is nothing wrong with this. If my friend had a great show and I loved it, voting for it is perfectly legitimate. And if I were an artist who had a show in 2011, I would have linked to the poll on my Facebook page and let my friends know.
And even if there wasn't that level of deliberate action, the fact is that
The Great God Pan is Dead
is read by a certain constituency. I'd call it the
Joanna
/
Art Palace
/
Box 13
constituency (and perhaps add to it the
Nau-Haus
/
PG Contemporary
constituency), and artists valued by these constituencies did very well. And deservedly so! But I mention this because I believe that if I had gotten 200 respondents or 500 respondents, the results would have been substantially different. In a way, this poll reveals more about T
he Great God Pan Is Dead
and its readership than it does about Houston's art as a whole. So be it. It's my first try at this and while I'm sure I'll get better at it as the years go on, I'm quite pleased with the results.
Best Art Exhibits in 2011
What was interesting here was the voting was highly spread out. There was in no way a consensus. With so many good choices, respondents voted across the map. Still, there was a victor:
Seth Alverson at Art Palace with nine votes. (Big applause!)
Seth Alverson, Chair, Chair II, oil on canvas, 2009-2011
Just to demonstrate how broad the votes were scattered, there was a three-way tie for 2nd place (with seven votes each):
Lane Hagood, The Museum of Eterna at the Joanna
Kenn Coplan, Ultimate Kenn at Nau-haus Art Space
group exhibit, Pan y Circos at PG Contemporary
(the "friends of Robert Boyd faction" really came through!)
And in third place, there was a six-way tie with six votes each:
Charles LeDray, workworkworkworkworkwork at the MFAH
Francis Giampietro & Jeremy DePrez, The Power of Negative Feedback at Lawndale
Mark Flood at Cardoza Gallery
Marvin Zindler, Bayou City Noir at the Museum of Printing History
Upside Down: Arctic Realities at the Menil
Vija Celmins: Television + Disaster, 1964-9166 at the Menil
Of this entire list, the biggest surprises were what didn't make it to six or more votes, but among the winners, the most pleasant surprise for me was the quirky Marvin Zindler photo show at the Museum of Printing History.
Best Performance Art in 2011
This category was a little trickier, I thought, because of the transitory nature of performance. You had to be there to even really identify the piece, much less form some kind of personal judgment. The big winner, however, was:
Cody Ledvina, Gawd parents: I am real at BOX 13 (with 15 votes!)
Cody Ledvina's performance Gawd parents: I am real
There was a tie for second place with six votes each:
Dennis Harper and Friends, iPageant at the Joanna
Jim Woodring, Demonstration of Nibbus Maximus at Walpurgis Afternoon at Lawndale
And third place with four votes goes to:
The Bridge Club, Natural Resources at Lawndale
Most Significant Local Art-Related Events of 2011
This was my catch-all category where the events that shaped the ecology of the local art scene could be ranked. And the number one event with 16 votes was:
The Texas Contemporary Art Fair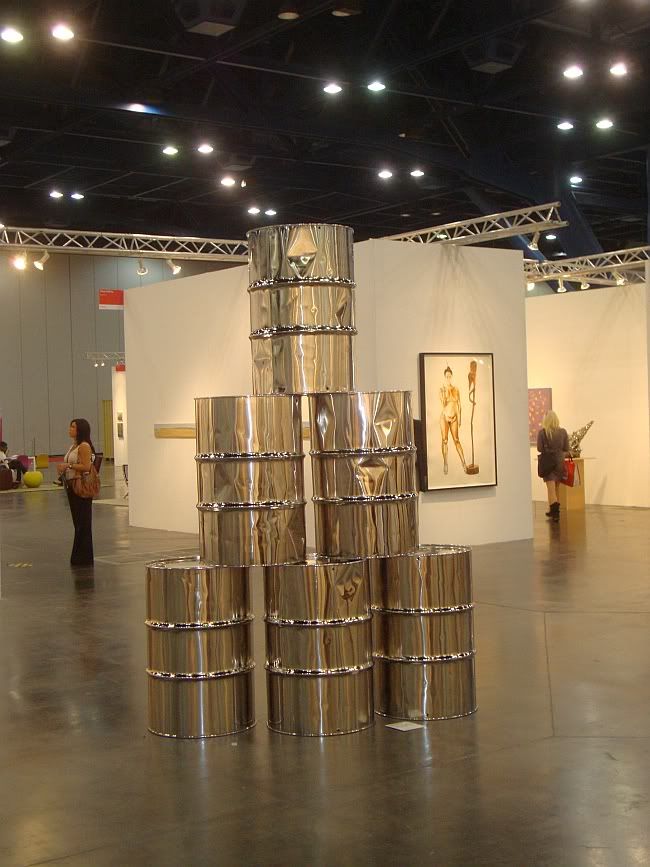 Jason Willaford, Out of Site - Out of Sight, chrome plated oil barrels, 2010 at the Texas Contemporary Art Fair
Number two with 12 votes was:
The Houston Fine Art Fair
The fact that these two art fairs were ranked one and two shows how important respondents felt about art fairs coming to Houston. And it was important. Arturo Palacio told me that more people stopped by his booth at the Texas Contemporary Art Fair that went into his gallery all year. With attendance numbers of 10,000 batted around--most of whom were from Houston and vicinity--this was a big deal for all the local galleries that attended, as well as for the out-of-town galleries.
Coming in at third with 11 votes was:
Devon Britt-Darby vs The Art Guys
This category was my way of encapsulating a variety of events--the Menil acquiring the tree that the Art Guys married, Britt's coverage of that in the Chronicle, his counterperformance in marrying gallerina Reese Darby (and changing his name to Devon Britt-Darby), his confession of his former life as a meth-addicted male prostitute, his annotated road-trip (financed by being a male escort), and his firing from the Houston Chronicle. Certainly it got a lot of people talking.
Thanks everyone who voted, and happy new year!