by Robert Boyd
Julia Wallace
and
Jonatan Lopez
are the artists behind
Continuum
, a performance art group that have done a variety of events since starting up in 2011. They put together a retrospective video of some of their 2011 activities. As that it includes several boobs, asses and dicks, it is quite possibly NSFW where you work.
Continuum, 2011 Highlights
from
Continuum PerformanceArt
on
Vimeo
.
If this is the kind of performance art you're looking for, they have a new performance called
KALI
at
The Orange Show
coming up in February. In case you're thinking of bringing the kids, they warn that it is "
FOR MATURE AUDIENCES ONLY." You can help support this show on their Indiegogo page.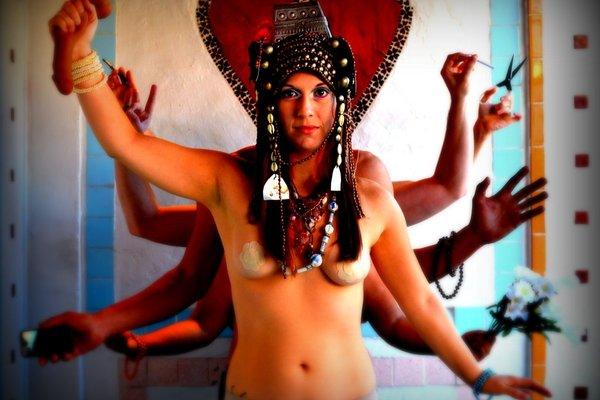 KALI
But that's not all. There's an upcoming event called the
Lone Star Performance Explosion
that bills itself as the "Houston International Performance Art Biennale 2012." It lists the following performers:
Fantastic Nobodies (New York)
Myk Henry (New York / Ireland)
Arianne Foks (France)
Ville-Karel Viirelaid & Remo Randver (Estonia)
Jim Pirtle (Houston)
The Art Guys (Houston)
Nestor Topchy (Houston)
Elia Arce (California)
Jenny Schlief (Houston)
Jill Pangallo (Austin)
Nyugen Smith (New Jersey)
Emily Sloan (Houston)
Johnny Amore (Germany)
Elena Nestorova (Finland)
Natali Leduc (Canada/Houston)
Nancy Douthey (Houston)
Julie Wallace (Houston)
Daniel Adame (Houston)
Marcus Vincentes (Brazil)
Kim Ceol (Korea)
This looked so interesting that I linked to it on
Pan's Facebook
page. And here was Julia Wallace's reply, "
It does sound awesome, I would love to perform, but I have never heard of it despite being listed as one of the performers!" A closer look at the otherwise excellent website listed no one in charge, no contact information, nothing! Very mysterious (and pretty damn presumptuous to list a performer who hadn't yet been invited).
But the Lone Star Performance Explosion does have a Facebook page, so I posted a query there asking what the story was. I was surprised to get a response from Kelly Alison, a painter who I have never associated with performance art before. She wrote, "
Robert, The Festival is being directed by Nestor Topchy nestortopcy@yahoo.com and Myk Henry. It is non-profit. I am acting as administrator and event coordinator. me@kellyalison.com."
So there you have it! Nestor and Myk, I suggest you contact Julia Wallace and nicely ask her if she would like to participate. I think she might be game. And it would be cool if you put a little more information on your website (for example, contact info, ticket info, etc.) But aside from this, it looks great! Assuming all the performers you have listed are actually performing, this could end up being the FotoFest of performance--and that'd be a damn good thing to be!