by
Robert Boyd
Is it possible to be shocked or scandalized anymore? If so,
Chinaman's Suitcase
on view now at
Box 13
might be the show to do it. On one hand, we live in a society where sex is pervasive. Nowadays, TV shows will have characters explain what is going on while having sex--a device called
sexposition
. As I was driving home from work, I noticed a grand new building being constructed on the side of a freeway--a strip club to be called "Lust." Lust will be the 26th strip club in Houston (by my count).
But
Chinaman's Suitcase
included a concept so amusingly perverse that I had never even considered it before. Artist
Miao Jiaxin
calls them "ass prints," but that phrase seems rather tame. Ass prints are what are left on the windows of Fondren Library when the
Baker 13
make their monthly streak across the campus of Rice University, wearing only shaving cream. It would be more accurate to call what Jiaxin has produced "asshole prints."
Miao Jiaxin and Eijane Janet Lin, Collaboration No. IV (Assprints), 2011, archival inkjet print
Jiaxin's collaborator on
Assprints
is
Eijane Janet Lin
, who like Jiaxin got an MFA from the
School of the Art Institute
in 2011. (Interestingly enough, she is also a graduate of Houstons's
High School for the Performing and Visual Arts
.) The photo depicts Jiaxin about to apply lipstick to Lin asshole. The pair are surrounded by hundreds of prints that seem to be lipstick on tissue, presumably from her asshole. These prints look similar to those made when women "blot" freshly applied lipstick with a napkin. As Jiaxin performs this procedure, Lin--dressed in sexy stockings and a bra-- is using a small computer with a coffee cup handy. It's as if the whole process is boring and she needs something to do while Jiaxin makes his prints.
But in fact, she was actually online (her image being streamed) as this was happening, as this video from
Lin's website
shows.
Lin was on a sex cam site called
Cam 4
, showing the ass prints as they got made. Simultaneously on the site was a wide-angle view from the side showing the action basically from the same angle as the image in above. So this was a performance recorded for the art gallery crowd, but performed live for the sex cam crowd. There is an implicit challenge here--to create art what will appeal equally to both audiences. They both have highly different expectations and criteria. And both audiences are somewhat outside of the mainstream, but in very different ways.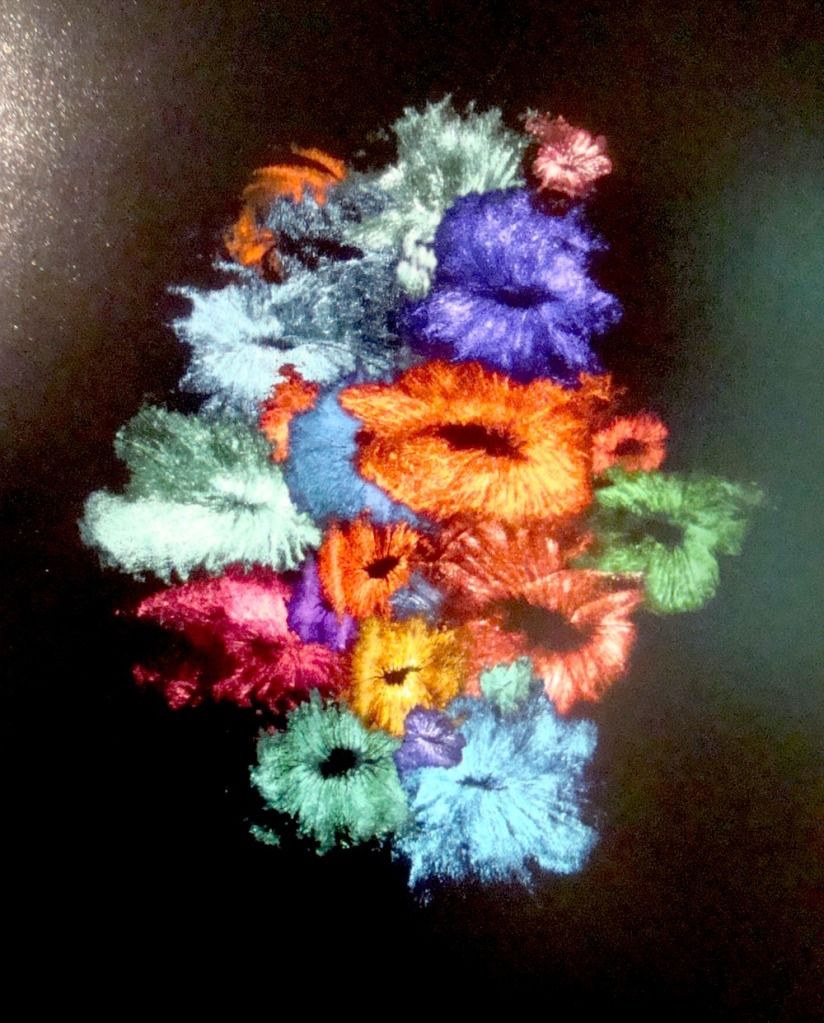 Miao Jiaxin, Happy Together (detail), 2010, two archival inkjet prints
What does Jiaxin do with these asshole prints?
Happy Together
suggests that he scans them, colors them, and creates collages from them that resemble bouquets of flowers. There is irony in using assholes to depict a bouquet of flowers. Maybe Jiaxin is challenging our idea of beauty. Or maybe he is challenging himself to make something beautiful out of such unpromising raw material. (Artists who work with garbage, refuse and debris do something similar.) Maybe he's just fond of assholes.
Miao Jiaxin and Eijane Janet Lin, Collaboration No. V (Stripper), 2011, archival inkjet print
Collaboration No. V (Stripper)
is another audacious, funny image. Jiaxin and Lin are in a nondescript room. Jiaxin has the clothes and props to signal decadence--slacks, dress-shirt and loose tie, sunglasses indoors, wine glass and big cigar, stripper giving him a lapdance and perhaps weirdest of all, a revolver. The revolver gives him kind of a gangster look, like a character from a
John Woo
Hong Kong action film. The fact that he has the gun aimed at his own head (but without his finger on the trigger) implies that he is a self-aware gangster--a live-fast-and-die-young sort. If that's who you are, best to maximize your pleasure today--Jiaxin is living life to the hilt in this photo.
But the really weird part is Lin, the stripper covered with money. Stripping is all about money--the stripper extracting as much money as quickly as possible from the client. And part of this is accomplished by tease--get the client excited enough to keep buying dances, without ever actually fulfilling him. But the problem in this piece is that for this transaction to occur, the client needs to take the money
off
Lin. For her to become progressively more exposed, she has to lose her money. The money would therefore flow in the wrong direction, from stripper to client. The circumstance portrayed here is a topsy-turvy version of the real thing.
Chinaman's Suitcase
consisted of videos of performances, video stills of performances, and a performance,
I Have a Dream
. In
I Have a Dream
, Jiaxin slept through the entire performance. While he slept, a video camera put his image up on the social media site
Chatroulette
.
Miao Jiaxin, I Have a Dream, 2012, live performance and live-feed broadcast
The Chatroulette screen was projected on the wall. Chatroulette is a camera feed and instant messager application. What made it different from Yahoo or MSN messager was that your chat partner is randomly chosen. If you aren't interested in that partner, you can instantly change to the next randomly chosen partner. There are two things about this. First, if you go on Chatroulette, you will likely not see anyone for very long. If you aren't instantly what your randomly chosen chat partners wants to see, he (and it's 99%+ male) will quickly move on to the next partner. Second, you will see
lots
of random dudes masturbating.
Miao Jiaxin, I Have a Dream (screen detail), 2012, live performance and live-feed broadcast
This was a fairly tame Chatroulette chatter (his penis was inside his pants instead of out). This exhibit had more dicks than any I've ever seen. If you look at the image above, you will see that the chat partner is visible in the top panel while Jiaxin is visible in the bottom. But also visible are two people watching the performance. So all those masturbating chatters suddenly saw a bunch of people in a room standing around a guy asleep on a comically small bed. I wonder what they made of it. Were they even curious? Apparently not for most of them. They moved on after a few seconds, never pausing in their desultory wanking.
Miao Jiaxin, Money Laundering (still), 2011, video documentation of a performance piece
Not all of the pieces in this show involve dicks, assholes, and/or strippers, but the hint of the illegal pervades much of the work. For instance,
Money Laundering
was a performance of a very literal interpretation of the metaphorical act. (
Money laundering
involves taking money earned illegally and disguising its origin so that it seems like legal earnings.)
Miao Jiaxin, Chinaman's Suitcase (still), 2012, video
Two of the pieces have specifically Chinese content.
Chinaman's Chance
showed Miao Jiaxin carefully spraypainting the carcasses of several ducks. (I couldn't tell whether they were real ducks or not.) He then put them in a suitcase and carried them through the streets to a food store, where they were hung up in the window. The video concludes with people reacting to the colorful ducks.
Chinaman's Suitcase from Miao Jiaxin on Vimeo.
The names uses a somewhat derogatory term for a person of Chinese descent that dates from the 19th century wave of Chinese immigration. And the image of ducks hanging in a store window is a stereotypical image of those urban neighborhoods that often end up with the name "Chinatown." That Jiaxin is playing around with stereotypes is obvious, but I don't quite get the colors. They're funny--they turn this food item into something obviously inedible.
Miao Jiaxin, Mom's Suitcase (still), 2012, video
A suitcase is the primary prop in another video,
Mom's Suitcase
. The repeated use of the suitcase in his videos reminds one of of his multinational existence as an
overseas Chinese
man. In
Mom's Suitcase
, he crawls into a large suitcase wearing a suit. His mother then cuts all his clothes from his body with scissors. Then we see his mom dragging the suitcase with Jiaxin through the streets of Shanghai. It's a heavy case and you can see her struggling with it. Mama Jiaxan is definitely a trouper! This piece has a hint of the idea of smuggling in it--human smuggling. (
Money Laundering
also refers to smuggling, but indirectly. Much money laundering involved smuggling ill-gotten cash into countries with very secretive banking laws and then depositing the money in one of those banks.)
Mom's suitcase from Miao Jiaxin on Vimeo.
I don't want to say I understand what Jiaxin is trying to express in these works. Certainly has has something to say about sex and social media, about the condition of being an overseas Chinese person and about crime. But what precisely is not obvious. But so what? This work was immensely amusing and thought-provoking. Any artist who can sleep through a performance and still keep his audience entertained is some kind of wizard.