by
Robert Boyd
Last November, we heard about how
a long-deserted J.C. Penneys store at West Oaks Mall
on Hwy 6 was to be used as
some kind of art space
. This month, we finally got to see that start up.
Suchu Dance
staged a
site specific dance there
as part of their annual
Big Range Dance Festival
. And the space now has a name--the
West Oaks Art House (WOAH)
.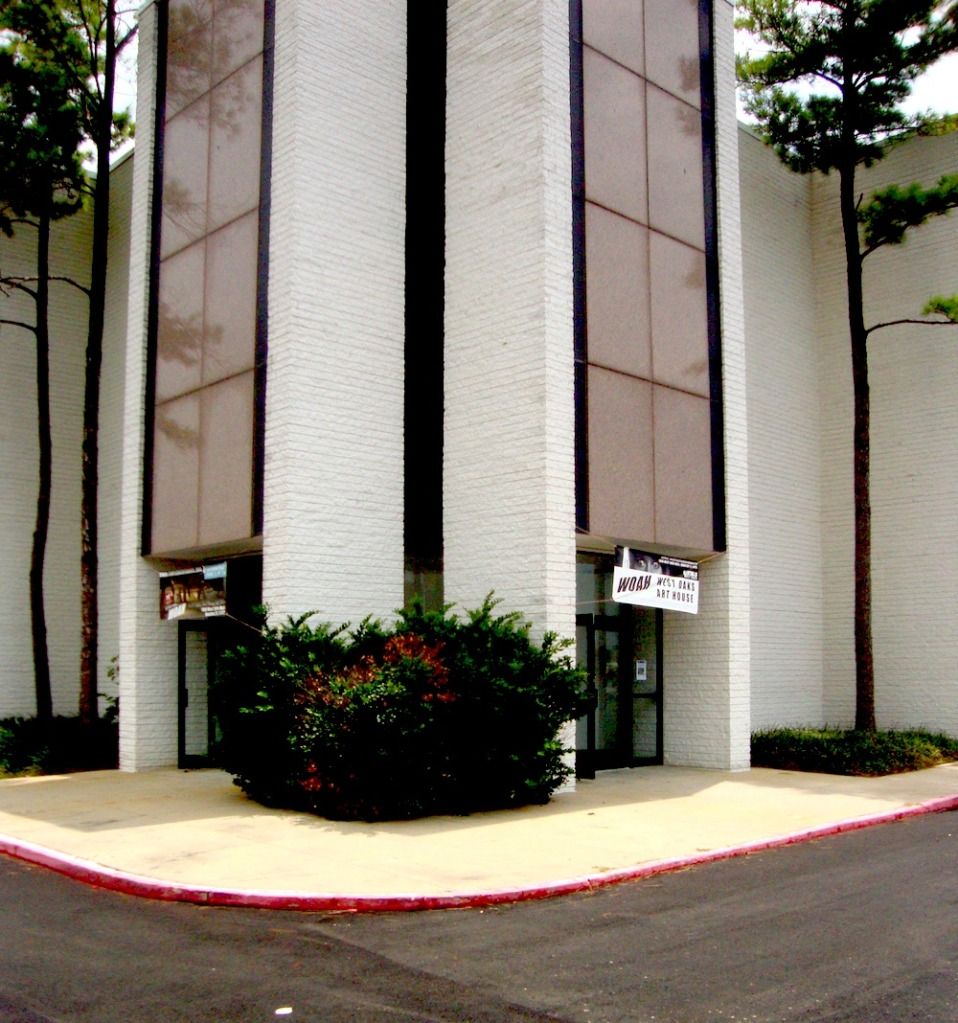 The signage was modest--disappointingly so for such a large building. The exterior wall of the WOAH is huge and white--imagine what an ambitious artist could do with it. Or they could leave it white and project images or movies on it at night. In any case, the signage should be a little more visible.
Inside was a vast, virtually empty room. In the center were the escalators, but they had been curtained off. The structure has two floors (at least) with very high ceilings. In addition to the vast open space, there are offices and storage space and changing rooms. But all of them have largely been stripped clean. Sharsten Plenge, the director of WOAH, explained that when she arrived, the place was a mess and had many cats living inside. (It had been abandoned since 2003.)
So Suchu Dance designed a dance performance that would use the entire space. In the picture above, you see the dancers all grouped together, but that was relatively rare during the course of the long performance.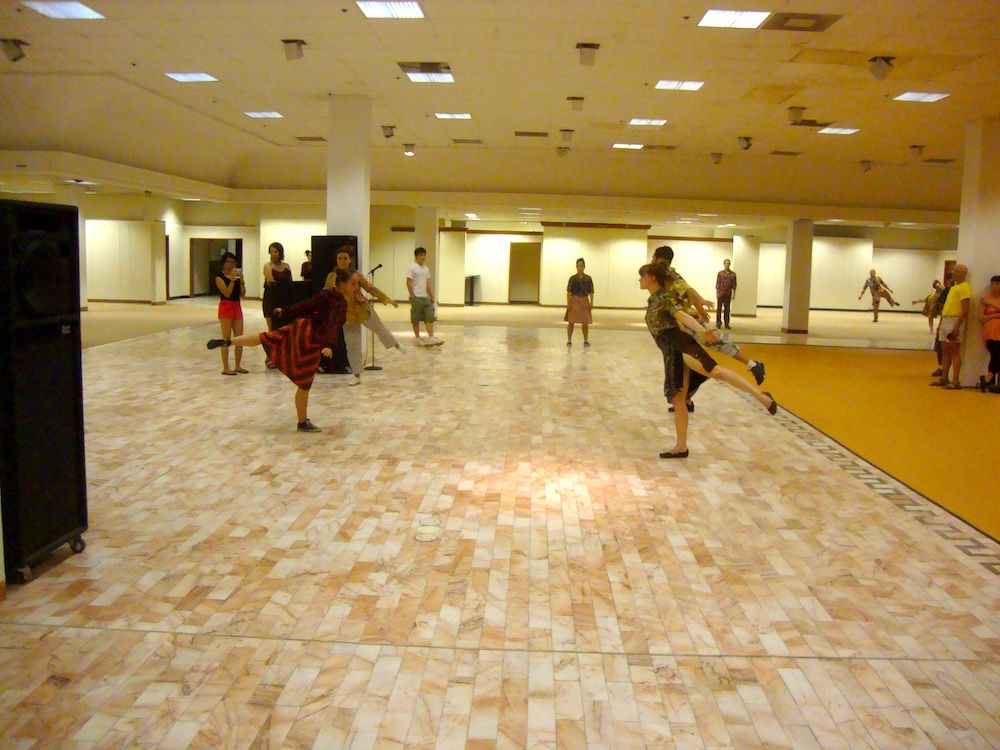 This was more typical--the dancers spread out, activating various parts of this space simultaneously, with audience members
right there
among them.
And store signage still hangs from the ceiling, reminding you that you are in an empty department store.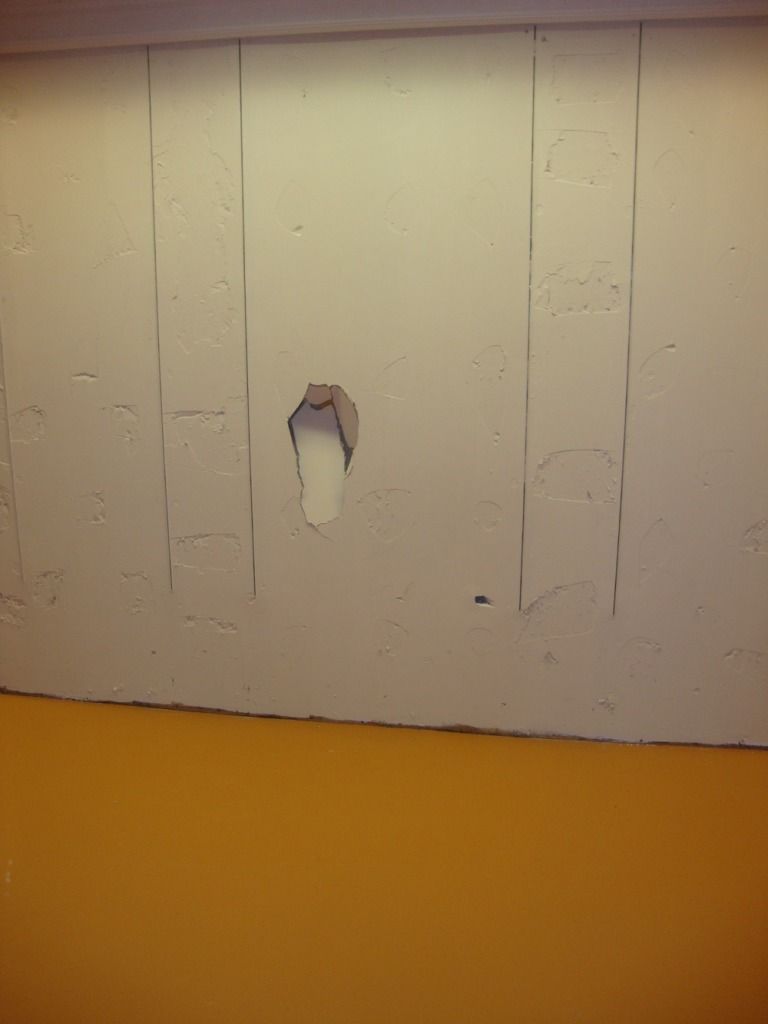 The dancers got pretty vigorous--and one of them kicked a hole in the wall. I asked Plenge abut this and she replied, "I kind of love the hole in the wall—it is like a souvenir of the energy that Suchu graced WOAH with." This may say something about how she plans to let artists use the space. Artists would no doubt appreciate the flexibility to figuratively (and literally) knock holes in the wall.
But there are still problems with the space. Its distance from the center of art in Houston, inside the Loop, remains an issue. This dance performance was sparsely attended, which is perhaps to be expected for WOAH's first event. But if WOAH is interested in the participation of the Houston art scene, more effort will need to be expended promoting its events. Something more than a
Facebook page
. The other problem is that Plenge doesn't live in Houston. She commutes from Los Angeles (where
Pacific Retail Capital Partners
, the owner of West Oaks Mall, is headquartered). Depending on what her goals are for the space, I think WOAH needs a full-time director to turn this into a continuously operating performance venue/art space. On the other hand, if she sees it as a large empty space in which to stage occasional art events, maybe a full-time director would be superfluous.
The
Pearl Fincher Museum of Fine Art
in Spring has made a multi-year, sustained effort to reach out to the North Houston/Spring community in which it resides. I don't know if Plenge is planning on doing something similar for the far West side area or if she is planning on concentrating her efforts on attracting arts enthusiasts from in-town to make the 22 mile trek to West Oaks Mall (or a combination of the two). And the big question is, will WOAH be doing any collaborations with
Toby Keith
at his new joint in the mall,
I Love This Bar and Grill
?
One last note. I identify
the Pearl Fincher
and WOAH as suburban arts institutions. That may seem to lump them together, but the reality is that they are very far away from each other--23 miles driving distance. This speaks to difficulty in establishing a suburban art scene--the diffuse nature of the suburbs mitigates against getting a critical mass. This is one reason why artists move to certain neighborhoods in big cities--they can be close to their peers and their institutional support. I think the relative isolation from other institutions (private and non-profit) and from arts-heavy neighborhoods will always be obstacles for the Pearl Fincher and for WOAH.