Virginia Billeaud Anderson
Not long after the gurus at
ARTnews defined his paint application as "mechanical,"
Mark Williams offers a restless geometric abstraction with ambiguous blurred elements that veer into gestural. You have to stand before
Untitled
, 2012 at
Wade Wilson Art
to see its vitality, this work's uneven paint, enhancing imperfections and overall translucence are not visible in a reproduction.
The shift from controlled and programmatic to somewhat disordered made me want to ask questions so I contacted Williams. He made
Untitled
he said by painting oil on polypropylene with a silkscreen squeegee. First he created a grid by placing vertical and horizontal strips of tape on glass. In constructing this preliminary "design" or template, applying and removing tape, he worked intuitively. The grid's resulting imperfections compel him to call it "a broken grid." He then painted the sheet of plastic as it lay above the grid, and here was also improvisational, applying paint as messy and liberated as he pleased.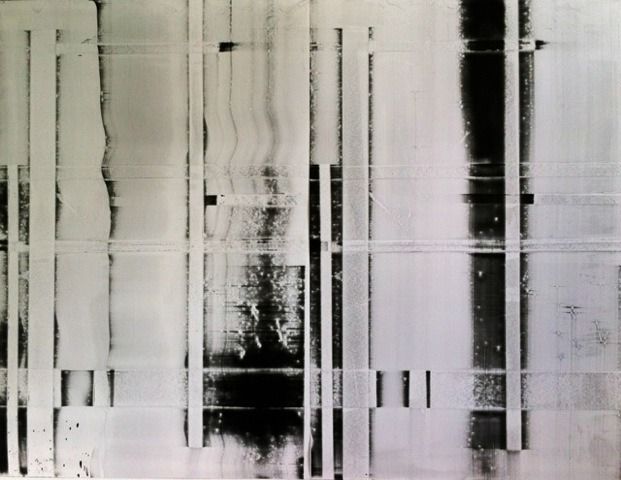 Mark Williams, Untitled, 2012, Oil on polypropylene, 40" x 52"
When I met Williams he used tape more precisely. To create
Untitled
, 2011, painted layers of frosted mylar for the
Synthetic Supports: Plastic is the New Paper
exhibition at the
Museum of Fine Arts
, he used tape to design the painted areas. We discussed the fact that tape had a different role for the Wade Wilson piece. "It is true," he said. "I have eliminated the use of tape as a masking element. Now tape has a new function, it becomes a template."
The 2011 show at MFAH thematically focused on the use of polymer by contemporary artists such as Williams, and in it he showed that layers of painted plastic assumed weird depth and refraction. For that show Curator Rebecca Dunham also pulled from MFAH's permanent collection, so we got to see art by some of the biggies, such as two drawings by
Jasper Johns
who pioneered the technique of ink on plastic. "I'm hanging next to a
Man Ray
,"
Lucinda Cobley
who was also in the show told me, "it can't get better than that."
Mark Williams, Untitled, 2011, Paint on stacked layers of mylar in the exhibition Synthetic Supports: Plastic is the New Paper
Williams did not begin experimenting with plastic until 2010, so
ARTnews
could not have known of looser brushstrokes to come. In his article Christopher French described Williams' use of tape to paint large monochrome geometric forms on canvas and correctly noted busy-ness from opposing geometrics and "uncertainty" at the forms' edges, by which he meant expressive irregularities at the tape-defined borders, as in the painting
Choice
. The critic went on to write, "If the main forms broadcast a straightforward geometry, his marginalia add the sort of pathos associated with
Robert Motherwell
's paintings," and that is a lovely thing to say about a painter.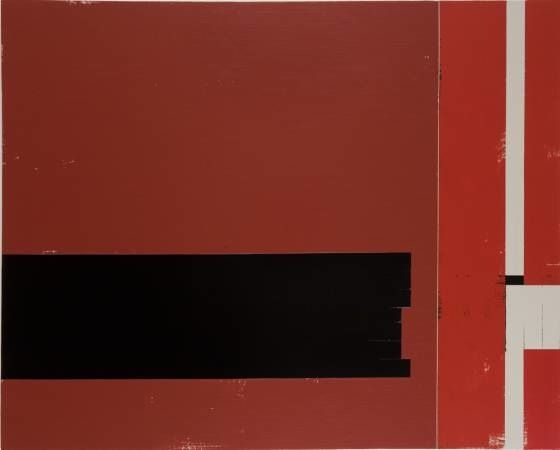 Mark Williams, Choice, 2006, Acrylic on canvas, 40" x 60"
Ink drawings from 2007 and 2008 indicate a certain delight in imprecise forms and serve as forewarning of gestural strokes on plastic. These works on paper are elegantly ill-defined. He recently displayed drawings in a solo exhibition at the
Galerie Schlegl
in Zurich.
Mark Williams, Untitled #9, 2008, Ink on paper drawing, 12" x 9"
Summing up his thoughts about
Untitled
, 2012 at Wade Wilson, Williams said, "it is the result of my ongoing interest in structure (the grid) and gesture (the paint)." But he appears to be aroused by the paint.
Williams and I had booze together (research) so I know a little about him. For years he has worked as an art installer at
MoMA
. Now try to imagine having your hands, literally, on that art, installing the de Kooning show, the Cindy Sherman, moving works in and out for light and temperature control. How can that not overwhelmingly impact his output?
So who does he look at? "As I move through the museum certain works do catch my eye," he said. "Some favorite artists are: Robert Mangold, Brice Marden, Anne Truitt, Donald Judd, Robert Ryman, Mark Rothko, Dan Flavin and Blinky Palermo." Ryman is included in the
Impressions
show at Wade Wilson Art through July 7.