Robert Boyd
Hey, it's that time of year. This is my own highly idiosyncratic list. Basically, I went through all the shows I saw last year and gave them a rating from 1 to 10. If a show was above a five, I considered it for this list. I'm ranking them below from best, second best, and so on.
#1.
Hand+Made
at the CAMH. Great exhibit with a startling variety of performances and objects built around the idea of "craft"--which has been for so long a dirty word in contemporary art. But for me, some of my favorite artists in Houston come out of craft traditions.
#2.
Barkley Hendricks
at the CAMH. Super show of giant, full-figure portraits of African Americans. To me, it just defined cool. I really loved the Fela installation.
#3.
James Drake
at the Station Museum. Some of the best shows this year had to do with ideas of manhood or manliness. Drake really captured the stoic, mournful ideal.
#4.
James Surls
sculptures at Rice University. I have loved James Surls since they installed his sculpture in Market Square back in the 80s. I thought the temporary installation of sculptures at Rice was fantastic. He also had a nice show at Barbara Davis this year.
#5.
Maurizio Cattelan
at the Menil. Maurizio Cattelan does something kind of obvious in a way. He creates sculptures that seem as if they are three dimensional representations of some forgotten surrealist painter's paintings. The genius part of the Menil exhibit was to scatter them throughout the galleries (and on the roof), mixed in with work from the permanent collection.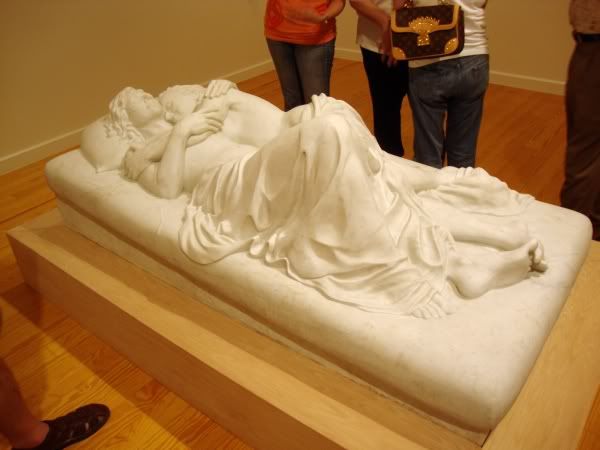 Patricia Cronin, Memorial to a Marriage, marble at "Because We Are".
#6.
Because We Are
at the Station Museum. This group show dealt with LGBT civil rights, which in the wake of the defeat of gay marriage in California and now with the Smithsonian Wojnarowicz episode (not to mention the repeal of DADT), feels like it was the right exhibit at the right time. It even included an unusually powerful Wojnarowicz,
Untitled (One Day This Kid...)
. What made this better than the run-of-the-mill agitprop exhibit was that the art was visually powerful and highly personal, as in Patricia Cronin's sculpture.
#7.
Peat Duggins
at Art Palace. I found this exhibit to be be thought-provoking and very, very beautiful. It delved into the relationship of religion to nature without offering easy answers. Duggins seems to have created his own personal sort of shamanism.
Andrea Dezsö, Sometimes in My Dreams I Fly detail, 2010
#8.
Andrea Dezsö
at the Rice gallery.
Sometimes in My Dreams I Fly
was the summer installation, which means the whole thing was behind glass. Dezsö created kind of a puppet-theater tableau of an alien, underground civilization. As a kid, I would have written stories about these people. As an adult, I visited it several times, charmed by her fertile imagination.
#9.
Jeff Forster and Jillian Conrad
at the Art League. Forster is a ceramicist who has embraced a kind of anti-craft approach. The deconstructed pieces in this show intrigued me. I felt the same about Jillian Conrad's sculptures made of construction site materials and glitter. The work of both these artists is challenging and interesting.
#10.
Francis Giampietro
at the Temporary Space. Another artist who dealt with masculinity as a subject this year was Francis Giampietro. I liked his heavy, somewhat dangerous assemblages, which reference body building and football.
Honorable mention:
Sarah Williams
at McMurtrey Gallery
Joseph Cohen
at Wade Wilson
Robert Pruitt
at Hooks-Epstein
Wishing Well for Houston
by Brian Piana, Aram Nagle and Heath Hayner at the Art League
Not the Family Jewels
group show at Gallery 1764
Terry Suprean
at the Temporary Space
Material and deStructure
group show at Poissant Gallery
Ward Sanders
at Hooks-Epstein
Are You There God? It's Me, Birdie
group show at the Joannex
MFA Thesis
show at the Blaffer Gallery
Daniel Heimbinder
at the Joannex
The Big
S
how at Lawndale
Seth Alverson
at Art Palace
Edward Lane McCarthy
at Goldesberry Gallery
Boozefox
at Lawndale
Tobiah Mundt
at Lawndale
B-Sides
at Fotofest
Poems and Pictures
at the Museum of Printing History
It's Better to Regret Something You Have Done...
group show at Art Palace
The New Black: Contemporary Concepts in Color and Abstraction
at Williams Tower
Mark Greenwalt
at Hooks-Epstein
Maria Smits
at Lawndale
For commercial gallery of the year, I think I'm going to go with
Art Palace
, although I think
Moody Gallery
,
Gallery 1724
,
Poissant Gallery
and many more all had great shows, and I expect
PG Contemporary
to be a strong contender next year.
The choices are even harder when you go to non-profit spaces. Pretty much all of them had fantastic exhibits, performances, film presentations and more this year. But some special shoutouts to
Lawndale
and
Box 13
and
FotoFest
for great years, and a special remembrance for
The Temporary Space
, which we always knew was going to go. A big salute to
Keijiro Suzuki,
whose curatorial energy was boundless.
I'm not the only one making a best-of list.
Douglas Britt has his up at 29-95
(we overlap only on two shows). Has anyone else done one? Britt's is the only other one I have seen, so far...