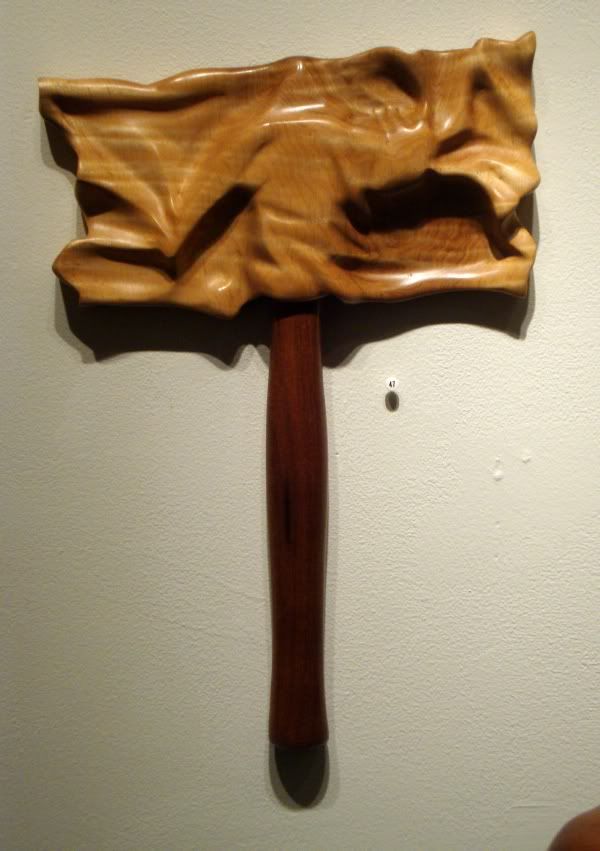 Chris Hedrick, Shrouded Hammer, curly maple
Since at least classical Greece, one way a sculptor could really show off his or her skill was to sculpt cloth. Clothe was light and soft--the opposite of marble or granite or bronze. If you could convincingly portray cloth in a three-dimensional hard medium like stone, well, you were one hell of a sculptor. Thus the
"wet drapery" sculpture on the Parthenon
by Phidias. Or the still-astonishing wind-blown cloak of
Louis XIV by Bernini
. But it was the 20th century, and surrealism, that gave artists permission to decide what was soft and what was hard. This is a game Chris Hedrick loves to play with his sculptures. The shrouded hammer doesn't challenge our idea of reality--a hammer is hard, a shroud is soft, and even though he is depicting both with the same hard material, maple wood, they are distinct. The shroud, even though it is hard,
looks
soft.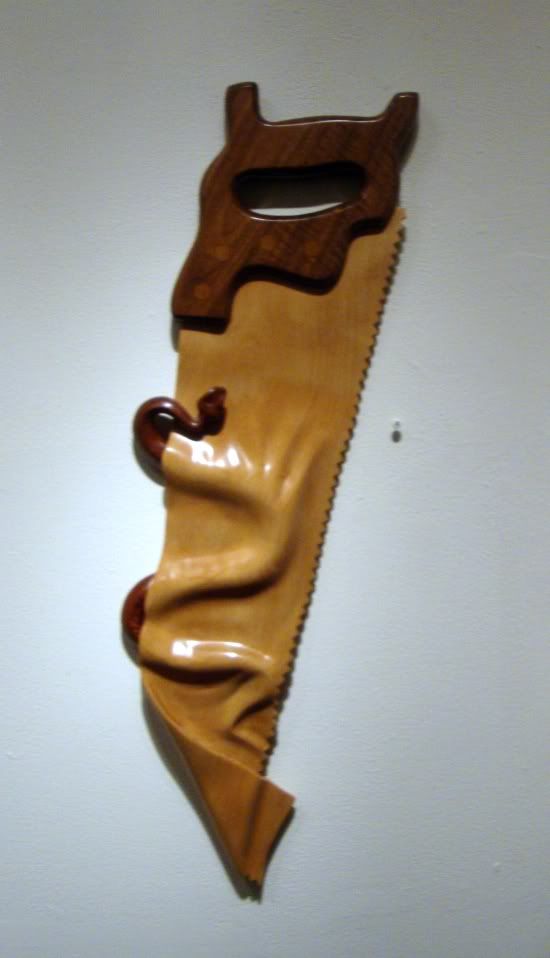 Chris Hedrick, Peek-a-boo, maple, claro walnut, Australian lacewood
With this one, he pulls the rug out. Saws are hard--they wouldn't be much use if they weren't. But this saw is depicted as soft. It is draped like a cloth over the writhing snake. But of course, it is actually hard--it's carved of wood. Saws are one of Hedrick's favorite subjects. A saw is an important tool for a woodcarver, and Hedrick's soft saws may reflect something of his feelings towards his tools. He may be saying that the tools he is using are flexible, difficult. In this case, he suggests treachery--that his tools hold hidden danger.
Chris Hedrick, Folded Once, Yellowheart, claro walnut
Chris Hedrick, Folded Twice, Yellowheart, claro walnut
Tools are some of Chris Hendrick's favorite subjects. Another is meat. I was told that Hedricks associates meat with death, so it is kind of a loaded symbol. That said, sometimes meat is just meat. In a box.
Chris Hedrick, Meat in a Box (closed), Claro walnut, osage orage, bocote, chechin, maple, blondewood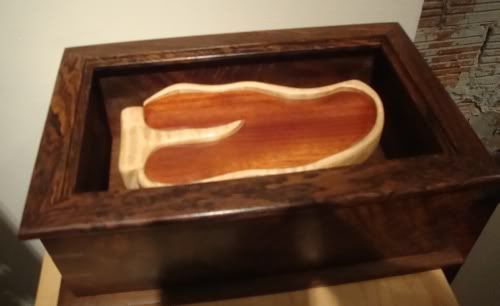 Chris Hedrick, Meat in a Box (open), Claro walnut, osage orage, bocote, chechin, maple, blondewood
Of course, it isn't meat in a box. It's carved wood in a box. Wood that is just as dead as any steak. Associating meat with death is a natural, though. Meat is dead flesh. If you die and are buried in a casket, you're meat in a box, too.
Chris Hedrick, Nailed and Secured: Meat on a Cross, oil on panel
As a still-life subject, meat is excellent. Still life in French is
nature morte
--appropriate here. Of course Hedrick goes the extra mile by also making it a crucifixion. Two of art's most popular subjects, combined in one painting. If the soft saws link him to surrealism, this painting does so even more with its bizarre juxtapositions and casual blasphemy. It helps that it is curiously beautiful.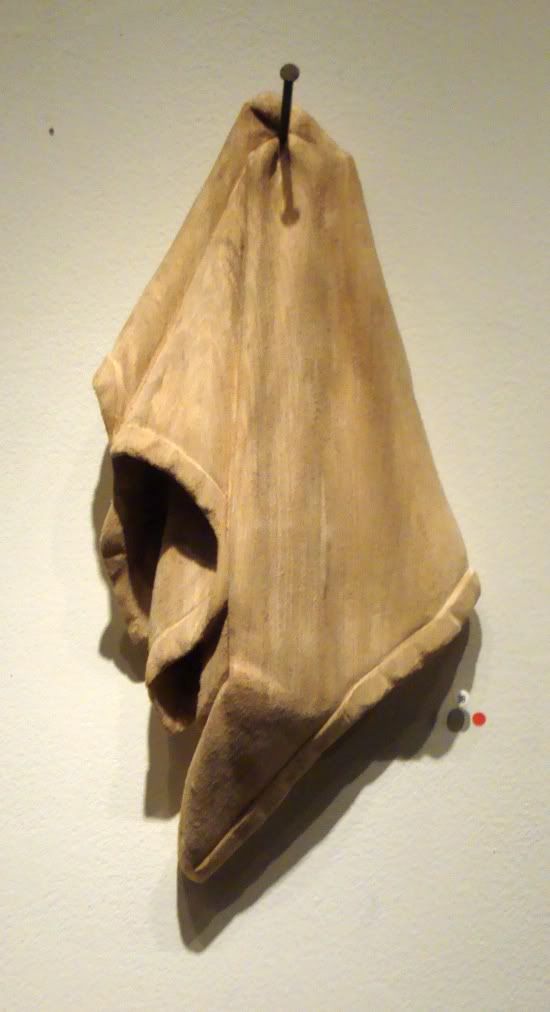 Chris Hedrick, Wash rag Nailed, Linden with nail
Another subject Hedrick plays with is laundry hung to dry. It allows him to play with that hard-soft paradox. It also introduces another paradox, a subject matter that seems far below the means of portraying it. Sculpture is high art. Dirty laundry is by its nature abject. That he portrays underwear this way reinforces the abjection. But contrarily, by carefully carving it and presenting it in an art gallery, he ennobles it. (Of course, there is a contradiction even in the act of sculpting here--his material, wood, is sometimes considered a craft material. Wood carvings don't get the automatic respect that stone carvings or cast metal do. Wood carving is, therefore, not automatically considered "sculpture".)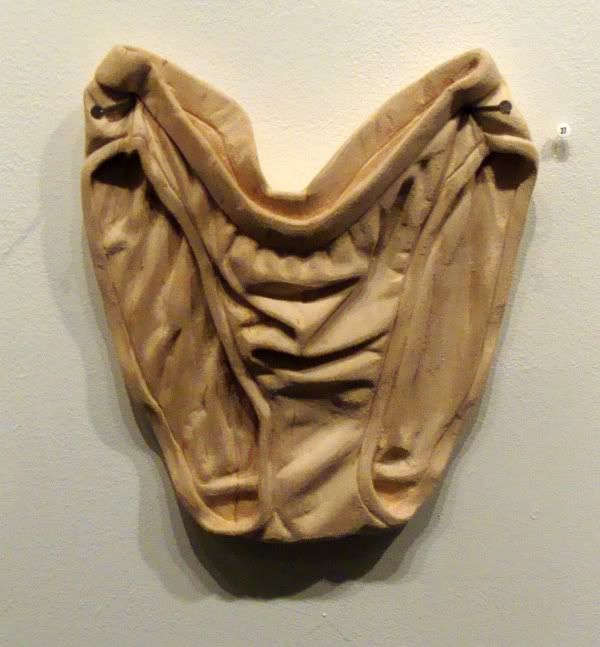 Chris Hedrick, Everyday Panties, linden with nail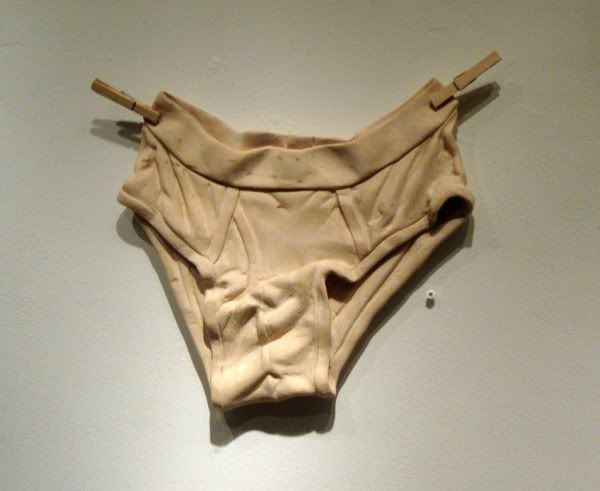 Chris Hedrick, Tightly Whities, linden with nail
These pieces make one think of bodily functions. The fact that the wood is sort of off-white reinforces a feeling of not quite being clean, or at least of being well-used. And unlike the other carved pieces in the show, these aren't worked to a high polish. Their surfaces are rough and nasty.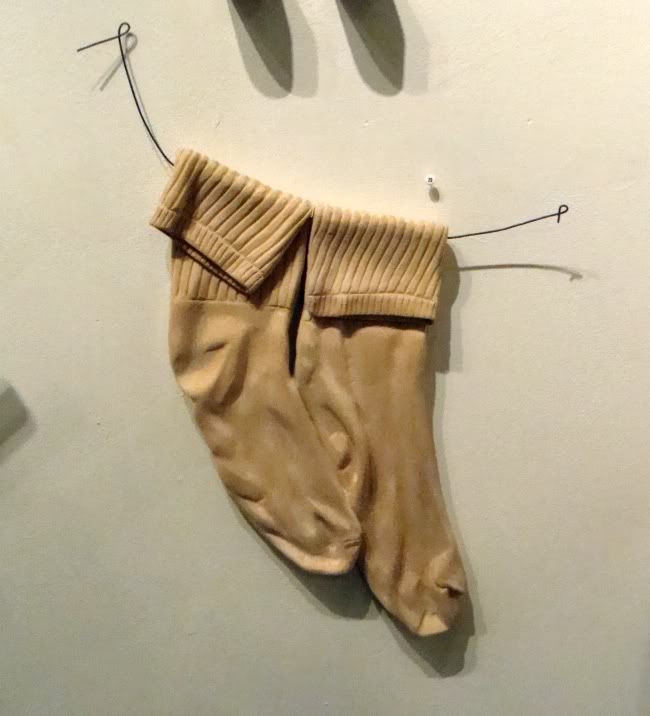 Chris Hedrick, Airing my dirty laundry, linden with bailing wire
He's not going as far as
Mike Kelley
or
Paul McCarthy
, but he is dipping his toe into similar waters. And he is doing these things using his excellent woodcarving skills. This play between hard-soft, trivial/abject-ennobled/high art is what gives me so much please as a viewer.