I never know what to think of
Peel
. On one hand, it's a jewelry store (kind of). And jewelry is something that not only doesn't interest me, but also something which I instinctively feel doesn't overlap with any of my interests. This probably reflects my fundamental dude-ness. I've never worn an earring or necklace or bracelet. I only slip on my class ring for alumni functions. I guess what I'm saying is that my personal indifference to jewelry is probably blinding me to the fact that many people who are deeply interested in jewelry are also deeply interested in art. And Peel seems to have made it a mission to reach people who are deeply interested in both.
The current show, "Nowness," is all art. It was curated by Lea Weingarten, who is probably better known by her married name,
Lea Fastow
. She spent a year in prison for Enron-related crimes. I am inclined to feel as Obama did when asked about Michael Vick--people who have paid their debt to society deserve a second chance. That said, when I went to the
Peel Gallery website
and clicked on the link under her name, I got a "Malicious Web Site Blocked" message. The name of her website is contemporaryconnoisseur (dot) com, and I don't suggest you visit it--Norton Safe Web identified it as having 18 computer threats. I still want to believe Lea Weingarten is a reformed member of society, but she really needs to clean up her website which is attempts to download malicious code into the computers of people who visit it. Not cool.
Anyway, the art is the important thing. I enjoyed two of the thee artists here. The best was
Diana Al-Hadid
.
Diana Al-Hadid, untitled, xerox transfer, conte, shellac, 2008
Her pieces in this show all resemble this--ghostly grey shapes fully of swirling texture. When I saw them, I thought of rubbings from nature--where you take a piece of paper and a soft lead pencil and place it on a tree's bark or a large rock, and rub the paper with the pencil to capture the pattern of texture of the bark or stone. The scale of these drawings tells me that they can't be actual rubbings, but given that they were made partly with xerox, they could be a composite of rubbings, or one rubbing blown up large.
The textures relate the drawings to her sculptures (none of which are in this show, alas), which have highly textured surfaces. Of course, one also thinks of
Max Ernst's "frottages"--rubbings
--that he used as elements in his paintings. But Al-Hadid's work has a different feel than the often apocalyptic frottage paintings of Ernst. These drawings are spectral and feel like images that can't quite be perceived.
Cody Ryman, Bars and Stripes, acrylic, enamel, wood and fiberglass mesh on Gator board, 2009
Cody Ryman'
s work is like a cargo cult version of minimalism or color field painting. So you get a little Frank Stella (above), a little Larry Poons (below) and so on.
Cordy Ryman, Nelma Stamp, acrylic, enamel and ink on wood, 2010
Of course, a Frank Stella painting is a highly crafted object made of extremely durable materials. Ryman, on the other hand, glued wood to Gatorboard--which is a kind of heavy-duty polystyrene foam material. Everything about his versions of minimalism is designed to undercut minimalism's austere authority. He's like Frank Stella's hillbilly cousin, constructing items exclusively out of the junk pile in the back yard. It's a parody, essentially, and I find it pretty amusing.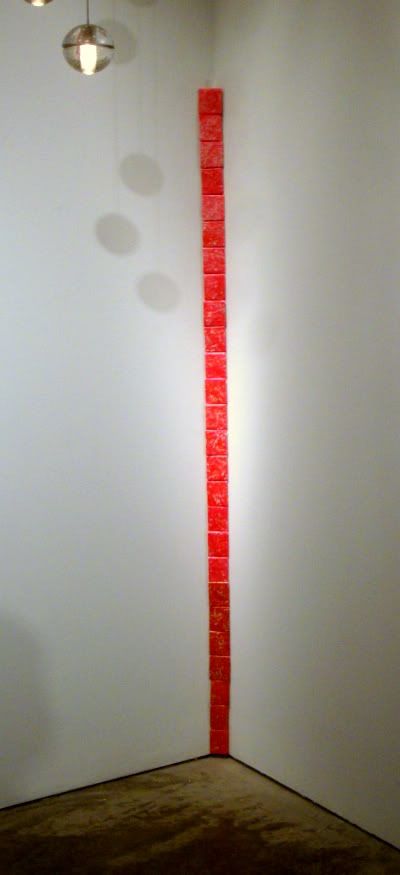 Cordy Ryman, Frosted Corner, acrylic and enamel on wood, 2008
I mean, who wouldn't like a Dan Flavin sculpture where the fluorescent tube had been replaced by Pop-Tarts? That said, this work seems to have nowhere to go. You have a laugh and move on. In this regard, these paintings are quite unlike the haunting drawings of Al-Hadid.
Jennifer Riley, Modernissimo, oil on canvas, 2010
Jennifer Riley also seems to be making a pastiche of early modernist abstraction. But her's is not really all that amusing. I feel like she wants her paintings to be wacky and playful but only achieves dryness. Weirdly enough, her work reminds me of the work of cartoonist/painter
Mary Fleener
, who refers to her own style as "cubismo" (!). But Fleener's work has a barbaric energy that these lifeless paintings utterly lack. This kind of energy is also present in Ryman's nutty work--placing it in the same room as Riley's paintings was probably a bad idea.