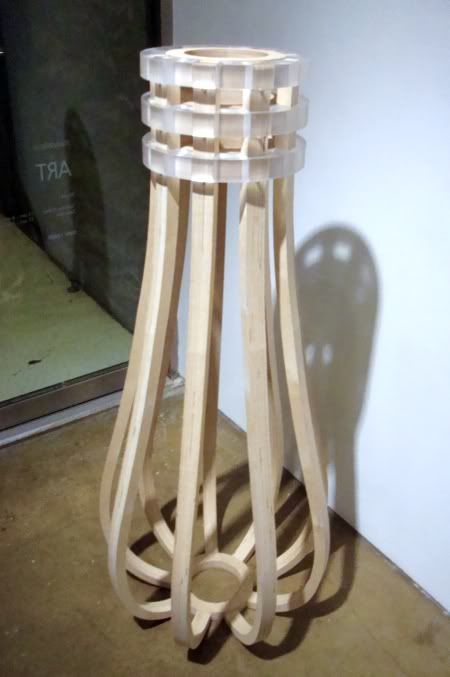 Joan Winter, Three Cups of Tea, Baltic birch and acrylic, 2010
Wade Wilson
has a two person exhibit up right now.
Joan Winter
is a sculptor, and
Lucinda Cobley
is a glass artist whose works are flat like paintings (and the glass planes include painting). This is a good strategy for a gallery. One artist's work goes on the walls, the other's goes on the floor. The two artists' work doesn't have to have any particular relationship to one another, other than not to clash. The pleasing, decorative works of Winter and Cobley fit the bill.
Three Cups of Tea
reminds me
Martin Puryear's wood sculptures
. Specifically, it reminded me of
Vessel
.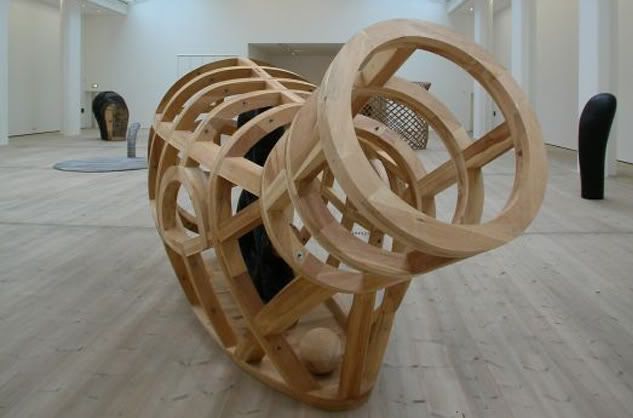 Martin Puryear, Vessel, pitch pine, wire mesh, tar, 1997-2002
The description of the space by an outline of curvilinear pieces of blonde wood, which has square cross-sections, the seeming reference to ancient ceramic vessels--it makes me wonder in
Three Cups of Tea
is a tribute to the earlier Puryear piece. When I think of Puryear, I think of natural things--his materials, his organic forms, his craftsmanship. One could see all that in from
Three Cups of Tea
except for one thing--the clear plastic collar at the top of the vessel.
Joan Winter, Three Cups of Tea, Baltic birch and acrylic, 2010
What is the purpose of the collar? Does it keep the piece from flying apart? It's not visually intrusive (and it could have been--it's acrylic, so Winter could have made it any color she wanted). But when you notice it, it seems strange. It moves the object from being an interesting piece of craftsmanship to being an autonomous work of art.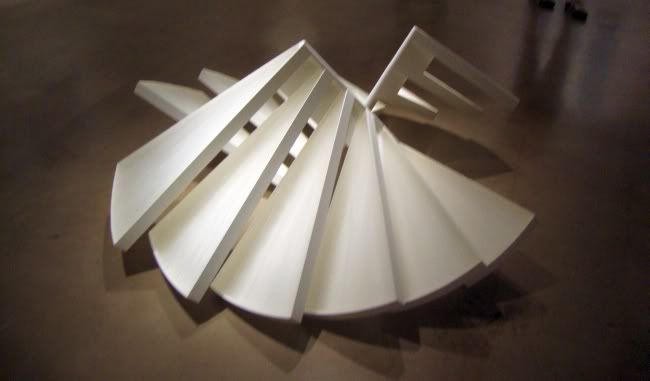 Joan Winter, Lighted Crossing, steel and cast resin, 2010
Her other work in the show is more geometric and seems to announce itself more clearly as "sculpture," which paradoxically makes it less interesting to me. But maybe it's just that I prefer the curvilinear organicism of
Three Cups of Tea
to the seemingly more rigid geometries of
Lighted Crossing
and other similar pieces.
Lucinda Cobley, Revision: quindo pink/orange, oil and pigments on etched glass, 2010
Lucinda Cobley's pieces all resemble this one in that they are horizontal flat pieces of glass with streaks of color painted on. They are quite beautiful, like waterfalls of color. But that's it. They aren't pieces that grab you by the lapels and make you look. Nor do they excite the mind. It would be churlish to criticize someone for producing something beautiful. But if you saw these hanging in someone's home or in the lobby of an office, you might not even notice them.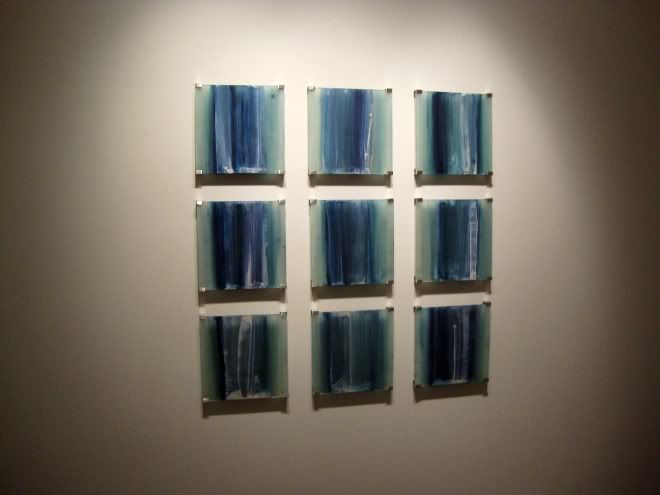 Lucinda Cobley, Proof, oil and pigments on etched glass, 2010
Of all the pieces in the show, I liked these with multiple parts like this one and
Shadows Sequence i-ix
best.There is something about them that makes me want to get right up close and examine them. The surfaces are not smooth--there is a texture to the paint that rewards a closer look.
I always take a look at the resume's of the artists, and Lucinda Cobley's was interesting. She seems to be an immigrant from the U.K. Her exhibit history includes a string of now-defunct Houston art galleries (Yukikio Lunday Gallery, Baquero Gallery). But in 2006, she started showing with Wade Wilson as well as showing in many locations outside of Houston. That makes me wonder if Wilson is responsible for getting Cobley (and his other artists) out-of-town shows. Is this something he does as a service for his artists?
In other words, it may be that an artist chooses a gallery on this basis--opportunities above and beyond the occasional exhibit. It's clear that Wade Wilson works very hard for his artists in Houston--he has a great gallery and whenever I am there for an opening, I feel like I am in the presence of money. I assume (without knowing, or course) that he has good relations with a variety of well-heeled collectors. And helping his artists display in New York, Dallas, etc., if he is doing so, would be even better.
Anyway, this is all just idle speculation on my part. I do like to know why galleries choose one artist over another and why artists choose one gallery over another. I like knowing what a gallery's value added is for an artist. It's all part of the ecology of art.