I think we can safely say that when human beings started hunting for sport, they probably started displaying their kills around the same time. The palaces of the ancient world were filled with the skins of animals taken in the hunt. Taxidermy developed (according to
Wikipedia
) in the 18th and 19th century. It was simultaneously used by hunters and naturalists--an overlapping category in those days.
Lane Hagood
's
Black Snake Salon
is his tribute to those rooms full of stuffed specimens, put together by amateur naturalists and hunters.
Lane Hagood, Black Snake Salon, drawings and paintings on paper installed in a hallway, 2010
The naturalist implied by
Black Snake Salon
is one who, obviously, specialized in snakes. Most of Hagood's art deals with themes of collections of things--trophy rooms, curio cabinets, private museums, etc. I'll be writing more about this exhibit, "The Museum of Eterna" at
The Joanna
, in a subsequent post. But when I saw this room, the Invisible Curator in my mind started whispering. She reminded me of this piece:
James Drake, Trophy Room, fabricated steel, 1982
This is an environment built by James Drake. It is showing at the Station Museum right now, but I think today (January 30) is the last day you can see it. Hagood really celebrates the mentality of the collector in his pieces, including Black Snake Salon. Drake is a little more ambiguous--his work reeks of danger and power.
But the Invisible Curator wasn't done with me. She reminded me that I had recently seen a real trophy room that was pretty mind-blowing.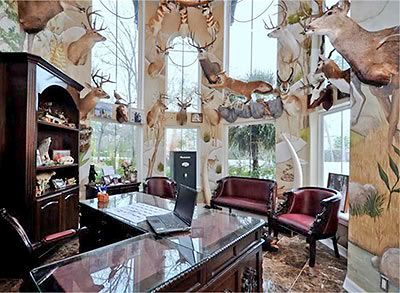 Game Den, house at 12930 Memorial Dr., Houston, TX
This is a room in a house on Memorial Drive, just outside the beltway in Houston. This is my neighborhood, more-or-less. This house has always been an object of curiosity because it is so grandiose and over-the-top. But until this week, few of us had ever seen photos of the interior. But Houston's great real estate blog Swamplot dug some up. As extreme as this room seems, it's just par for the course in this house, which can only be described as completely insane. So insane that it crosses over from totally tasteless to fascinating. I can't decide if I love it or hate it. The Game Den certainly seems like the kind of thing that James Drake was satirizing, but I suspect that Lane Hagood would approve of the obsessiveness of it.
Tweet