by Robert Boyd
No more
teasing
--here's the story. I am co-curating a group exhibit later on this month called Pan y Circos. The show will open Friday evening on October 21, with a reception from 6 pm to 9 pm. It runs through November 5. The location is
the PG Contemporary Temporary Annex
, 3225 Milam Street. You can respond to
my official Facebook invite here
. Or you can just show up. It's all good.
Brian Piana, design for Overlord, 2011
A couple of weeks ago, Zoya Tommy, owner of
PG Contemporary
, called me up and asked if I wanted to curate a show for her. My immediate thought was that she was thinking of a show in her gallery (which is very compact) and was thinking some time off in the future, like, I dunno, January or February.
But no--she wanted to do the show in late October, in a 2500 square foot space a few doors down from her gallery. It had been the site of a yoga studio, but now it was available. Tommy had asked her landlord if she could have it for a one-off exhibit. So the time frame was short. I told Tommy I wasn't sure if I could get an exhibit together so quickly and suggested we collaborate. I said she should make a list of artists she would like, and I'll do the same.
John Sturtevant, untitled, paint on canvas, 2011
I chose artists who either weren't represented by local galleries or whose work I hadn't seen in a local solo show recently. Tommy had her own criteria. Once we each had a list, we met and started winnowing it down, first by vetoing artists on each other's list, then by removing artists whose work didn't quite fit in. Some themes appeared--artists whose work toyed with our ideas of realism (or redefined them), artists who dealt with notions of "the border" and collision of Hispanic and Anglo cultures. But these thematic links were serrendipitous--we didn't try to design the show around them. They emerged as the we thought about which artists to include.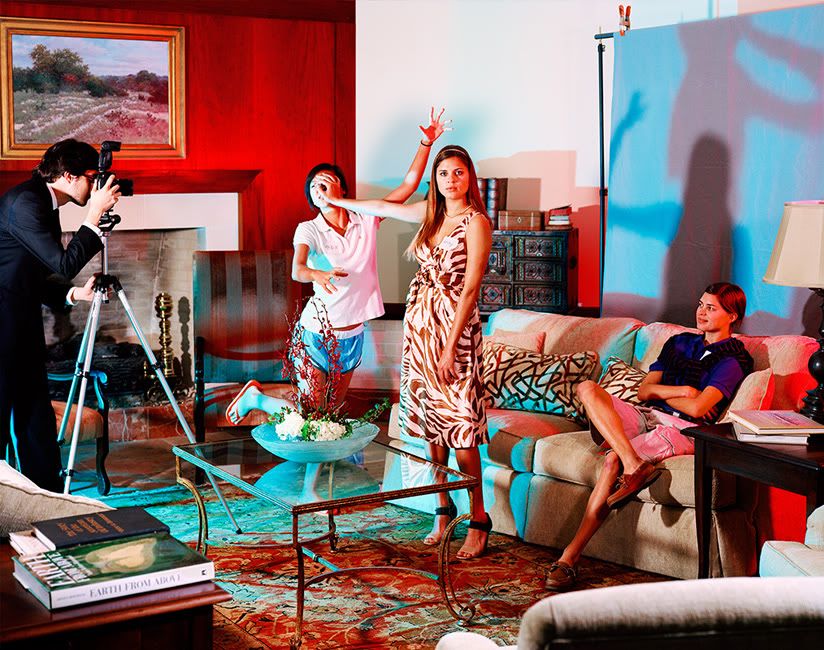 Santiago Forero, Sorority Bid Day, C-Print, 2008
Some artists we really wanted just couldn't participate, but in the end we have 10 outstanding artists. The work is sculptural, photographic, and painted. All the artists live in Houston except Santiago Forero, who lives on Colombia but recently lived in Austin. They collectively represent several generations of Houston art--some are established, some are emerging.
The artists in the show are Brett Hollis, Brian Piana, Britt Ragsdale, Delilah Montoya, Dennis Harper, John Sturtevant, Jorge Galvan, Paul Kittelson, Santiago Forero and Sharon Engelstein.
I hope Pan readers will come out to see it. I consider curating exhibits to be a part of the whole
Great God Pan Is Dead
project. This blog has largely been a discussion of art in Houston, and
Pan y Circos
continues that discussion in another format.