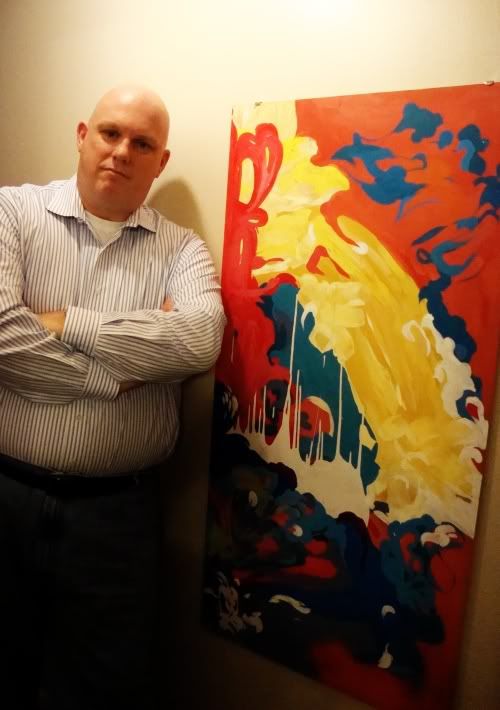 Noted Houston blogger standing next to a Stephanie Toppin painting
They love me!
They really love me!
Well, they like me at the
Houston Press
at least. They very graciously included me in a list of 10 notable Houston bloggers. I guess it's because I'm about the only active art blogger in town (who isn't an artist mainly dealing with his or her own work).
B.S. Houston
is mostly moribund (although he writes for the
Free Press)
.
I am already a devoted reader of
Off the Kuff
,
Swamplot
(the best blog in Houston in my opinion) and
Houston Calling
.
The Bloggess
looks pretty good.
Texans Chick
doesn't interest me--not because it's bad, but because I am just not interested in the Texans or sports in general. Ditto the two food blogs,
Blue Jean Gourmet
and
H-Town Chow Down
--I'm not enough of a foodie to get full value from these blogs.
Defending People
is interesting but a bit too technical for me--it really is aimed at other lawyers. And the mommy blog,
Blog con Queso
, is totally impressive but again not really aimed at me.
There are actually lots of other interesting Houston bloggers, but the problem is that they have lives. And when you have a life, it's hard to post very often. Right now I think my favorite infrequent blogger is
Slampo
. I don't always agree with him, but I like the way he says what he says.
The piece that Cathy Matusow wrote about Pan portrays me as a total fanboy. That's fair. My blog is too uncritical. I've avoided doing bad reviews not out of a desire to avoid hurt feelings (although I don't relish hurting anyone's feelings) or a sense of boosterism. It's because I have a limited amount of time to write and would prefer to write about things I like. But this makes my blog a bit bland, and makes me a lazy art writer. I should follow the example of Albert Nurick of
H-Town Chow Down
and fearlessly pan what deserves to be panned. Because writing a bad review--not a gruesome slam, as entertaining as those can be to read, but one where I force myself to articulate clearly what I don't like and engage the work seriously--will help my writing in general. It will help me focus on what is good and what is not. There's a way to do it without being needlessly cruel or pointlessly dismissive. So that's my resolution--tougher criticism.
(One last note--every single one of the other bloggers (except for the coy Gus from Swamplot) is significantly better looking than me. It's not
fair
.)