by
Virginia Billeaud Anderson
It's been nearly 100 years since Duchamp annihilated the definition of art with "Bicycle Wheel" (1913), which inspired
Dean Daderko
to organize for his
Contemporary Art Museum
curatorial debut "It is what it is. Or is it?", a group exhibition based on the theme of how artists are using ready-mades today. CAMH 's curator reminds us that Duchampian conceptualization "unites material, physical, and formal concerns with ideas, philosophies, concepts and feelings." In other words, thought underlies use of the found object. It's worth a trip to CAMH to see
Jesus #2 (David Gilmour/Pink Floyd)
in which Rachel Hecker appropriated the rocker's early 70s face as the source of what is perhaps the most skillfully painted figure ever shown at Contemporary Arts.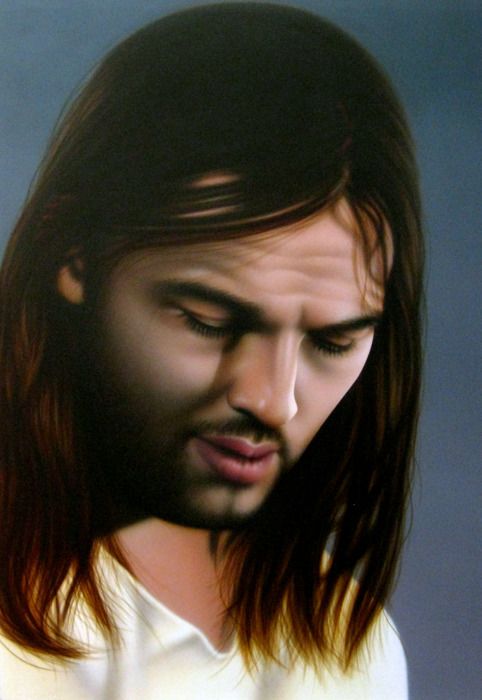 Rachel Hecker, Jesus #2 (David Gilmour/Pink Floyd), 2011, acrylic on canvas
But this story is about album covers. At CAMH
William Cordova
exhibits
laberintos
a three dimensional floor installation in which he grouped vintage record covers into a labyrinth design. Cordova is known for intellectually elevated use of found objects. His works contain literary and historical allusions, with an underlying theme of transformation; for example, a sculptural grouping of hundreds of discarded stereo speakers evocative of archaeological ruins at Machu Picchu. That installation commented on how ridiculous urban trash can be while referencing a civilization destroyed by the Spanish.
Back in 2008 when Franklin Sirmans included Cordova in
NeoHooDoo: Art for a Forgotten Faith
at the Menil, we learned Cordova's titles can give clues to meaning. The graffiti covered construction materials in "house that
Frank Lloyd Wright
built for
Atahualpa
" conjured the famous architectural innovator as well as the Inca ruler whose resistance got him executed by
Pizarro
. Both serve a subtheme of resistance or rebellion.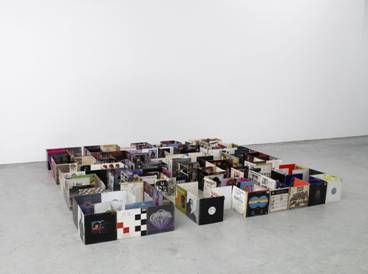 William Cordova, Laberintos - pa' octavio paz y gaspar yanga, 2003-2009, Appropriated vinyl records from undisclosed Ivy League institution in response to that institution's refusal to return 200 Inca artifacts from Peru after it originally borrowed them in 1914
I could not help recall the double-edge axes at Knossos that symbolize Minoan royal power, that
the Minoan palace's labyrinth held the Minotaur
, and that Athenian youth were kidnapped to perform bull rituals.
Laberintos
' extended title points to additional meaning. The complete title is
Laberintos - pa' octavio paz y gaspar yanga
.
Allusions here broaden to artifacts excavated from Machu Picchu by the archaeologist
Hiram Bingham
which reside at Yale University, to the Peruvian government's attempt to reclaim them, to
Gaspar Yanga
, an African who led a 1570s slave rebellion near Veracruz, as well as to
Octavio Paz
's book-length essay,
The Labyrinth of Solitude
, in which he describes the transformation of Mexican cultural identity to a form that negates both pre-Columbian and Spanish culture.
When we talked at CAMH, Cordova told me the labyrinth symbolizes transformation, which also leaves room for a personal interpretation. To proceed to the inner, and then back out, allegorizes growth and understanding.
Cordova was born in Lima and earned his MFA from Yale University . Yale University recently announced to the media that
all of the Inca artifacts would be returned
.
The albums in
laberintos
brought my mind to 2007 when
Xaviera Simmons
covered CAMH 's walls
with vintage black musician album covers.
Electric Relaxation: Digital Good
(How to Break Your Own Heart)
was a wall mounted installation comprised of hundreds of vinyl disc covers which spanned back in time to Billie Holiday, and narrated musical history – the beauty in Lena Horne's face, James Brown's ecstatic squeal, Michael Jackson before he was a freak, mah man Otis. Sly Stone's hippie knit hat transported me to 1969 when I had hair to my butt and played his music on "record players."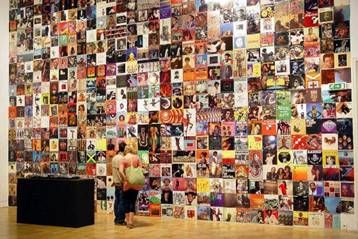 Xaviera Simmons, Electric Relaxation: Digital Good (How to Break Your Own Heart), 2007, album covers
To find all the albums Brooklyn-based Simmons searched New York's record shops, and thrift and vintage stores and also traveled to what she called "America's chocolate cities," Washington, D.C., Baltimore, Harlem.
Unlike Cordova's installation which had sculptural form, Simmons' was mural shaped. Hers too had multiple layers of meaning. It expressed the artist's love of music, showcased record sleeve art designs, hazy purplish red hues around Hendrix's head, (my husband saw him set his guitar on fire) for instance, and illustrated such socio-political realities as Nat King Cole's ridiculous white man's hair style. Most importantly the art served as irreverent Duchampian placement of found objects onto hallowed museum walls, contradicting lofty notions about art with ready-mades related to the hood.
Hot fun in the Summertime!