by Robert Boyd
(Continued from
part 1
.)
The upstairs part of Pulse was Impulse. On the Pulse website,
Impulse is described
as a group of "galleries invited by the Committee to present solo exhibitions of artist's work created in the past two years." In addition to the Impulse galleries, Pulse's "partners " (including Creative Capital and
Honey Space
) have their spaces upstairs. This was my favorite part of the show.
Honey Space brought in a two-woman performance group called
Inner Course
to do a interactive performance called Knowing Me Knowing You.
This guy manned the table outside the room to the left where they did their thing. He not really part of the performance
per se
, but he was hilarious. He basically had this
Paul Lynde
-like bitchy persona, smiling broadly while making cutting remarks and double entendres at passers by.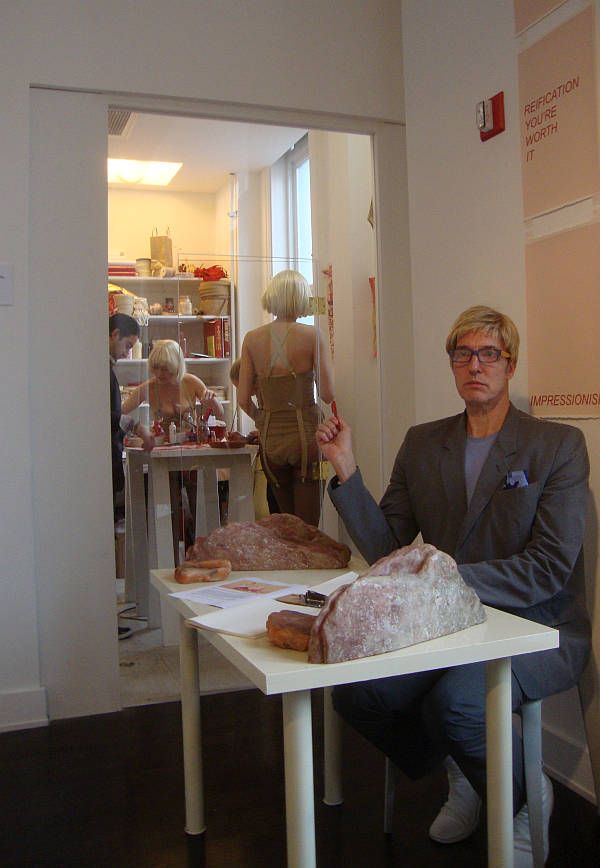 Once inside, you start undergoing "therapy" of a sort conducted by Inner Course, Rya Kleinpeter and Tora Lopez. They were wearing costumes that can only be described as a cross between a teddy and an artist's smock, along with identical blond wigs. They helped you pick out art materials (they had different kinds of paper, and a variety of drawing and painting materials). Then you all did a drawing together. I managed to get paint on my sports jacket, but that wasn't the most annoying thing about the experience. The worst was their weird condescending attitude, and their repeated attempts to get me to assign a monetary value to the art we had just produced and to then buy it. They kept asking me what I thought the drawing was worth. I said nothing (because it was terrible), which seemed to offend them. They said, don't you think our time is worth something? What could I say? Eventually, they hustled me out of there. I don't think they were expecting my non-response to their therapy.
Stephanie Liner at Creative Capital
A much better experience (but just as mystifying, in a way) was had with
Stephanie Liner
at the
Creative Capital
booth.So I see this young woman sitting inside this egg-shaped object (which I think is beautiful) and I walk up. She looks really, really bored. It's slightly awkward to look into the egg, but I do and it looks as if her dress may be physically attached to the egg. I can't be sure though. So I asked her. No response. No acknowledgement in any way that I'm there. Curious!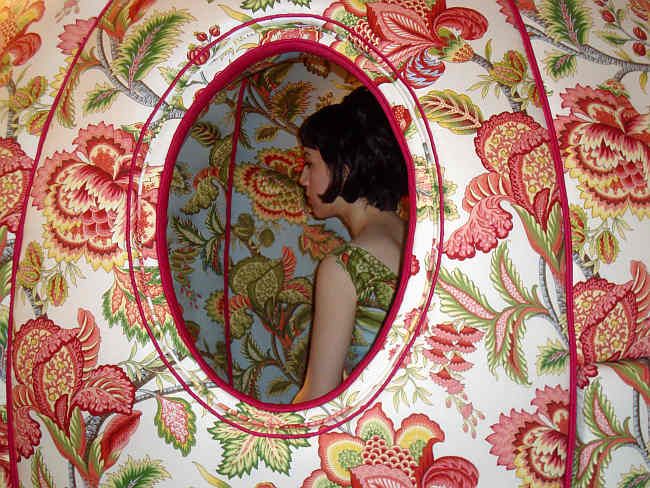 Stephanie Liner at Creative Capital
I don't even know if the woman in the egg was Stephanie Liner. But apparently part of the deal is to not respond to questions. Anyway, I liked it. I would love to have an egg like that. It would be a good meditation chamber.
Heather McGill, Thruster Cluster, 2011, cut paper and pigment at Ellen Miller Gallery
I liked the eye-wrecking pattern of
Heather McGill
's
Thruster Cluster
, but the best part was the detail.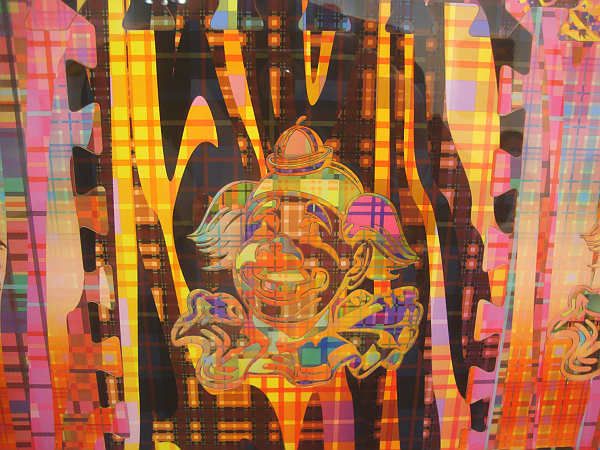 Heather McGill, Thruster Cluster, 2011, cut paper and pigment at Ellen Miller Gallery
Scary clowns! (With
Pettibon
's and
Sean Landers
's clowns at Frieze, there was a micro-trend brewing here.)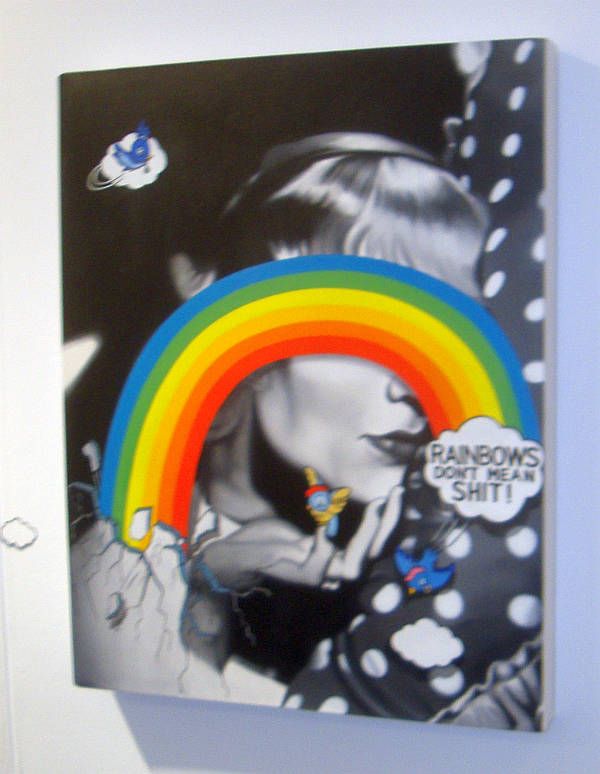 Jason Bryant at Porter/Contemporary
I thought
Jason Bryant
's work was mostly pretty shallow, but the phrase "Rainbows don't mean shit" made me laugh out loud. (Sorry for the out of focus photo--there is
a clean one on the Porter/Contemporary site
.)
Sigrid Viir at Temnikova & Kasela Gallery
I loved Sigrid Viir's photos. Apparently other people did as well--
she won the 2012 Pulse Prize
. The photos reminded me a bit of the installations of Jessica Stockholder--they made banal objects interesting (which is one of the major projects of modern art, I suppose).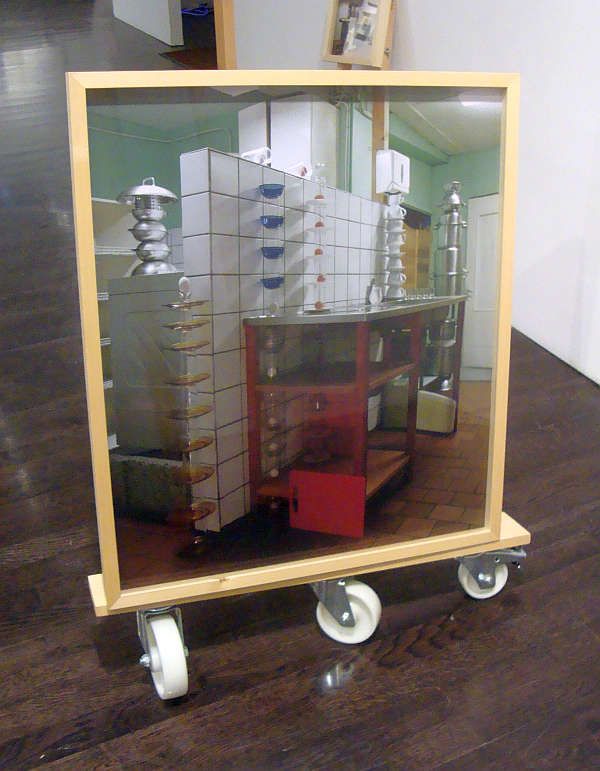 Sigrid Viir at Temnikova & Kasela Gallery
But in addition to the photographs themselves, the display easels were completely humorous. Some were at floor level, one had toilet plungers as feet--they were works of art all on their own. (SigridViir and Temnikova & Kasela Gallery are from Estonia, which is interesting if only because I know absolutely zero about Estonia's artistic or cultural history except for the composer Arvo Pärt.
Wikipedia
tells me that Estonia won the Eurovision song contest in 2002.)
Sigrid Viir at Temnikova & Kasela Gallery
The last Impulse artist I want to mention is
Rocio Infestas
, a Chilean artist living in Mexico. His works at
Antena Estudio
were all made of resin.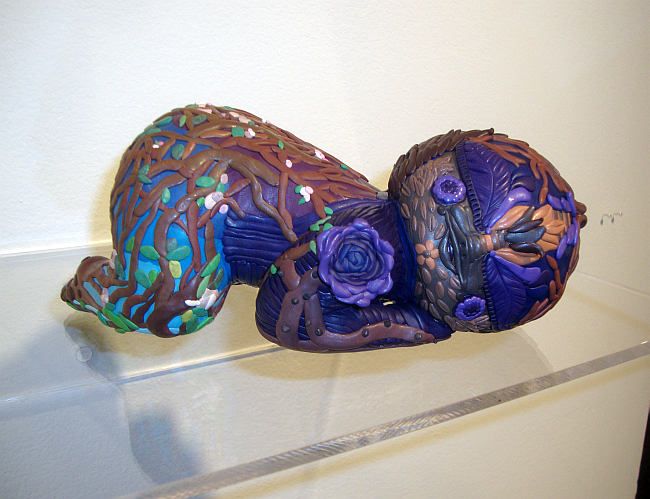 Rocio Infestas at Antena Estudios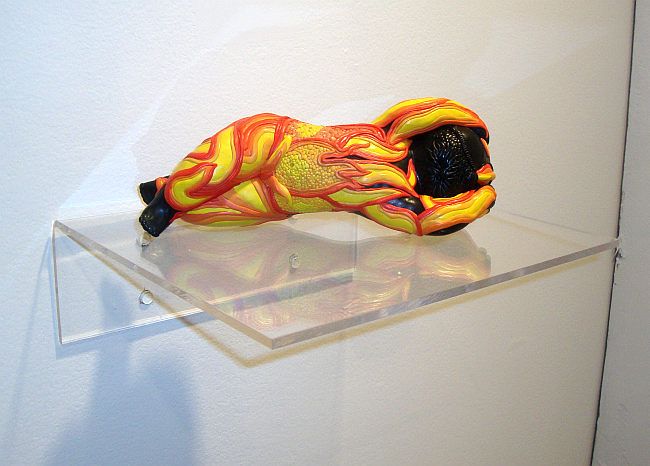 Rocio Infestas at Antena Estudios
Rocio Infestas at Antena Estudios
I believe these are all meant to be baby gods. They have a mythic feel (the plants in the body of the first and fire in the body of the second). they are simultaneously cute and slightly disturbing.
One last Pulse photo:
On to NADA!