by Robert Boyd
The answers are in! Thirteen of you smart people completed
The Great God Pan Art History Quiz
. At the bottom of this post are the correct answers. First, a few stats. The perfect score was 37, which was achieved by three of the contestants. (As per the rules, their prizes will be awarded in order of who turned in their answers first.) The scores ranged from 26 to 37, which suggests that next time I should make the test a little harder! (Another change for next time--no penalty for wrong answers. I think I want to encourage guessing because people's guesses were so intriguing. For example, one contestant guessed Elizabeth Murray for the Hans Arp, which immediately made me think that,
yeah
, there is a big similarity between these two artists.)
The most missed artist was
Jean-Louis Ernest Meissonier
. I knew he would be difficult, which is why I included him. Seven missed with him. Other widely missed artists were Hans Arp (five wrong), Tadanori Yokoo (four wrong) and Michaelangelo Pistoletto (four wrong). I was surprised that so many got Yokoo right--I figured his being a poster artist might put him off the radar of "fine art" fans.
But enough of the boring preliminaries--on to the winners. The first person to get all of the answers right was
Chris Cascio
, which means he wins
First Prize
! Way to go Chris! Chris is a Houston-based artist who recently had shows at Cardoza Gallery and Front Gallery.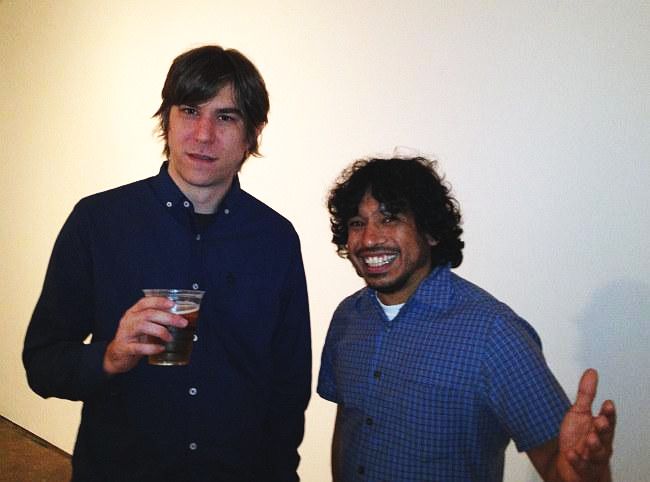 Chris Cascio, winner (left) and Pablo Cardoza at Diverse Works
He gets
Texas: 150 Works from the Museum of Fine Arts, Houston, Esopus #19,
the Aldo Rossi/Tim Rollins & K.O.S. catalog, and an original piece of art by yours truly, which I am
embarrassed
proud to show you now.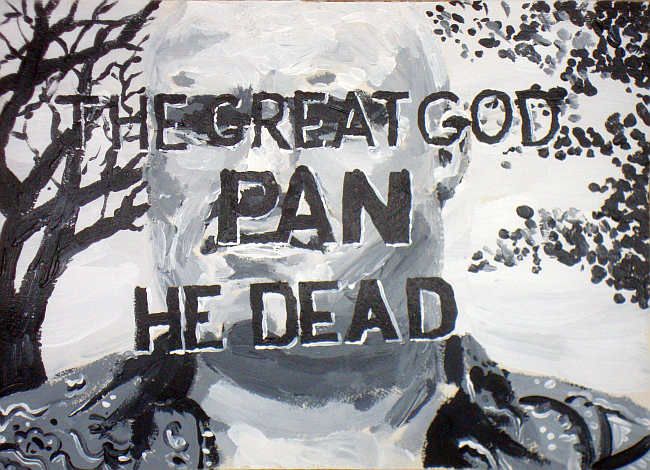 Robert Boyd, The Great God Pan He Dead, May 19, 2012, acrylic paint on watercolor paper
Second Prize
goes to Elaine Cash of Beaverton, Oregon! Elaine used the quiz as a way to procrastinate from working on a
real
art-history paper. Elaine deserves special notice and a medal for Art History Beyond the Call of Duty for not only getting the names of the artists right, but providing titles for most of the works shown! Elaine gets a copy of
Esopus
#19 and the the Aldo Rossi/Tim Rollins & K.O.S. catalog. Congratulations Elaine!
Third Prize
goes to another Houston artist, John Jenkins! Formerly part of the collective KJT Art Factory, he now does his work solo--you can check it out on
his website
. He got his entry in just under the wire, but it was 100% correct, which is all that counts. John will also get a copy of
Esopus
#19 and the Aldo Rossi/Tim Rollins & K.O.S. catalog.Congratulations John!
Fourth Prize
goes to
Hilary Scullane
, an undergraduate art student at U.H. You can see a couple of Hilary's perfomances
here
and
here
. Hilary wins a copy of the Aldo Rossi/Tim Rollins & K.O.S. catalog.Congratulations Hilary!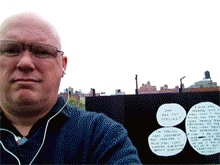 gif by Brian Piana
Here are the correct answers:
1. Pablo Picasso,
Les Demoiselles d'Avignon
, 1907
2. John Chamberlain,
C'Estzesty
, 2011
3. Tadanori Yokoo,
Japanese Culture of the Postwar Years 1945-1995
, 1996
4. Joseph Beuys,
Eurasia Siberian Symphony 1963
, 1966
5. Lawrence Weiner,
A wall pitted by a single air rifle shot
, 1969
6. Marisol
Escobar, LBJ
, 1967
7. James Rosenquist,
F-111
, 1964-65
8. Stuart Davis,
Odol
, 1924
9. Umberto Boccioni,
Unique Forms of Continuity in Space
, 1913
10. Jean-Louis Ernest Meissonier,
1807, Friedland,
1861-75
11. Jean Hans Arp,
Enak's Tears (Terrestrial Forms),
1917
12. Marcel Duchamp,
Bicycle Wheel
, 1913
13. Henri Matisse,
The Red Studio,
1911
14. Giorgio de Chirico,
The Seer,
1914-15
15. Kazmir Malevich,
Painterly Realism of a Boy with Knapsack - Color
Masses in the Fourth Dimension,
1915
16. Claude Monet, part of the
Water Lillies
series
17. Fernand Léger,
Woman with a Book,
1923
18. Pablo Picasso,
Seated Bather,
1930
19. Felix Gonzalez-Torres,
Untitled
, 1991
20. Yves Tanguy,
The Furniture of Time,
1939
21. Jackson Pollock,
One: Number 31
, 1950, 1950
22. Francis Bacon,
Number VII from Eight Studies for a Portrait
, 1953
23. Alberto Giacometti,
Annette
, 1962
24. Jasper Johns,
Target with Four Faces,
1955
25. Ed Ruscha,
Oof
, 1963
26. Michelangelo Pistoletto,
Man with Yellow Pants,
1964
27. Dan Flavin,
untitled (to the "innovator" of Wheeling Peachblow),
1968
28. John McCracken,
The Absolutely Naked Fragrance,
1967
29. Donald Judd,
Untitled (Stack),
1967
30. Eva Hesse,
Untitled
, 1966
31. Daniel Buren,
Striped cotton fabric with vertical white and colored bands of 8,7cm (+/- 0,3 cm) each. The two external white bands covered over with acrylic white paint recto-verso
, 1970
32. Vija Celmins,
Gun with Hand #1
, 1964
33. Barbra Kruger,
Untitled (You Invest in the Divinity of the Masterpiece)
, 1982
34. Marcel Duchamp,
To Be Looked at (from the Other Side of the Glass) with One Eye, Close to, for Almost and Hour
, 1918
35. Paul Cezanne,
Still Life with Apples
, 1895-98
36. Frank Lloyd Wright,
Solomon R. Guggenheim Museum,
1943-1959
37. David Shrigley,
How Are You Feeling,
2012
Most of these artworks were seen at the
Museum of Modern Art
(which has them on its web site, so you could have easily looked them up there. I never said that this wasn't an open-book test). The John Chamberlain and Frank-Lloyd Wright were from the
Guggenheim Museum
(obviously). The Jean-Louis Ernest Meissonier was at the
Metropolitan Museum
. And the David Shrigley was next to the
High Line park
.
Thanks to everyone who entered: Chris Cascio, Elaine Cash, John Jenkins, Hilary Scullane,
Rachel Hooper
,
Maeve McCambridge
,
Bart Beaty
,
Bill Davenport
,
David McClain
, Nicole McCormick, David Peterson,
Darren Emanuel
, and
Lauren Moya Ford.