by Robert Boyd
Every month I make the rounds looking at exhibits and hoping to find something exciting. And maybe I'm easy, but my problem is that I usually find more work that I like than I can reasonably hope to write about. So with minimal content, here is some of the artI saw in the past month for which I didn't have time to write full-on reviews. But each of these exhibits was worth seeing.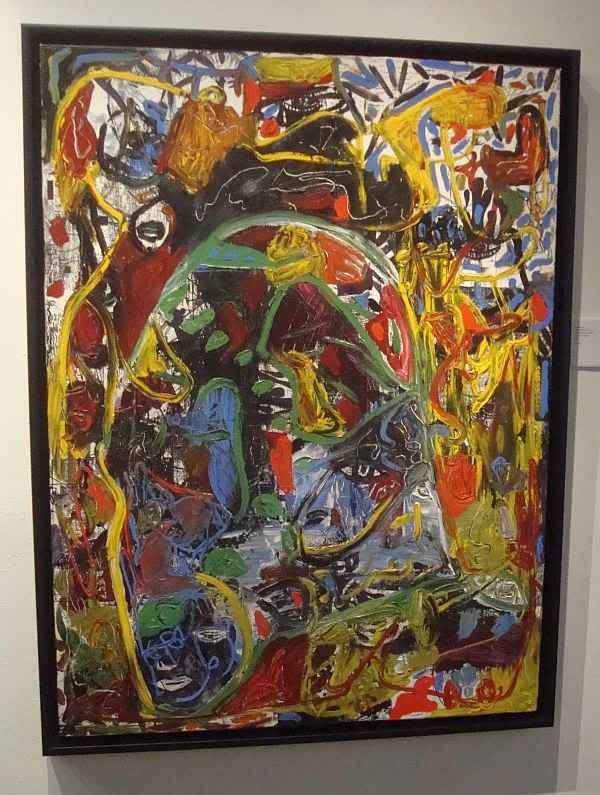 Dick Wray, untitled, oil and mixed media, 48 x 35.5 inches, undated
The late
Dick Wray
(one of those old school
Houston abstractionists
) had a show at
William Reaves Fine Art
full of these super-colorful, expressive canvases. It was a bit overwhelming to see so many in one gallery. I wanted to write about it, and I regret that I didn't. Very vigorous, interesting work.
Jade Walker, title unknown, mixed media, 2011-2012 (?)
Sorry I don't have the title for this piece by
Jade Walker
. When I went to the
Lawndale
openings in January, Walker's installation was overwhelming. I had a hard time wrapping my mind around it. The pieces are all junk assemblages, with two main features. First, the seem to made largely out of exercise and/or athletic equipment--much of which has a soft, fleshy feeling. Second, this work has lots of nipples, penises and vaginas in it. Or at least what I interpret as nipples, penis and vaginas. But since the pieces are not figurative, they seem almost like sculptures of polymorphous perversion itself. Playful perverse sculptures! (You can still just catch Walker's exhibit, which is up through the 25th.)
David Lozano, Joy Pop (Cool), acrylic and enamel on board, 36 x 36 inches, 2011
I can't tell if
David Lozano's
paintings are poured paint, or if they are simply carefully painted to resemble poured paint.One is reminded of Roy Lichtenstein's hard-edge paintings of abstract expressionist brush strokes. The poured part has a bizarre sensation of floating in front of an out-of-focus space. It's a cool effect (the title
Joy Pop (Cool)
could have served as the title for the entire exhibit). This was up at
P.G. Contemporary
last month.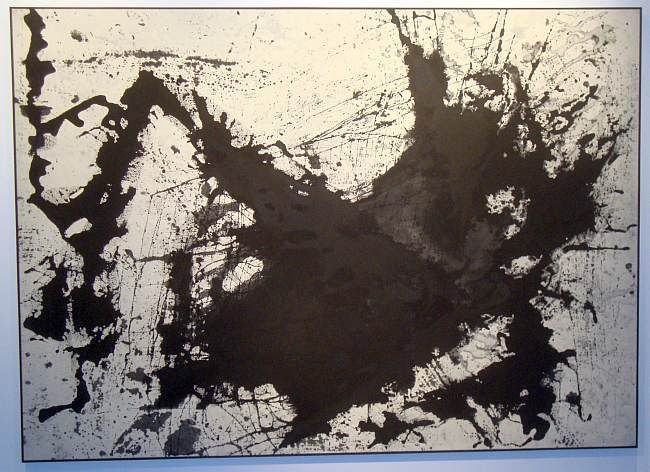 Zachariah Rieke, Painting 36, acrylic on canvas, 82 x 69 inches, 2011
If David Lozano was faking being a poured-paint abstract expressionist,
Zachariah Rieke
(whose show at
Wade Wilson
is up through the 25th) appears to be the real thing. He gets some of his look by spilling paint on both sides of an unprimed canvas. The bits that soak through from one side to the other become part of the composition.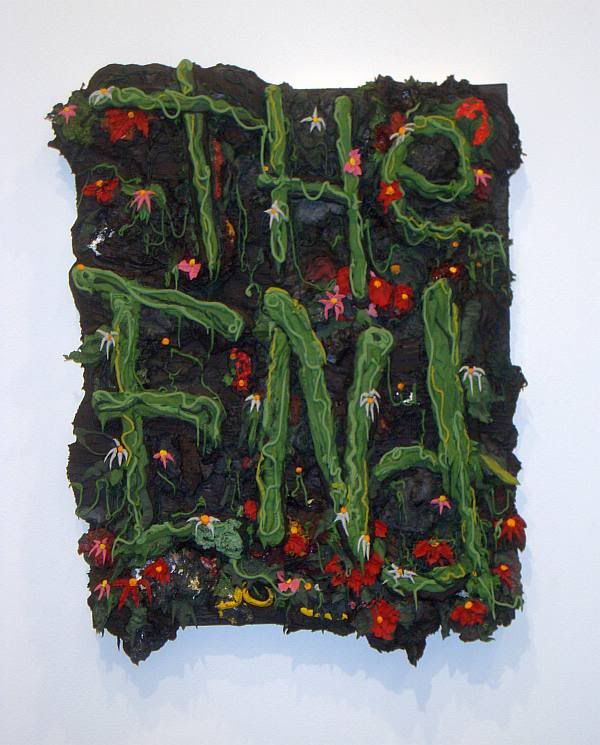 Kent Dorn, The End, oil, wax, paint skins, mixed media on canvas, 24 x 18 inches, 2012
Kent Dorn
(at
Bryan Miller Gallery
) showed a series of fairly wacky paintings depicting woodland scenes or, in the case of
The End
and several others, words made to look as if they are made of green, mossy sticks. His paintings work to create depth by combining super-flat painting on unprimed canvas (so the paint soaks into the canvas) and ultra-thick impasto. It didn't always work, visually, but some of the thick-paint work--such as the word paintings--are really appealing.