by Robert Boyd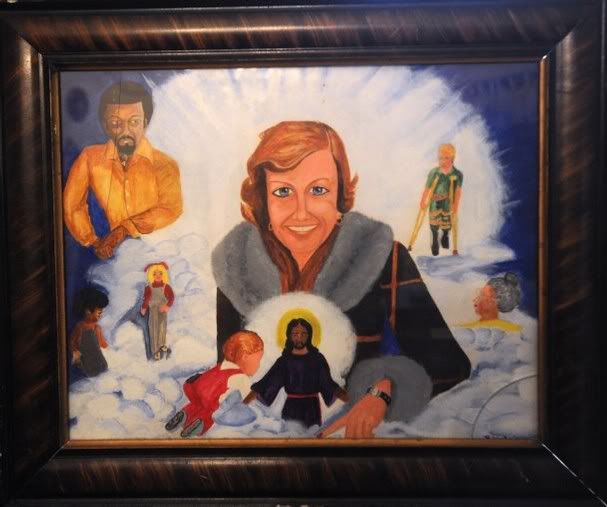 A painting by Ray Warmsley (Abilene ReporterNews)
My Favorite Art Story this Week:
Ray Warmsley was a career criminal in the Ellis Unit about 30 years ago. Jackie Morris was the daughter of the president of Abilene Christian University. She was doing ministry and social work when she met Ray in 1978. They fell in love and got married after he was paroled in 1984. It was a scandal in Abilene--a prim and proper white lady from a prominent local family marrying a paroled African-American criminal 18 years her junior. Then in 1986, Ray got sent back to jail on old warrants. And started painting. Then last year, in October, Ray was paroled again. Amazingly, Jackie stuck with him all this time. He's in his 60s, wearing an ankle bracelet to keep him in house arrest, and she is in her 80s. And they both paint. And they got a
two-person show
at the
Center for Contemporary Arts in Abilene
. (
"From opposite sides of prison bars, Abilene artist couple creates unlikely love story," Jeremy Goldmeier, Abilene ReporterNews
, February 25, 2012)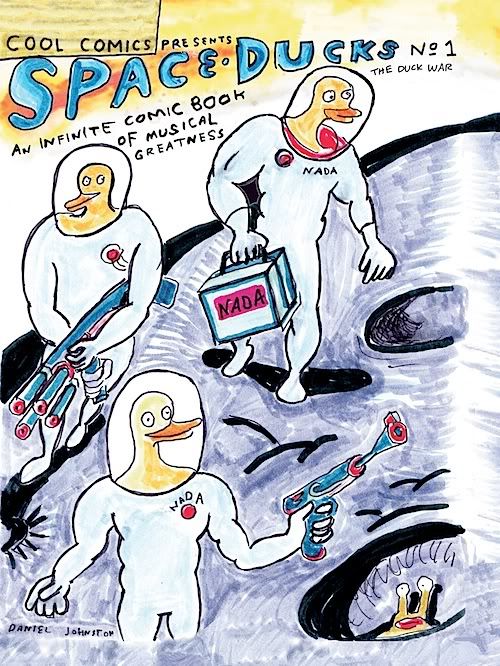 Daniel Johnston, Space Ducks, graphic novel cover, 2012
My Second Favorite Art Story this Week:
I'm just going to quote from the press release on this one.
BOOM! Town and Wieden + Kennedy Entertainment bring world-famous underground musician and artist Daniel Johnston to comics this April with his new graphic novel SPACE DUCKS: AN INFINITE COMIC BOOK OF MUSICAL GREATNESS. [...]
SPACE DUCKS is more than just a graphic novel, it's a one-of-a-kind interactive comic book experience, complimented by the Space Ducks album and iOS App. The companion app will virtually take readers through Daniel's Outer-Space world of Ducks and Devils, with games to play, surprising voices from different talents, animations and videos from the comic book, links to exciting new Space Ducks merchandise, and a slew of Easter eggs, including contributions from some of the critically-acclaimed musicians who number amongst Daniel's biggest fans. The app will also debut Daniel Johnston's first new album since 2009.
Waller's greatest artist
appears ready to bring it once again. They're launching this nutty thing at SXSW, but I'm sure you'll be able to get it at
Domy
. (
"Daniel Johnston Brings SPACE DUCKS to Boom!," The Beat,
February 27, 2012)
My Third Favorite Art Story this Week:
Did you know that
the Whitney Museum had broken off their sponsorship agreements with Sotheby's and Deutsche Bank
respectively to protest Sotheby's lockout of union art handlers (in a year of record-breaking profits for the auction house) and to protest Deutsche Bank's involvement in the mortgage crisis? Well, they didn't but some clever person put up an imitation Whitney Biennial website that indicated that they had. It is an exact duplicate of
the actual Whitney Biennial website
(except for the apologies).
Art Fag City links it to the Occupy-related group
Arts & Labor
, but it is unknown who actually made the
faux
Whitney webpage. Love it, though. (
Fake Whitney Biennial page
,
"Arts & Labor Calls For an End to Whitney Biennial, Pranking Follow," Whitney Kimball, Art Fag City
, February 2, 2012)
David Adickes, Teddy Roosevelt, 21 feet high
Do You Have $28,000 Burning a Hole in Your Pocket?
If so, You can go
on eBay right now
and buy an 21' high bust of Teddy Roosevelt by
David Adickes
. And if you have $48,000, you can get
Lincoln
, too.