by
Robert Boyd
The title above is false advertising. I only have two videos to show--not quite enough for a parade. But I ran across them and thought you might like to see them, too.
Pretty self-explanatory. You have to be a tad suspicious of an art documentary that so nakedly takes the "great master" stance. It's unfair to judge from the trailer, but the tone of the film feels rather different from, say, the more detached and poetic
Over Your Cities, Grass Will Grow
, Sophie Fiennes' documentary about Anselm Kiefer. That said, I am quite eager to see
Gerhard Richter Painting
, primarily because it looks like a lot of it is exactly what the title says--film of Richter in the act of painting. I like to see what artists do in the act of creating artwork.
Update
: Commenter J.V. pointed to the following video, which is a news report about the movie. It gives quite a bit of behind-the-scenes info. I can't wait to see the film.
Then there's this...
Her New Religion
from
Anna Halldin-Maule
on
Vimeo
. (via
Pas Un Autre
)
This is also a video about painting--specifically about Anna Hauldin Maule's painting of
Her New Religion
. The painting is a satire of art world money worship, featuring a sexy woman wearing nothing but panties, designer jewelry, and a necklace that includes credit cards belonging to Eli Broad and Larry Gagosian.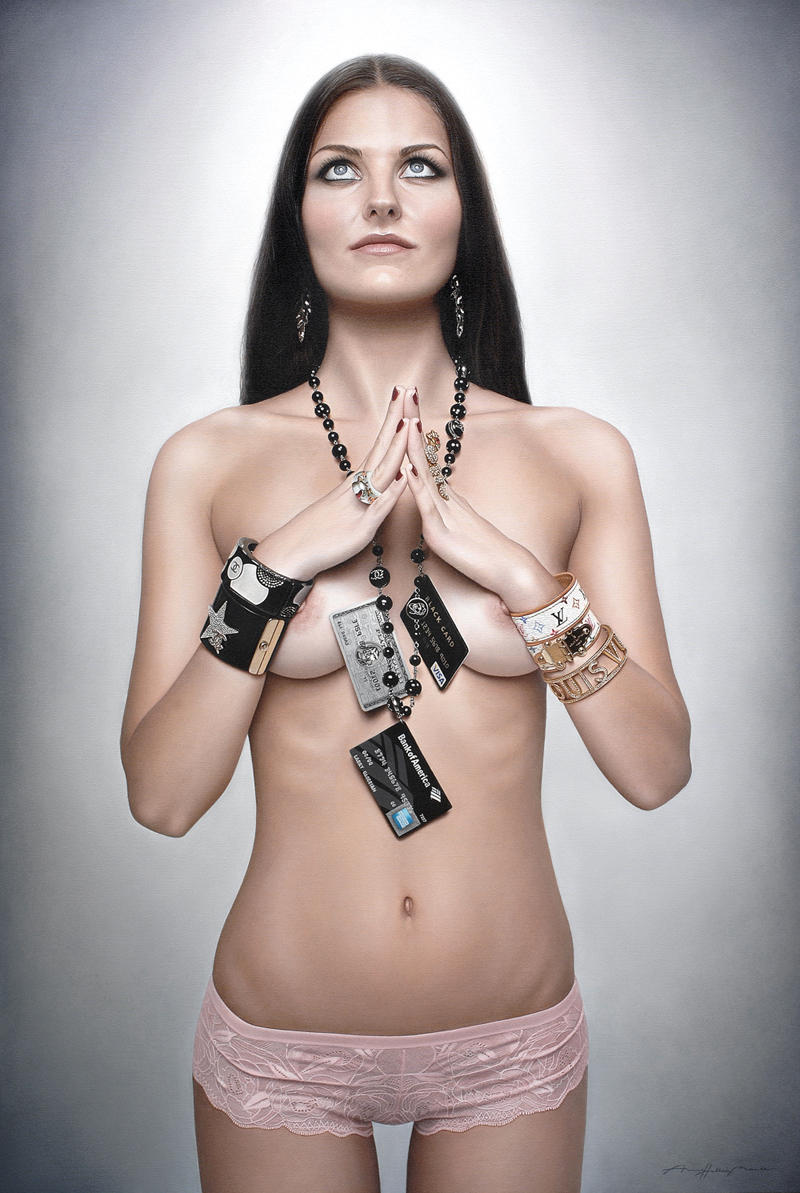 Anna Halldin Maule,Her New Religion, Oil on Canvas, 56″ x 38″, 2011
Anna Halldin Maule and her husband, photographer Tom Maule
, collaborate on these paintings and videos. They often are satires on consumerism, but to me they try to have it both ways. By having as their subject super-sexy nude and semi-nude models (painted photo-realistically, so the expressiveness of the artist is utterly removed), the Maules create slick desirable objects. The models are themselves desirable, and the fact that these are paintings (i.e, unique objects of value) as opposed to just photos (reproducible objects of less value) also plays into the high-end consumerism that is their subject. Maybe this is intentional irony on their part. And given that her work was
shown at the Palm Beach Art Fair
, I am assuming that they are for sale, and presumably for a pretty penny.
(I will freely admit that I posted this video because I enjoy sexy naked ladies, especially when by virtue of their being "art" I can remove any stigma of "pornography" from this post. I like having it both ways, too.)