Sorry Pan readers for light posting lately. I have been in the middle of a busy time. That said, there are several good shows I want to write about and I hope to have new stuff for you soon.
In the meantime, I saw a dance performance last night at
Diverse Works
, and I want to recommend it. Tonight is the last night. The show consisted of two companies each doing a suite of performances.
Vault
lead off with a bunch of dances,
Blau
, that involved trapezes and removing clothing. (No nudity though--the content of the dance wasn't erotic.) I don't really have the language do describe dance works. Some might say the same when I try to write about visual art, but at least I am familiar with how other writers deal with the subject of visual art. With dance, I am stepping into a void. Nonetheless, a lot of what I saw in the Vault pieces made me think of restless sleep.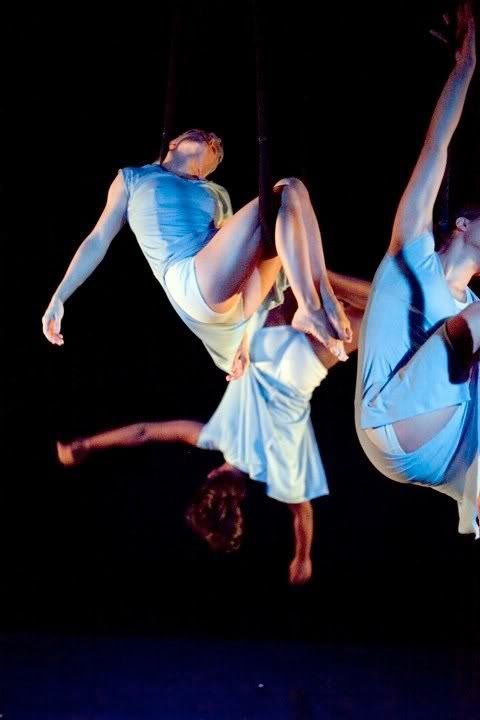 A lot of it took place on the floor with dancers tossing and turning (artfully, not randomly). Even the removal of the dress made me think about what a sleeper does when she is too warm--she kicks off the covers.
One dance had a dancer who removed her dress three times--she was wearing three dresses. That communicated a feeling of
never
being able to get comfortable, of unending restlessness.
Maybe when Amy Ell, the choreographer, conceived
Blau
, she wasn't thinking about sleep. But that was the impression I got, and it was pretty powerful. (The photos above are from
here
, and there are more there was well.)
Baptism
was the second part, and it was by the dance company
6°
. They used a lot of water in their program--raining from above or in a bowl on the ground. This work didn't have a single overpowering metaphor for me like
Blau
did. Dancers at times seemed to be representing animals or even plants. There was one piece where Toni Leago Valle (the choreographer) danced with Bianca Torres-Aponte (a young girl who was part of the company for
Baptism
) clinging to her front the way some baby animals cling to their mothers in nature. It was a really powerful piece (not the least because it makes you realize how physically strong Valle must be).
Blau
, despite its apparent theme of restlessness, was full of graceful moves.
Baptism
was full of deliberately awkward, jerky, even comic moves. (Sorry I don't have any photos of
Baptism
.) It was a great double program--both
Blau
and
Baptism
were fantastic and quite distinct in style.
They had a full house (and you can probably expect the same tonight, so I would buy tickets right away--if they haven't already sold out). Still, Diverse Works is a
small
performance space. And if you look at these companies' websites, they don't perform in big halls. Sometimes they even stage their programs in people's houses. This is perplexing to me. I was utterly entertained by last night's performance. I loved it. This next statement may betray a sense of me being in an ivory tower, but I honestly can't understand why this kind of work isn't much more popular. As someone with limited time and money to spend on live performances, this was a bargain. (And as a heterosexual man, I was enthralled watching these beautiful, powerful women dance. And yet, the audience was probably 2/3 women and 1/3 men. Why? My guess is that a lot of the women were people who had themselves danced at one time.)