The Bridge Club
is a four-person performance group--they are Annie Strader, Christine Owen, Emily Bivens and Julie Wills. They did a performance at
Lawndale
last Friday. Each member was dressed as a kind of laboratory worker. The costumes (basically identical) consisted of dresses, plastic protective clothing, and high heels (with plastic protective pieces protecting their shoes). Each member wore a stiff, old-fashioned wig. They didn't look like modern-day lab techs, but had kind of an antique, 1960s look.
In the center of the room were several shelves with large identical glass containers. On either side of the shelves, which could be accessed from either side, were tables. One table had a large tub filled with milk on it. The other had a tub of oil. Beside the tables were piles of random objects. With extremely deliberate, somnolent motions, the women would carefully pick items up, examine them, dip them in the tubs, then carry them over to the glass jars. It was as if they were doing experiments on the effects of oil or milk on everyday objects.
The Bridge Club, Natural Resources, performance, 2010
The whole thing was mystifying yet fascinating. The details mattered. The indifference they expressed toward the viewer was important. Their dreamlike movements, like sleepwalkers. The high-heels encased in their protective plastic. The wigs. A power drill dunked in oil. I was entranced by the accumulation of bizarre detail.
The Bridge Club, Natural Resources, performance, 2010
The Bridge Club, Natural Resources, performance, 2010
The one bad thing about this performance was its statement. I wish artists would just say no when asked for a statement. Or in the case of
Natural Resources
, the Bridge Club should have come up with a statement that was as enigmatic as the performance. Instead, we got this:
Natural Resources [...] investigates conflicting human relationships with and within the natural world through the use of two natural substances: milk and petroleum oil. [...] Harvested or extracted from our natural surroundings for human sustenance or consumption, both offer metaphors for political or politicized human interactions with the natural world as relate[d] to the natural and built environment, human and family relations, agriculture and animal husbandry, food and other resource production, biology and sexuality, ecology, and resource depletion.
I would have greatly preferred to
not know
what the Bridge Club thought of about oil and milk as metaphors. Statements like this tend to drain a performance of its mystery and drama. This statement keeps
Natural Resources
from being autonomous--it becomes merely
about
something.
I like to think there is more there. Nothing they wrote above can explain this: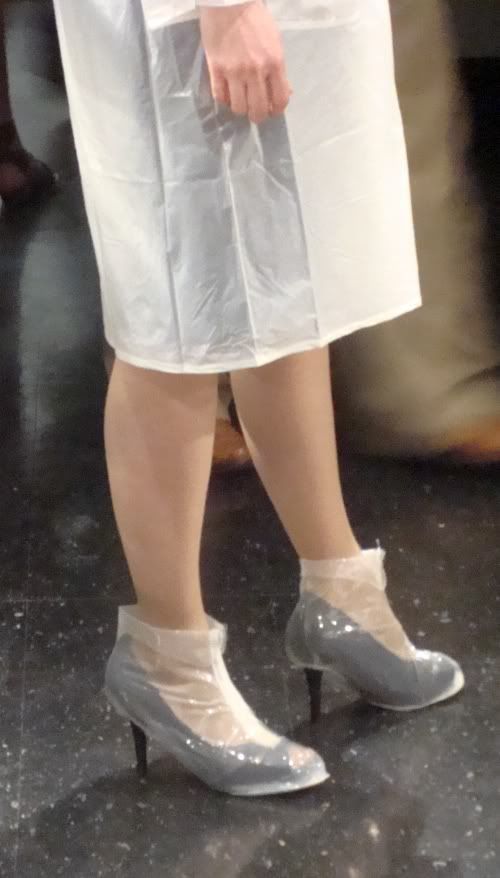 The Bridge Club, Natural Resources, performance, 2010
Tweet